Getting the most out of your Pitchero club website will really help to grow your club, whether it be growing revenue, increasing membership or cutting down on admin, Pitchero has the tools ready to help your club achieve its goals.
At Pitchero, we're super passionate about offering you the best website possible. So, we asked Pitchero's Partnership Manager, Ben Dannatt, to give you his top tips to making your Club Website a great success.
Book a call with your Account Manager and we'll talk you through each of Ben's tips, helping you to grow your club with Pitchero. Just click the button below to book a time.
1. Keep adding fresh content
Updating your website with all of your club's latest updates is hugely important to building traffic and keeping your members up-to-date with everything that's going on at your club.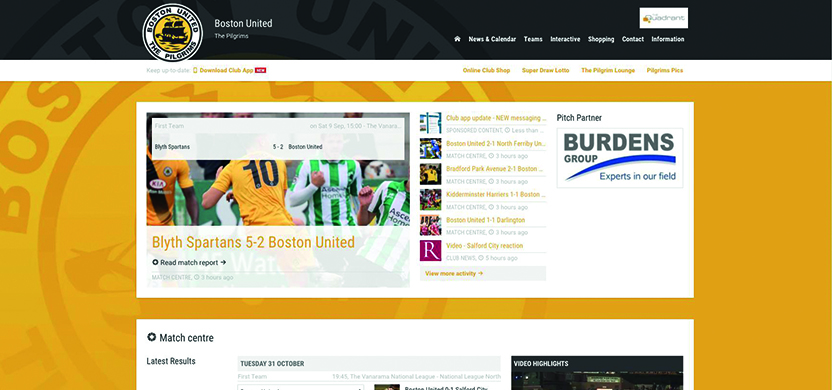 Case Study: Boston United. Boston regularly update their website with a stream of content, keeping their members and fans up to date with the latest ongoings.
Get creative by thinking of new ways to attract people to your website. For example 'player of the week' 'team of the week', this is something not every club does and it enables you to get fresh content out, every week.
Your website is also a fantastic platform to advertise for new people to come and join. Keeping players and getting new ones in is one of the hardest tasks faced by sports clubs. An up-to-date, fresh looking website will be a lot more appealing than one that doesn't have new and exciting content coming out each week.
Uploading as many pictures and videos as you can throughout the week, especially on match days, is another thing that would benefit your club. Again, you can use this content to drive traffic to your website. Post a "Goal of the Week" or 'Sports picture of the week', these are great ways to get every team involved and a great way to get brand new pictures and videos up on your site each week.
2. Capture the action with Pitchero Play
Pitchero Play is free in the iOS Manager app, use this to record your clubs games and showcase how great your club is by uploading the match events straight to your website within minutes of it happening on the pitch.
Video content is vital to growing traffic to your Club Website, and offering highlights of your teams out on the pitch is the perfect opportunity.
Getting good content on your website ultimately means the chances of attracting more traffic to your site is significantly increased. This, in turn, will help attract sponsors. More traffic to your website means more exposure for them, making you an appealing club for them to invest in.
3. Grow your revenue with Shop and Payments
Revenue is vital to the ongoing success of your club and we understand how difficult it can be to try and increase it. So, why not make maximising your revenue through a variety of club products easier by taking advantage of Pitchero's Shop and Payments feature?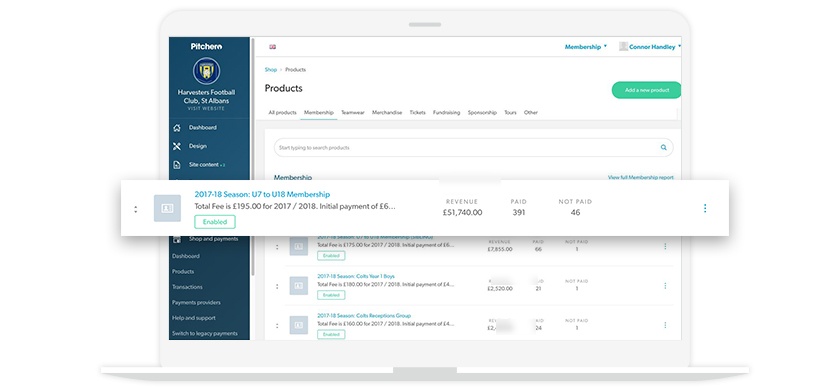 Everything you gain revenue from is in one centralised system, making it so much easier for members to pay their membership fees, tickets or kit; and much easier for clubs to track who has and hasn't paid.
Gone are the days of manually collecting payments and not knowing who's paid what, managers, parents and players lives will be made a whole lot easier with the help of our Shop and Payments system.
4. Download our mobile apps
Pitchero doesn't just stop at the Club Website. All your members can stay in touch with anyone at the club wherever they are with our suite of apps.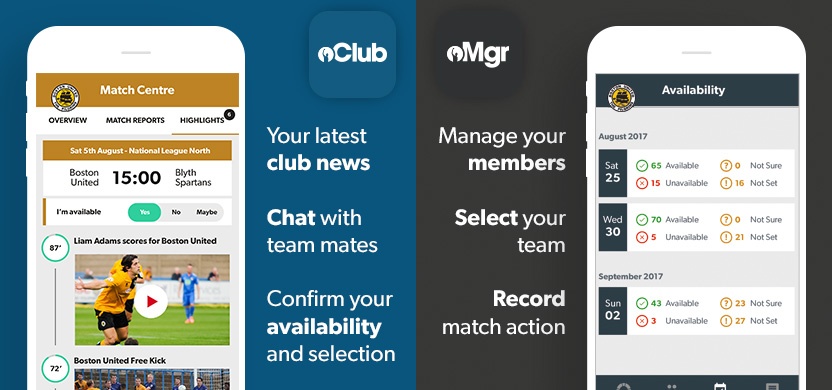 Doing everything in the palm of your hand, anytime, anywhere, will save you a tremendous amount of time when trying to keep your content up to date during your busy schedules.
Being active is crucial, so what better way to keep your website ticking over than with the help of our Manager and Club apps?
Club app: For all your members - check content, set availability and chat with your teammates ahead of the game.
Manager app: For your club coaches. Manage your members, make team selections and communicate with your team.
5. Maximise your sponsorship potential
Attracting new sponsors, as well as keeping your existing ones, is a vital way of generating new a new revenue flow into your club. With the help of your Pitchero website, you can help sponsors get the leverage they want by placing their company logos on the front of your website.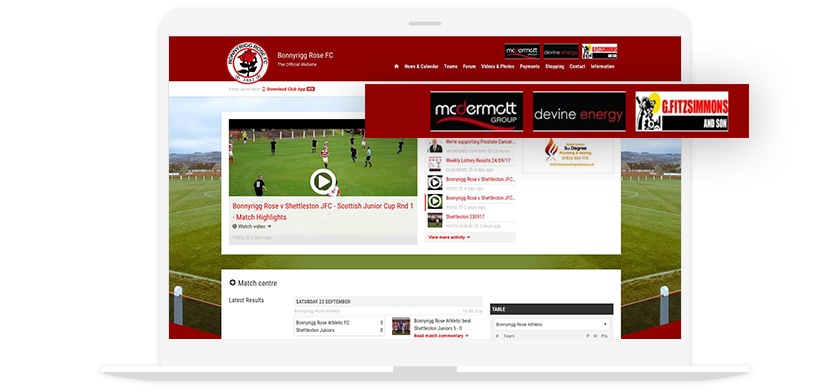 Case study: Bonnyrigg Rose FC utilise the header sponsorship tool, which ensures the sponsor will be one of the first things people see when they land on your website.
There's also the carousel sponsorship option, which allows you to promote a number of your sponsors at the same time and sits in the headline content section of your site.
You can also attach your social media channels to your website, bringing the two digital platforms together to further enhance your sponsors reach.
6. Speak with your Account Manager
Book a call with your Account Manager today and they'll be able to set you on the right track, so you can reap the rewards of a successful Pitchero website.