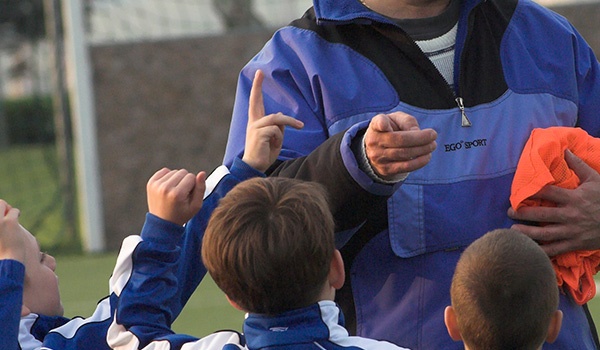 Overview
Pitchero Club Websites are packed with great features to help make the jobs of club officials easier; with tools like Membership, Payments and Team Selection, helping you to manage club members more effectively.
However, it's not just club officials that can benefit from using Pitchero, we want to show you how coaches can use Pitchero to share content and Communicate with fellow coaches easier than ever before.
In this guide, we'll show you how to create a bank of coaching material online, which only your coaches have access to, and how your coaches can quickly share knowledge through the communication feature.
Adding Coaches
Firstly, it's important to make sure your coaches are in your Membership Database and registered with your site. This is the only way they'll be able to make the most of these great tips.
If you need to add a new coach to your database, you can do so in the Membership Database, by clicking the "Add a member" button.
Add their details and give them a Coach role for their team.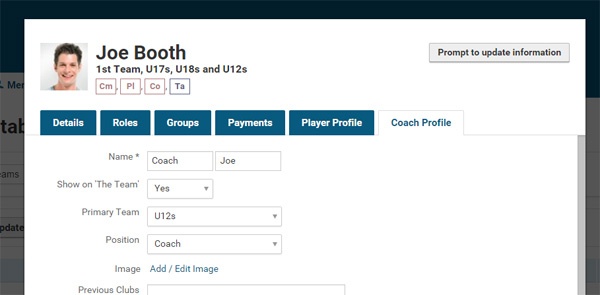 If you provide an email address for the coach, you can invite them to the site through the Invite section of your control panel - this should help them register quicker.
Once you've got the coaches signed up, you can begin using some of the tools below.
Coaching Documents
What better way to create a competitive advantage than creating a bank of material to help improve coaching across your club.
This is done by uploading coaching content as documents, which are private to coaches only - only members with a coach role can download it.
A Webmaster (or a coach with access to the Site Content section of your control panel), can do this in the Documents page of the Site Content section of your control panel.
When uploading the document be sure to select the Private option and choose Coach from the role options.
Your coaches can then access these documents at any time using the Documents tab of the club website.
You've now armed your coaches with the latest sessions and techniques to help get the most out of your players!
TOP TIP - Why not create a custom section of your site to house all coaching documents. Just go to Custom Sections in the Site Content area of your control panel, add a new page and attach all of your coaching docs. This will appear under the Information tab on the homepage.


Coaching Communications
The communications area is not only great for contacting members of your club, but should be used to communicate with staff, officials and of course, coaches.
Again, a Webmaster or a coach with access to the Communications tab, will need to compose the original message and choose the recipients - there's a simple filter for coaches.

The sender can choose whether the replies are private or public. Choosing public replies means all recipients of the email will receive the replies. Private replies are sent just to the Webmaster who composed the original message.

Make sure you choose public replies if you want to create a group email chat with all of your coaches. They can then share advice, new sessions and content easier than ever!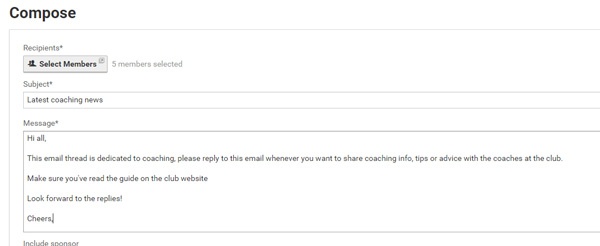 Support
If you need any help setting any of this up, then our dedicated support team is on hand. Just use the live chat widget in your control panel, or drop an email to support@pitchero.com.
Thanks for reading,
Pitchero