As a football fan growing up, my favourite players were Beardsley, Gazza, Waddle, Merson and Anders Limpar (as a young Gooner I had to have a couple of Reds in there).
I loved the way these players created those magic moments on the pitch; being creative and making the game beautiful to watch. When I made my transition into coaching, I had a clearly defined way I wanted my players to play; have the confidence and abilities to express themselves and to entertain themselves and others.
I describe myself as a foundation phase specialist (u8-11s). The reason I love coaching this age range so much is that, in my opinion, it's not about results (contrary to what some may think) and more about player development. Although applicable to all ages, this particular age group is a sweet spot in skill acquisition & ball mastery - giving players the tools to be able to express themselves.
1. Ball Mastery
As coaches we should encourage players to spend as much time on the ball as possible. This time is key for the player to build a relationship with the ball so they can truly master it.
This 'ball mastery' time is often the start of a players learning and the first opportunity they have to express themselves, learning new techniques and soccer specific movements.
Within a team training session "ball mastery" is often best suited to the warm up part of your session. I still see teams with foundation phase players doing warm ups without the ball. In my opinion this is nonsensical and it is a waste of precious time.
Foundation Phase players are not the same physiologically as adults so don't need the same warm up. Give them all a ball and get their body moving with turns and skills. Warm the body up whilst also improving their technique. This is different for older age groups but I would always advise to having a ball mastery segment within your sessions.
2. 1v1 Domination
For me this is a key element to creating an environment where players can truly express themselves. These high intensity match ups will produce much more time on the ball for the players, with lots of 1v1 opportunities with the added benefit of game realism.
Looking at the video above, you will see that it's an opposed practice but it can also be done unopposed to start with. There's plenty of controversy in coaching circles about the benefits of unopposed or opposed practices.
I personally believe that giving players time on the ball unopposed to learn new skills is vital but should only be used selectively. Most of your session should be opposed. Whichever way you go about it, one thing is key - let the players take it into the game.
3. Small Sided Games
When I think of football expression, I think of street football. Those hotbed environments are centered on creativity and chaos where games will consist primarily of 1v1 domination and ball mastery.
Small sided games are as close to street football as you're going to get. Unfortunately, because of the changing nature of society, players aren't getting that vital time with the ball in the street, adding to their creative repertoire. I believe in creating a 'street football' atmosphere - focusing on ball mastery and 1v1 domination and allowing players to express themselves.
Another key quality for a player to express themselves is being calm and composed under pressure, allowing them to both get out of trouble and cause damage the opposition when on the ball.
A key part of the FA's new DNA project is creating players who can stay calm on the ball under pressure. If you don't give your players time to stay on the ball, how do you expect them to develop this quality?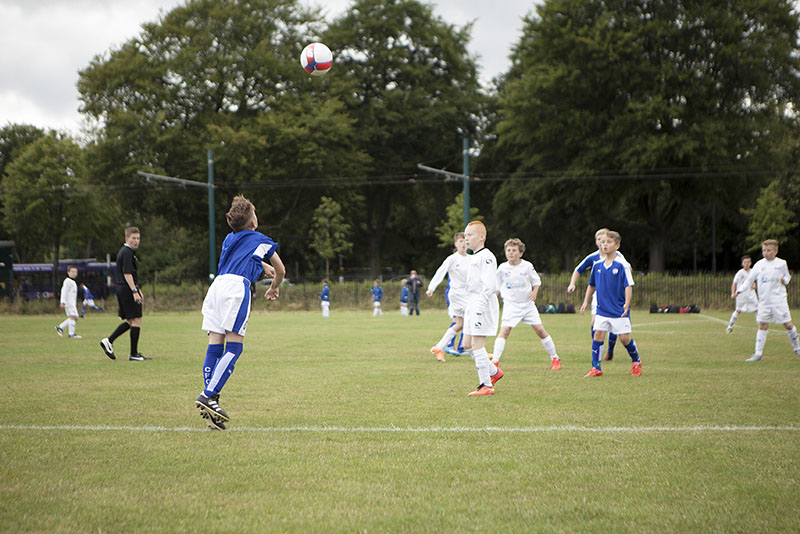 If you spend your whole session playing a 7v7 or 9v9, how many touches of the ball will each player get? As a coach, are you encouraging players to stay on the ball, or are you shouting "move it quicker","pass, pass". Will this lead to players staying on the ball?
Whilst 7v7s and 9v9s definitely have their place in your sessions, varying your small sided games (SSG's) to play 1v1s, 2v2s, 3v3s & 4v4s can have a huge impact to a player's on-the-ball skills.
As coaches we should encourage players to spend as much time as possible on the ball. We must encourage creativity in players and foster an environment where players can develop into future game-changers where they can beat players at will. To do this we have to give them the opportunity to stay on the ball.
4. Play without fear
The culmination of all of this for a player is to actually take what they have learnt and perform it in a match situation. As coaches, we must encourage players to go out there and try their skills, boosting their confidence and not being scared to try new things. Set them challenges, can they use that new skill they've learnt or a new skill they've made up themselves?
This takes a lot of bravery. We must be prepared to let our players to go out and try things and make mistakes in games. They are going to lose the ball; errors will be made that lead to goals. But they will learn from those mistakes and help them to grow as an individual.
This may be difficult for some to stomach, particularly overzealous parents or club officials, but at the end of the day we have to ask ourselves, are we in youth football for ourselves, the glory, or for the kids…I know which one I'm there for!
Develop your skills in the Pitchero Coach Academy
Add to your football skills armoury this season in the Pitchero Coach Academy. Created with My Personal Football Coach, the Academy features a number of video tutorials for adding a new dimension to your game.
Plus, in MPFC's Dynamic Ball Mastery programme can give you all the tools you need to take your game to the next level.
And thanks to our partnership with them, you can get an exclusive 40% discount off the programme by clicking the banner below.