The creation of custom registration forms on everything from junior membership to fundraising events is a regular feature for any sports club.
With Pitchero, clubs can set up whatever online registration they need to easily collect details and help run things smoothly.
We've set up a range of forms that you can use and adapt so here's how to create any membership forms your club might need.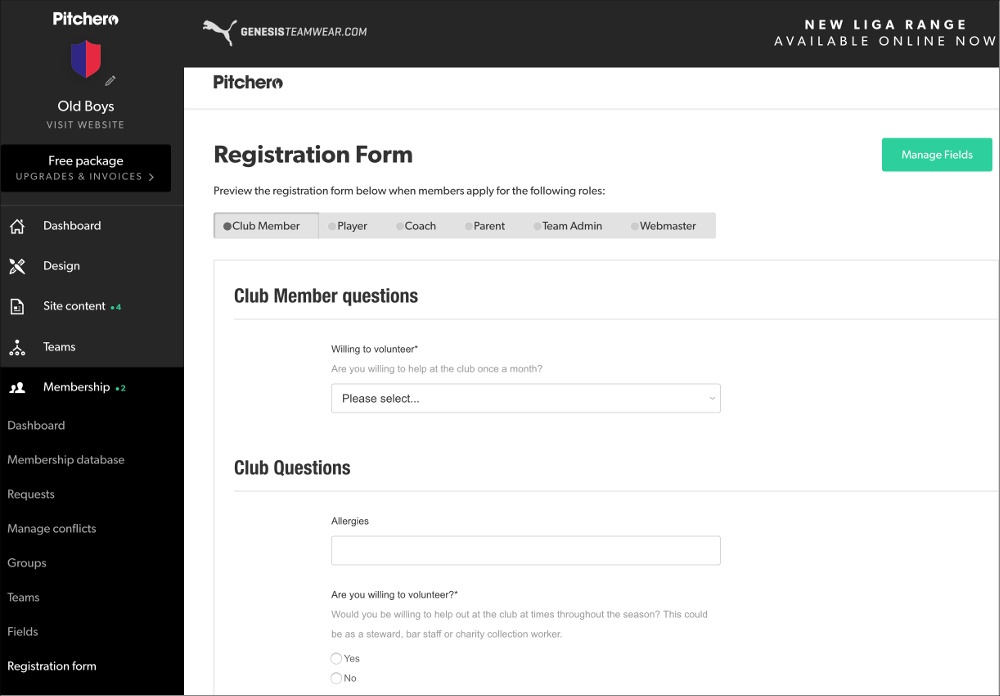 All you have to do is...
Visit the Membership section of the Club Control Panel

Select Registration forms

Preview the questions asked based on which role is applied for

Personalisation
You can select or un-select the questions you need to build up a registration form based on who it's for.
Furthermore, if you click the Manage fields button, it offers more options:
You'll see custom fields like 'mobile number' or 'allergies' that can be edited or deleted
The green + Add Field allows you to introduce any data requirement you need
Once you've finished amending the registration form, you can preview it to check any additions you've made are showing how you want them.
There are all sorts of things you can use registration forms for to aid your sports club including promoting registered members to update their info or inviting unregistered members to join the website.
Pitchero support
If you need any help, there are a range of articles in the Pitchero Help Centre to steer you in the right direction.
Alternatively, you can also email support@pitchero.com or call +44 (0)113 292 6070. Lines are open: 9am-5pm Mon-Fri (GMT).