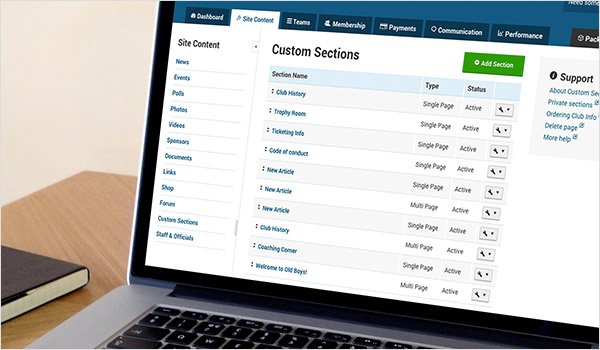 Overview
As many clubs will know, gathering detailed club information can sometimes be a hard task; especially if this information isn't stored online.
Whether it be club history, club policies or information about club facilities; this content is valuable for existing club members and may even encourage new members to join your club.
Why not make life easier by storing this information in its own section of your website? Easy to find, easy to share and easy to read - no more looking back through offline documents or asking older club members.
Custom Sections
All clubs can add custom sections to their website, which appear under the Information tab of your website navigation.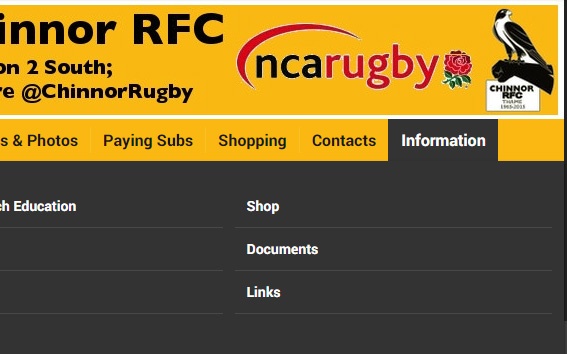 Sections such as Links, Sponsors, Documents are already available to populate; but you're free to add as many new sections as you wish after this.
Adding a custom section is really straight forward - just go to the Site Content section of your Club Control Panel, click the Custom Sections page and choose whether you want to add a single or multi-page section.
Single page sections
If you're creating a section for content that can't be split into multiple topics, then the single page option is the one to choose. Just upload your content in the content box, give the section a title and upload any images or documents you want to show on this page.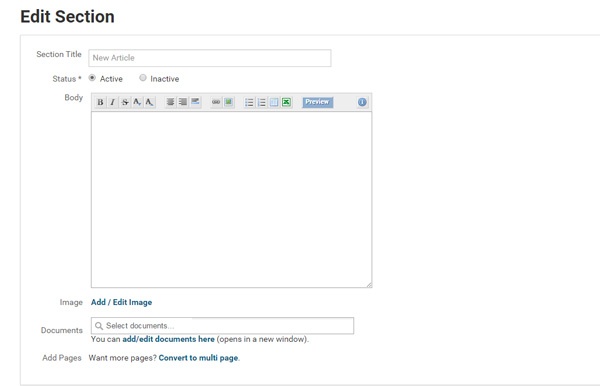 Multi-page sections
If the content you're uploading is split into multiple headings or topics, using the multi-page layout will make it easier for users to find and read this information.
A great example of this is when adding a club history section, rather than list all history on 1 page, why not create a page for each decade?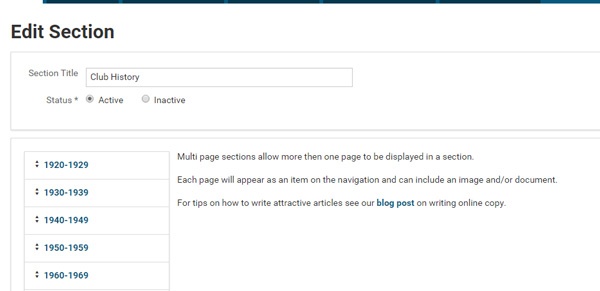 After selecting the multi-page layout, you'll need to give the section a title and then add the content to the pages you require.
When you're happy with the pages, you can drag and drop the content into an appropriate order. The first page in the list will be the page that appears when the subject is clicked on.
Example Content
Now you know how to add this content, here's a few examples of the type of content that's been added to sites previously:
- Club History, Honours, Trophy-room
- Code of conduct, terms of membership, membership rules
- Coaching, grounds-keeping, safeguarding areas
- Info on club lotteries, competitions and ticketing
- Overview of clubhouse, facilities and club structure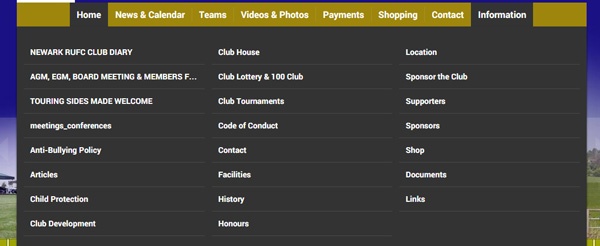 Promotion
The last thing to do is promote this content to your members. No longer will you have to frantically search to find this information - just point them in the direction of the website, where they can find the information themselves.
You can also promote this content on your website, through homepage links, homepage images or even by sharing on social media.
TOP TIP - Use the translation tool to change the name of the information tab, to something that represents the content within the tab. e.g. Club info & History or Ticketing & Info.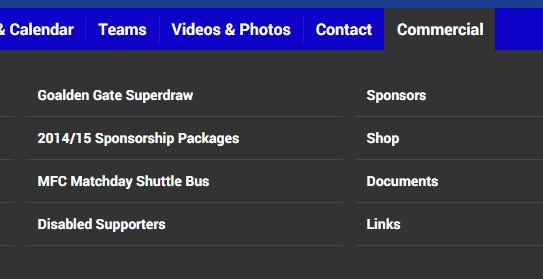 Support
As always, contact our support team if you need help with anything mentioned above - we're more than happy to help!
Thanks,
Pitchero