Is behaviour in cricket spiralling out of control? If recent announcements made by the MCC World Cricket Committee are anything to go by – the answer is yes.
In an attempt to curb the perceived increase in violent acts on cricket fields, red cards are to be introduced into the game come October 1st 2017.
For the first time in it's 229 year history, cricket will introduce a law aimed at deterring bad behaviour. Player offences will be ranked against a brand new four tier disciplinary system, with punishments ranging from simple warnings to removal of the field for the remainder of the game.
The new system will look like this:
Level 1
Excessive appealing.
Showing dissent at an umpire's decision.
Punishment - following an official warning, a second offence will result in five penalty runs being conceded.
Level 2
Throwing the ball at al player.
Making deliberate physical contact with an opponent.
Punishment - five penalty runs being conceded.
Level 3
Intimidating an umpire
Threatening to assault another player, team official or spectator
Punishment - five penalty runs being conceded and the removal of the offending player for a set number of overs.
Level 4
Threatening an umpire.
Any other act of violence on the field of play
Punishment - the removal of the offending player for the remainder of the match.
Introducing on-field sanctions has long been part of the discussion on the laws of the game, with sanctions trialled in the UK during the 2016 season. Alongside a complete removal of a player for a level four offence, you can also find yourself with a sin-bin style dismissal, sitting on the sidelines for a "set number of overs". It's yet to be decided if umpires will physically brandish cards or simply ask a player to get off the field.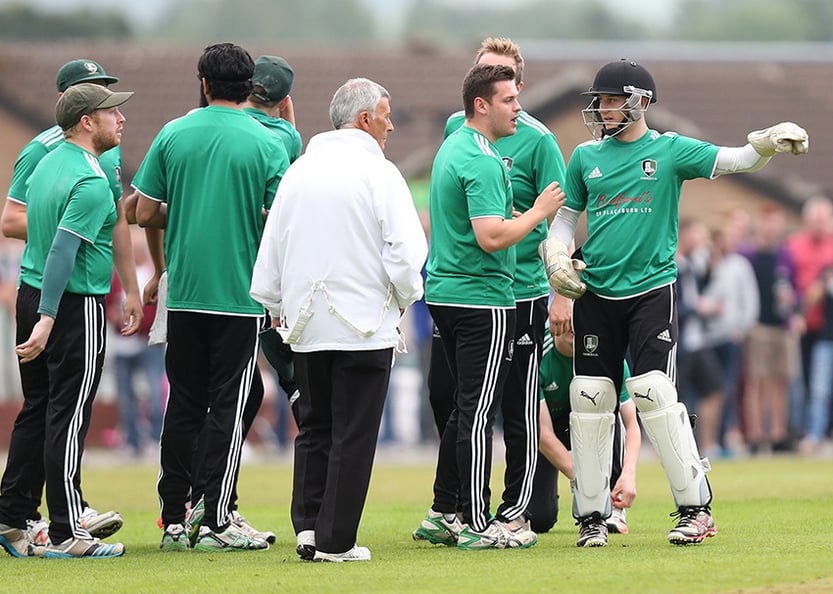 The members of MCC World Cricket Committee cited a decline in behaviour at grassroots level as the most significant factor to finally introducing a level of deterrent. Made up of celebrated current and ex-international cricketers such as Ricky Ponting and Sourav Ganguly, the committee cited club cricket as the level where change was most in need. Head of the committee Mike Brearley said in December:
"Anecdotal evidence from people who are familiar with leagues in part of England tells us that the behaviour has got a lot worse. Umpires have to be respected, and given the best possible chance."
Another committee member, Ramiz Raja, agreed:
"This is a pretty drastic change to the laws...it is the second or third tier which is causing a lot of stress, the club matches."
A recent survey of British umpires was also cited. 40% said they had questioned their involvement in the role after being victim of on-field abuse. Under the current laws, violent behaviour is outlawed but the umpires have no power to punish offenders.
So, has cricket made a vital step towards curbing a genuine epidemic in cricket, or is it acting without sufficient evidence? Have you seen an act of unacceptable violence on a cricket field? Could we find a better way of tackling the problem – one that feels a bit less...football? And might these rules see the vital competitive aspects of cricket diminished?
Let us know in the comments below, or join the conversation on social media on our Twitter page.