The Football Association are set to introduce a 'sin-bin' type format at clubs that are in the 7th tier of the football pyramid next season.
The FA's proposal will not be to send all types of yellow cards into the sin-bin, it will only be cards shown for dissent that will see the play leave the field for 10 minutes.
Dissent towards the officials is arguably one of the biggest talking points at the highest level of the game. Clearly, this is filtering all way down the football pyramid, with 25% of yellow cards shown at grassroot levels being shown due to dissent.
Somewhat surprisingly, diving will not be a 'sin-bin' offence and yellow cards given for play acting will still only be sanction will a booking and a slight telling off.
The FA want to eradicate abusive behaviour and language from the game, a problem that plauges the sport at all levels. Given the example other sports set in respecting officials (and showing football up in the process), this trial at least shows a committment to change.
Aforementioned, Step 7 and beyond of the English football pyramid system will be the leagues that are set to take part, with leagues from across England looking to be the basis of what could be a significant shift in the ruling of beautiful game.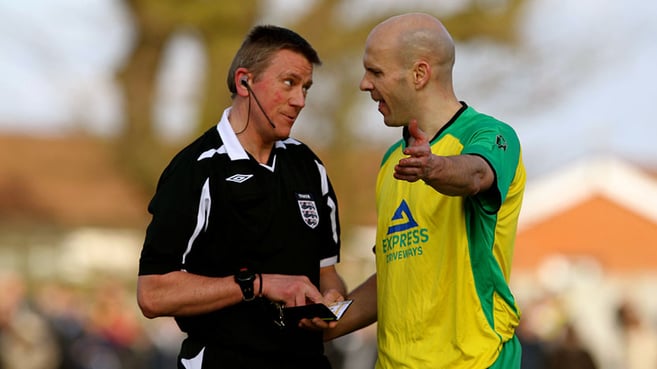 Despite these leagues possessing plenty of great clubs and players alike, is there cause for concern that the trial might be starting a bit too low down the football pyramid?
Fourth officials, you would think, are needed in these situations to help the referees keep track of time. If no one is able to aid the referee, then his distraction from the game may cause a number of problems.
In the lower leagues, unlike the top tiers of the National League, fourth officials aren't present at games. Losing track of time seems to be one of the bigger issues that could arise from the trials, especially if the referees are having to send two or more players in within 10 minutes of each other.
Michael Gannon, writing in 'The Daily Record' is one person who thinks that the process isn't such a great idea, he comments;
"Sin bins are like marriage. They are a nice idea in theory but a lot harder to make work in practice."
He adds;
"The (FA) should be thinking about ways of making the game more entertaining, not finding new ideas to make it more boring."
In some ways you can agree with Gannon's comments. You can foresee a scenario where the referee might have to send three or four players off the pitch for 10 minutes after a heated exchange during a passionate game of competitive sport.
We see a lot of games that have been unnecessarily ruined when one team goes down to 10 men and with the trials being held in county leagues, local rivalry tempers are bound to boil over at some point…some believe that it's all just part of the game.
Keith Hackett, former Premier League and international referee, doesn't think the idea will work and comments;
"Many of our grassroots games operate without assistant referees...sin-bins are a step too far and promote weak refereeing."
However, top Rugby Union referee Nigel Owens believes that the introduction of the sin bin will be beneficial to football.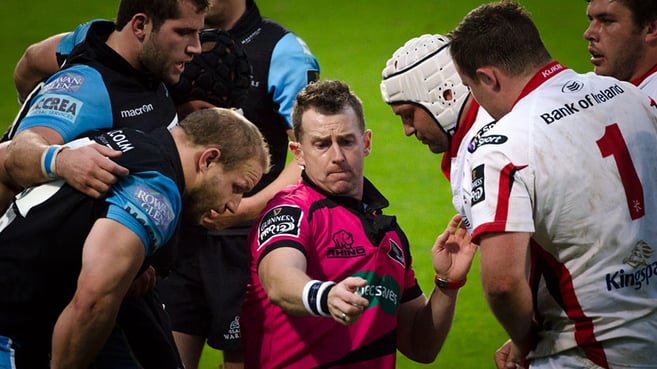 He told the BBC;
"I think football needs it. It will cut out the dissent, or certainly will help cut it out."
Owens added;
"It will ensure that the manager instils discipline in his players as well and in the way they conduct themselves on the field as far as respect and dissent goes so it's hugely important I think that they do bring it in."
Everyone will probably agree that football needs to clamp down on dissent towards the officials. Watching the best players in the world run their mouth when a decision doesn't go their way is setting a bad example to the next generation of footballers.
Yes, managers will have to instill it into their players that being sent off for 10 minutes could have a huge impact on the game. Being yellow carded in a cup final for getting a little too worked up has the potential to lose your team the match.
To flip to coin though, fans want to see passion on a football field. It doesn't matter if they're watching their team play in the FA Cup final or their team is about to be relegated from the football league; showing passion is a massive part of the game.
Arguably, some of this may be lost. Referee's expect to upset someone during a game and unfortunately, they will be in the firing line of abuse (something we've seen rear it's ugly head again this season).
More often than not, players will know when they have been out of line and will either deservedly be shown a yellow, or apologise to the ref. The question with the temporary dismissal is, at what point will the referee decide the sin-bin is the necessary action?
Something however needed to be done. Hundreds of grassroots referees spoke this March when they went on strike. Without them, the game could simply not go ahead, so let's work towards a solution to football's problem with dissent.
Your thoughts
One thing is for certain, a lot of people will be paying close attention to the deeper ends of the grassroots game next season.
Has your club signed up for next season's trial? Do you support football's answer to dissent, or do you have an alternative solution?
Let us know in the comments below.