Final Whistle™ is an app designed for clubs, created by David Frazier and Ricky Kundi in association with the hate crime charity, Stop Hate UK.
Together, their aim is to make it easier to report, combat and ultimately end hate crime in all sport and the broader community.
A hate crime is defined as hostile behaviour or prejudice based on a person's disability, race, religion, sexual orientation or transgender identity.
The app, that can be purchased and branded in your club's colours, is geared towards reporting hate crime in sport confidentially. It works by:
Allowing the user to capture photos, video or audio of the incident inside or outside your club (if safe to do so).


Geolocation to identify where the person reporting was at the time


Ability to save the evidence on your device and report it afterwards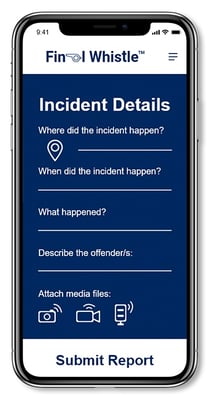 Apart from acting as a deterrent, especially if the participating clubs promote the fact they're using this app, it demonstrates sports clubs are serious in combatting hate crime in grassroots sport.

The location technology means exactly where an incident took place can be proved which will be helpful in future investigations.

It's one way of taking a stance against hate crimes and to find out more, individual clubs can get in touch with David via https://www.finalwhistle.app.

Note: This isn't an app freely available to the general public on Google or Apple platforms - because of the cost of managing the service (Stop Hate UK would manage the reports).
There are Stop Hate UK apps for West Yorkshire (Google Play or Apple App Store) & Surrey (Google Play or Apple App Store).