Throughout the first two weeks of October, we've been running a FREE prize draw for one lucky club to win £250 cash & a 1 year subscription to our Elite Package (worth £220).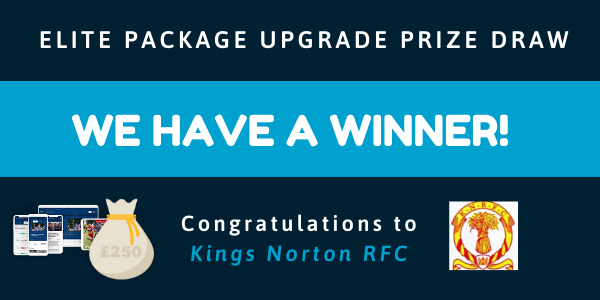 To enter the FREE prize draw, clubs had to upgrade from our Free Package to our Elite Package free trial using a special code at checkout.
After verifying the successful entrants and selecting a winner at random, the lucky recipient of the cash & subscription can now be announced:
🏆 Simon Thompson, Treasurer of Kings Norton RFC 🏆
Congratulations!
Simon gave us an insight into Kings Norton RFC:
"Founded in 1923, Kings Norton RFC is an expanding and inclusive club with 250 male and female players ranging from 5 to 70. We cater for both contact and non-contact rugby and work very hard with local schools running festivals to encourage more players into the game. Most famous players who went on to representative honours are Nigel Horton a second row who went on to play for Moseley and England and Nick Baxter a winger who was the first national league player to score 100 tries and played for Worcester Warriors, England Sevens and The Barbarians."
...and how he uses Pitchero for Kings Norton RFC:
"We are a long-standing user of the Pitchero site and find it easy to use with the opportunity to include information on all of our teams and activities. This helps us to widen our communication and further increase involvement. We are currently raising money to purchase an adjacent field (our Field of Dreams project) to allow us to offer opportunities to more players, schools and other sporting clubs. We will be putting this prize towards our fundraising project."
---
Stay tuned for more FREE prize draws in the coming weeks to see if you could win for your club.
For more information about our Elite Package, click here