Pitchero Athlete Ambassador Kate Richardson-Walsh recently joined us for a series of discussions on her experiences as a Team GB and England hockey captain.
This week, hockey players, teams and clubs have been sending questions in to Kate and we put a selection of these questions to her in a Facbook live Q&A session. Check out the full video below. If you prefer, you can just listen to the audio below.
If you missed the video, not to worry we've got a summary of the Q&A to follow:
Archie Busby from Rotherham Hockey Club wants you to take us back to that Olympic final last August and talk us through your emotions when you realised you'd won an Olympic gold medal for Team GB.
It felt like the lights went down and it was just us running over to Hollie who put the winning penalty in. All of the emotion of the ups and downs throughout the years just came down to that moment.
Mikey Brennan would like to know: 10 months on from Olympic success, what needed to happen to capitalise on the achievement and has it been fulfilled?
As hockey fans, we want to see top level hockey on the TV every week. Netball have done a great job with that with the Superleague. We would like to see more of that happening in hockey.
It would be great for sponsors to get behind it as well. It would modernise the game.
Lots of organisations like Back to Hockey and Rush Hockey have provided loads of ways for people to get involved with hockey. It's great because hockey is for everybody.
Sarah Hammar asks: When you were young did you ever imagine to go to the Olympics and win gold for Team GB?
I remember watching the 1992 Olympics when Team GB won a bronze medal, I remember Sally Gunnell being incredible, but I didn't ever think it was for me because I thought I could never be as good as Sally.
When I went to the Sydney Olympics, I was blown away by the whole thing. I thought it was amazing.

Do you have any advice for young aspiring hockey players?
Just be the player that you are. The good thing about hockey is that it's for everyone. You could be a really good man marker, or you might be an amazing goal scorer or passer. It doesn't matter because there's a place for you on the hockey pitch.
Sue Targett wants to know what you would say if you could talk to your younger hockey-self and if you'd do anything differently.
Yes, I definitely would. I was so sure I wanted to be something I wasn't. I wanted to be a fast, skillful, quick hands player who was setting up attacks and setting up goals. I'm not that sort of player, I'm good at tackling, I'm ok at passing and I could understand and organising tactics. It took me ages to get my head around that.
Jonathan Johnston wants to know: What drove you to keep playing hockey at the highest level for so many years?
My teammates. It's the thing I'm going to miss the most. Those moments that nobody else sees. In the changing room, before a game, I'll never forget those.
The characters and personalities within the team as well. Whatever mood you're in, you can always find a place or space and be comfortable there.
As a team, we had plenty of knock backs. Not qualifying for the Athens Olympic Games was devastating, we lost 70% of our funding off the back of that. 2014 also playing off the last place in the World Cup was a really dark period.
Those moments make you really reflect on who you are, where you're going and how you're going to get there as an individual but as a team as well.
Emily Allen from Bedford Hockey Club is keen to know if you have any methods for keeping positive individually?

We talked a lot with the Psychologist about what individually you're like at your best and your worst. When you can recognise those things, you start to form triggers on how to deal with the emotions that come with it.

You learn tools and tricks to be able to prevent you from going into negative spirals, which can so easily happen.
We're so hard on ourselves and it's so easy to think "we're going to lose again", "I'm not playing very well." It's just about stopping those thoughts early on.
How do you keep a winning mentality?

Maintain your equilibrium. Stay on one level. At the Olympics, we were only focusing on the next game.

If you start to look too far ahead, you might start panicking. You need to actually focus on simple things like getting this ball and passing it to your teammate. Stay on task as much as you can.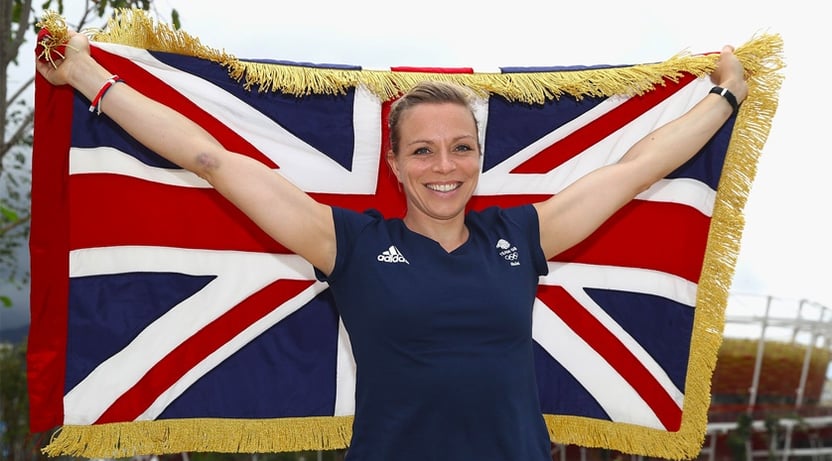 Elly Evans from Broxbourne Hockey Club is interested to know as a captain, how do you ensure your team doesn't become disheartened by losses?

Trusting your teammates. You spend so much time together and get to understand what works for people and what doesn't.

When I first started my captaincy I thought it was all about big speeches, but you need to trust your players and trust that they'll be motivated and ready for a game without you having to do that.

It's all about using the leadership groups to talk to players individually and sharing the load.

Diana Green's after some hockey club advice. What could hockey teams do to improve their performance either on or off the pitch?

Working together, creating links in your local community also helps. It keeps those communication channels open and can be a great help for the club.

Having Pitchero at Reading was great for us. We paid our subs through it, organised social events and training. It makes planning so much easier.

What will you miss most since retiring from playing internationally?

I don't miss taking my heart rate and oxygen rate in the morning. I don't miss fitness testing. But I do miss the routine and my teammates, it's what I miss the most.

Georgia King wants to know: Do you have any plans to go into coaching, either with the national team or any other team?

I do want to coach definitely. I've been coaching in Holland a little bit, but I want to be a head coach and do it properly at some point.

Just as a final question from Cat Clarke. Looking back on your career, you've played hockey all over the world. What's the best place you've played and why?

Argentina is amazing. Hockey's massive over there. But it's got to be the London 2012 Olympics. The noise they created was incredible.

The World Cup 2018 is probably going to get the same noise created so we need people to get down there and support hockey.