At Pitchero, we like to see our clubs grow. To do this, you've got a number of tools at your fingertips to lend you a helping hand.
Thousands of our clubs are using Pitchero's Shop & Payments to grow club revenue, and your club has everything it needs to do exactly the same.
Don't just take our word for it. Harvesters FC have seen their club revenue rocket since they adopted Pitchero Shop & Payments in 2015. Here's what they did, and why they love the Online Payments tools at their disposal.
About Harvesters FC
Based in St. Albans, Harvesters are a junior football club that list over 50 teams on their website. Including a number of girls and inclusive teams, Harvesters are a fantastic club serving their local community.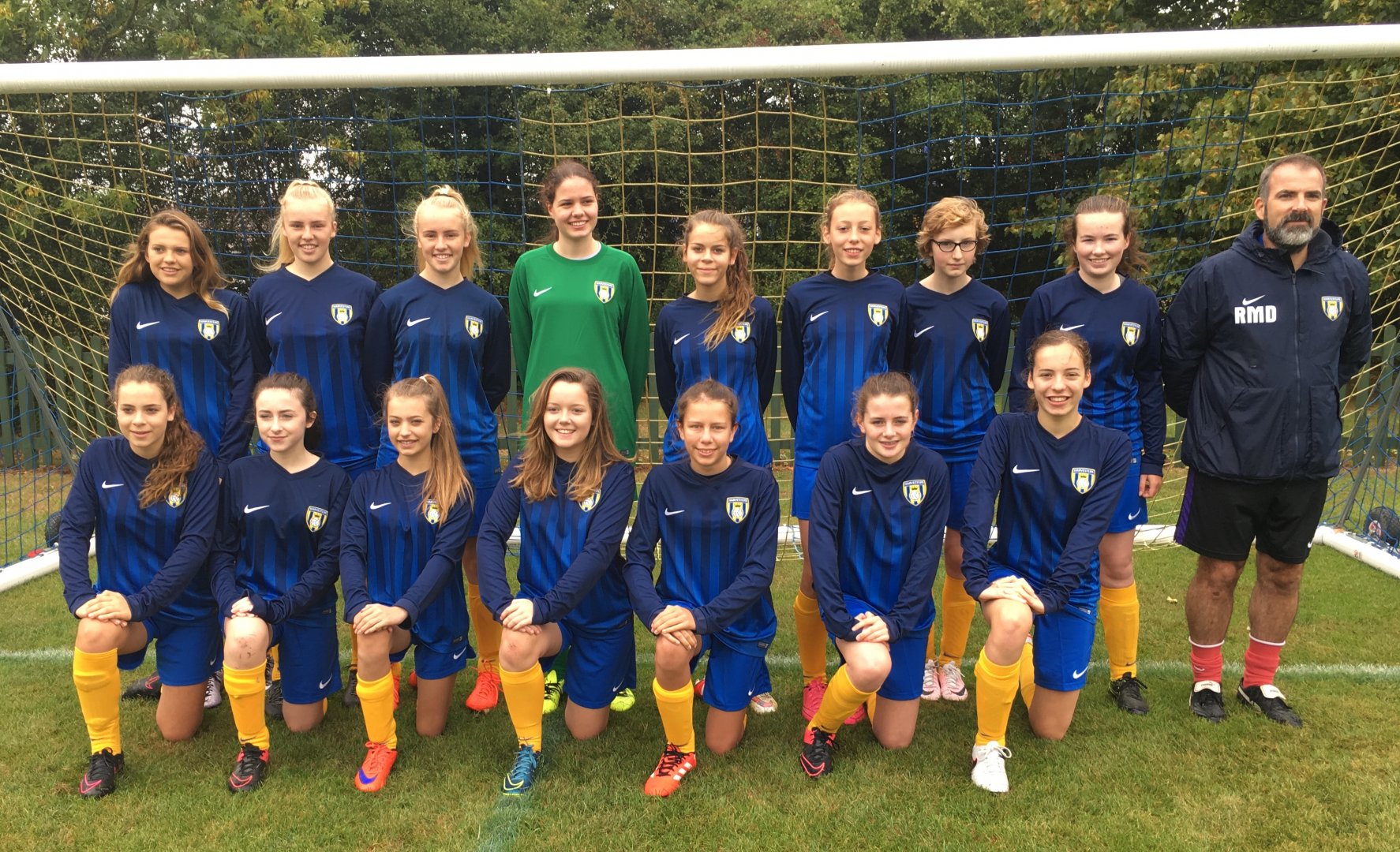 With nearly 1,600 total registered members, Harvesters FC needed a centralised, streamlined system to collect their membership fees. Thankfully, Pitchero's Membership features have no storage limits, allowing Harvesters to allocate and track the payments made by every single member - all in one centralised location.


Collecting member subscriptions
The bread and butter of Harvesters' Payments collection comes from membership subs. Collecting from all of their teams, Harvesters' Webmasters can track who has and hasn't paid - and then send out reminders to those who haven't.
Not only does it help the club; it also leaves players and parents with one less thing to worry about. Using Direct Debits, members can have peace of mind that their subs are continually paid all season long.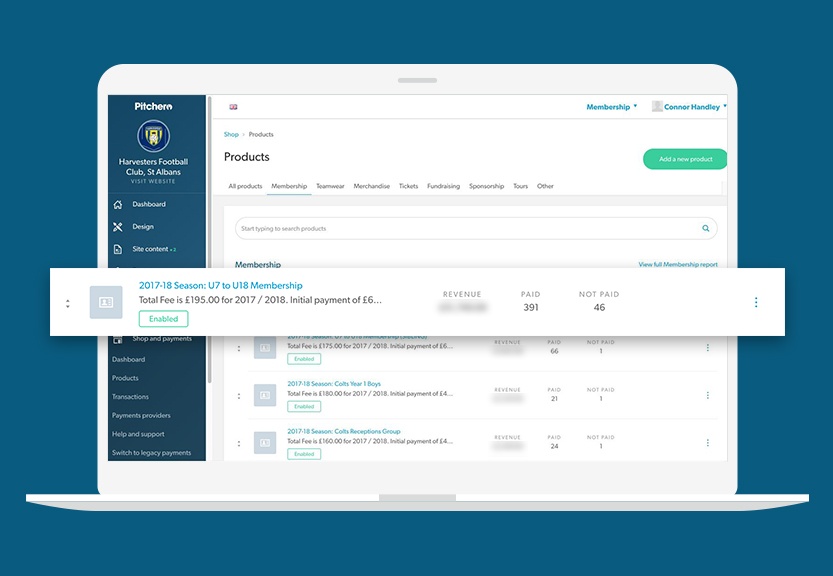 Shop & Payments isn't just for subs
It's not just payments you're able to collect through the system. Harvesters FC run football camps throughout the year and Payments is a great tool to help you plan these events and raise vital club revenue from them.
Elsewhere, Harvesters even collect club fines through Shop & Payments. With the Pitchero system, you can bring your collecting of money online into one centralised, online dashboard.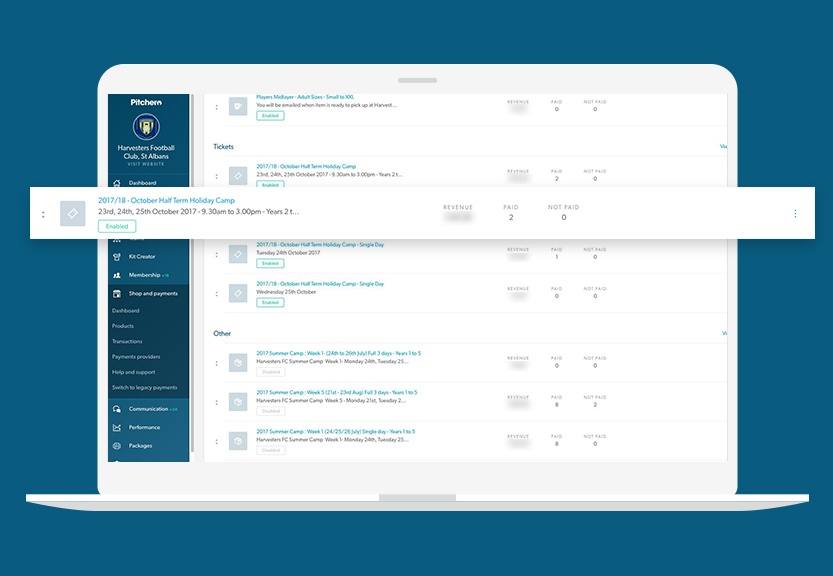 What Harvesters say about Shop & Payments
"Since joining Pitchero late in 2015 we have gone from taking no online payments to approaching £200,000 in 2 years.
We now collect all annual subscriptions, payments for camps and even player fines online.
The payment tools provided by Pitchero allow our club to manage all our finances online – just like a professional team.
This has saved hours of time and made running the club much easier. I highly recommend clubs at all levels use the Pitchero Club Website!"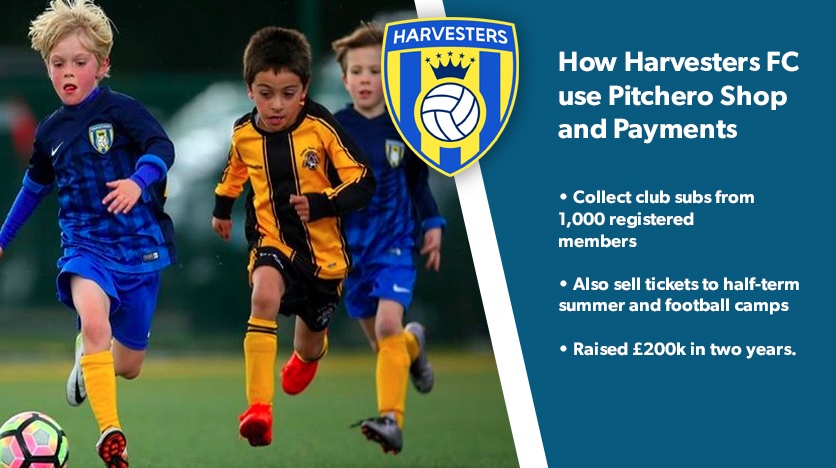 Start raising club revenue today using Shop & Payments
Just like Harvesters FC, your club can start raising revenue and cutting down on administration time using Shop & Payment.
This feature is part of your Pitchero Club Website, and you can get started today in Club Control Panel.