Horsham Rugby Club is a thriving community hub that runs 27 teams, from the age of six upwards, at their Coolhurst ground in West Sussex.
I talked to Ash Grimsey, their Operations and Technology Manager, to find out how Horsham use Pitchero for managing membership, facilities bookings and match fees.

Ash took over the Webmaster role around 6 years ago at which point Horsham Rugby Club's payments were a blend of online, standing orders, BACS and cash over the bar - that added extra admin to the whole process.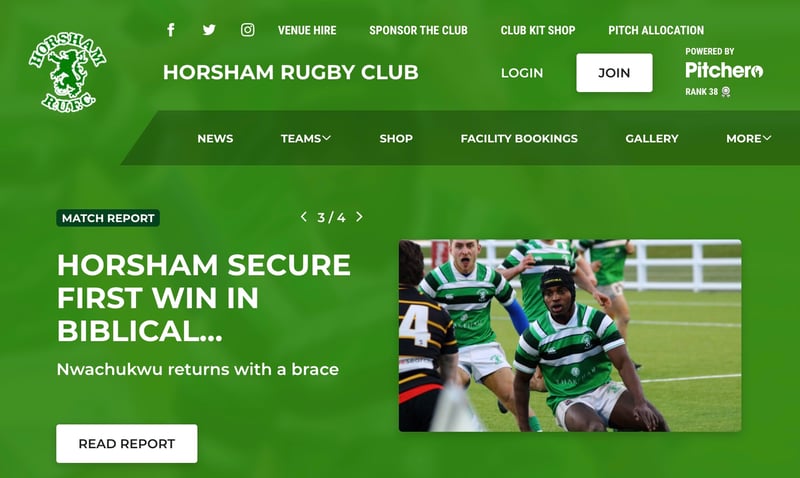 It has taken time to get to where he's happy with visibility across sections (juniors, seniors, ladies, minis) and age groups.

Almost all of their payments now come through Pitchero and they have a system that works, including a way of organising products in their shop to aid admin and management.
'Pitchero is the best way for us and for most sports clubs to do online payments, to be honest, to limit some of the admin.'

Ash Grimsey, Operations and Technology Manager, Horsham Rugby Club
'The reason it took a bit of time to get on top of the set-up is being a bit smarter with how we set products up.
Horsham don't just offer products for junior or senior rugby players but flexibility with monthly and annual options within each category too.
What are the key benefits of using online payments?
'The set-up is really good; it's easy from a parent, member or player perspective to pay which is the key thing. With selling anything, if you can make the customer journey as easy as possible, you're on for a winner.'

'It means you can set that product up and leave it going and the Membership Secretary isn't chasing loads of people. They don't have to run around with a direct debit form or get them to set up a standing order and get someone else to check the bank account.'
'From a club's perspective, if you can get your payments coming through from a single source, for the most part, then that's half the battle.'
The key part of the transition when it comes to online payments for clubs is encouraging members to adopt the new way:
'If you can get everyone on board, you can make it so much easier for people to pay, you to chase people and for you to administer that in one central place.'

'It (Pitchero Payments) is quicker and easier for both club and member.'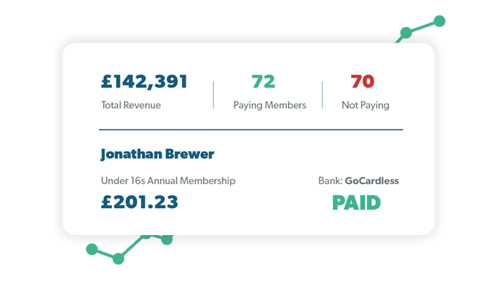 Shop & Payments - Costs

We discussed the barrier for some clubs that they could save money by not paying transaction costs to Pitchero and the payment provider company (GoCardless or Stripe).

While true, the online route can help a sports club make many times more than they would save by using manual payments into bank accounts that need identifying and sorting.

As Ash put it: 'Depending on how big your membership is, in a year, you might save a couple of hundred quid - but what's your time worth? If it means you end up spending an extra 30 or 40 hours. It's a bit of a false economy because it pays for itself.'
Transition and encouraging change
The hardest thing for Horsham Rugby Club in embracing online payments was convincing established members to move away from their existing way of paying.
Ash reckons it might take a club a couple of years before everyone, or the vast majority, move over to using Pitchero for online payments - but it'll be worth it.

'The fact that you can go on Pitchero, allocate a product and sell it to them, they get a notification saying your payment's due, that's great!'


Match fees

Horsham have set it up initially for their casual players (Barbarians) as they pay a lesser amount for membership and then pay a match fee.
It's only just live this year but Ash likes it and the plan is to use it more widely. The key is buy-in from coaches and different teams.

To ask someone in person repeatedly for payment can be awkward and not the best job in club sport. With Pitchero Payments, it's automated which removes that:
If you can almost do it at arm's length by giving them a nudge via technology and letting Pitchero be the 'tax collector' then great!' It's Pitchero being the bad guy, not the club captain or coach.'
Facilities bookings

Thanks to Pitchero's integration with Bookteq, clubs can now embed a booking calendar on their website to hire out anything from pitches to the bar or reception rooms.

It is early days at Horsham Rugby Club but within the first month, they generated £600 in unsolicited revenue - i.e.) with minimal engagement or effort.
Looking to the future

On the field, Horsham Rugby Club looks to be in a strong position with success stories they can be proud of.
By way of example, ladies rugby in the last couple of years is up 800% with a player base that's grown to 60 and two ladies teams.
Equally, sponsorship renewals like Christ's Hospital School and the £1,000 referral scheme with estate agents Henry Adam point to healthy commercial activity.
Meanwhile, Horsham's varied use of Pitchero features to bring in revenue shows what's possible and is a credit to their volunteers for driving this forwards.


Online Payments - Book a Demo
To see a live demo of online payments and ask a Pitchero expert how it can work for your club, click here and choose your preferred date & time.
Thanks to Ash Grimsey for the interview and good luck to Horsham Rugby Club for this season and beyond!