Sponsorship is a huge part of any community club's efforts to boost revenue. Thanks to the accessibility of online platforms for grassroots clubs today, sponsorship can be significantly amplified just by heading online.
A club website with Pitchero is a perfect example. Here are all the ways we can help your club secure vital funds through sponsorship online.

Header sponsorship
Sponsors want to leverage your existing audience to create exposure for their business. When you take on new sponsors, you can provide significant amplification of their brand through your club website.
With Pitchero, you can embed the logos of your club sponsors into the header, ensuring it's the first thing all your website visitors see when they arrive.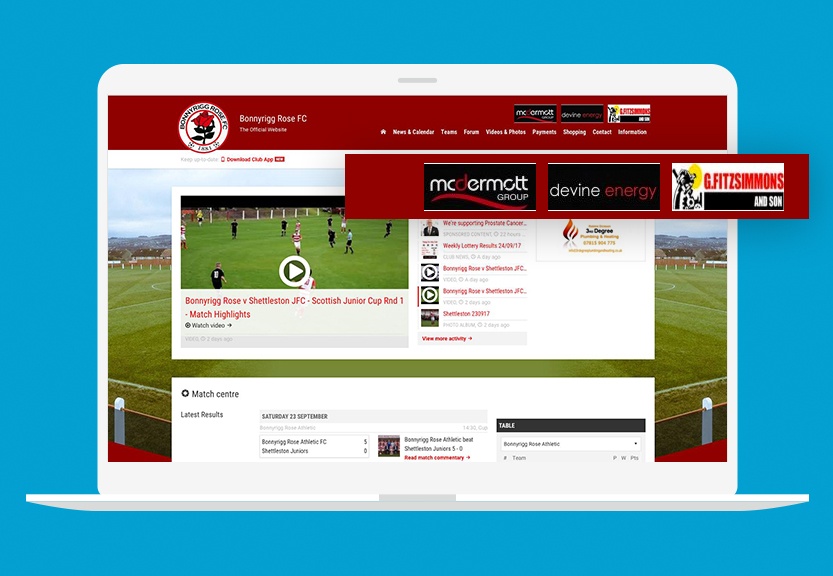 This kind of high-level sponsorship potential is a big draw to sponsors, allowing you to charge a higher price for space on your website – just as Bonnyrigg Rose FC have done with their site.


Carousel Sponsorship
Adding to the ways in which a Pitchero club website can showcase your sponsors, the carousel of sponsors is a great opportunity to promote multiple club partners in one go.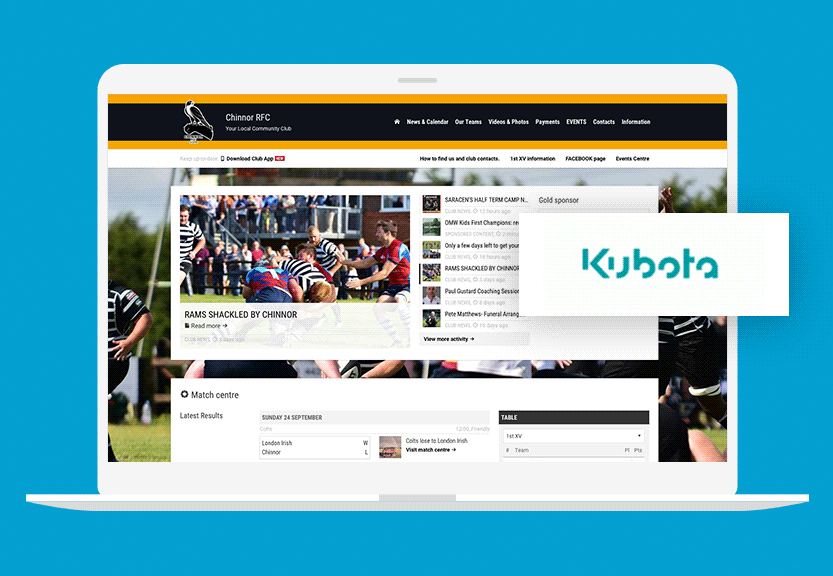 The revolving carousel sits in the headline content section of your site, (an area that a high number of users will be heading straight for) allowing you create a second level to your club's sponsorship potential.

Chinnor RFC (above) is just one example of a sports club on Pitchero leveraging a prime online location to display multiple advertisers prominently.


Choose the level of exposure
There are a number of other areas on the club website that your sponsors can take advantage of, and you're free to ramp their exposure up as much as you can.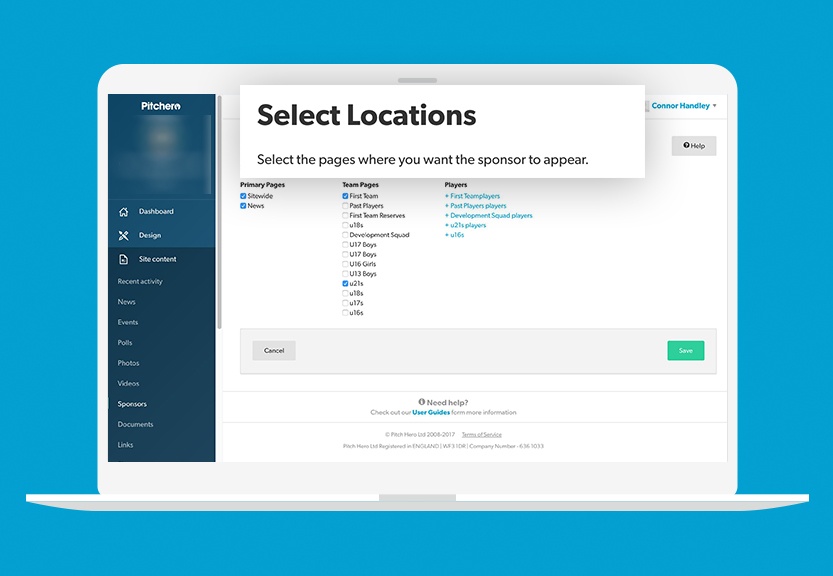 Filter sponsors down to appear on relevant teams and player pages (choose a youth team sponsor to only appear on youth team pages for example) or select them to appear in high-traffic areas such as club news. Alternatively, you can select a sponsor to appear site-wide, thrusting their name in front of as many visitors as possible.


Social media hook up
Another platform for sponsorship growth lies with your social media channels - and with a Pitchero club website you can bring the two together. Embed your Twitter and Facebook channels to promote your other significant digital platforms via the club website.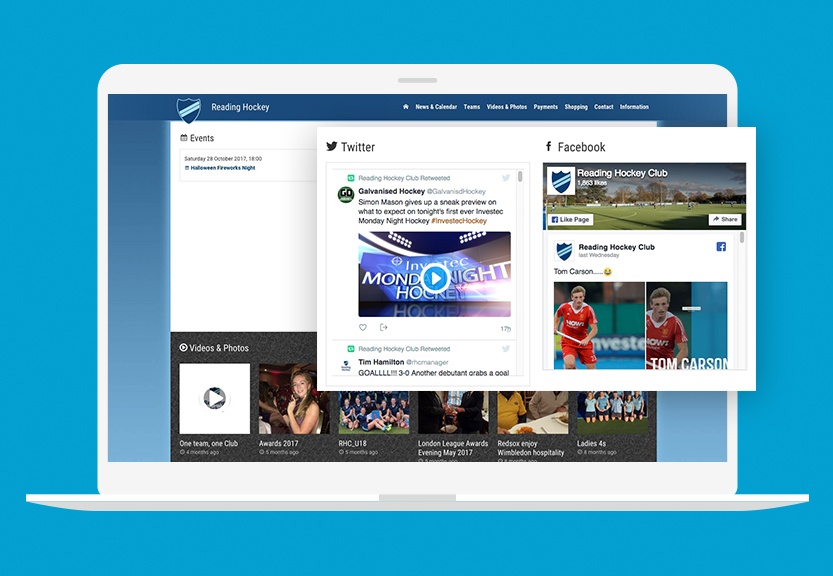 If you have any social media sponsors, this can be a great way of pushing regular website visitors towards them.
It also works in reverse. Social media is a significant tool for driving traffic to your club website. Post links to all your latest news, photos and match reports on Twitter and Facebook and increase your sponsor's exposure both on social media and on the club website.


Build your traffic
To build that exposure and ramp up the revenue opportunity for your club, you need traffic back to the club website. With Pitchero, we give you all the tools to make that possible.

Create content in seconds: Our Club Control Panel is intuitive and accessible, allowing you to create club news items or match reports, upload photos and video and more with ease so you can deliver the latest on your club.

An epic website design: First impressions make all the difference. As visitors come to your site, their impression of your club is moulded initially by its design.

Thankfully, an epic club website design comes as part of the package with Pitchero. For clubs on the Elite and Ultimate packages, our in-house design team will create you a look that feels just right for your club.
Sporting an impressive, modern design, you'll set a first impression that leaves visitors coming back for every development from your club.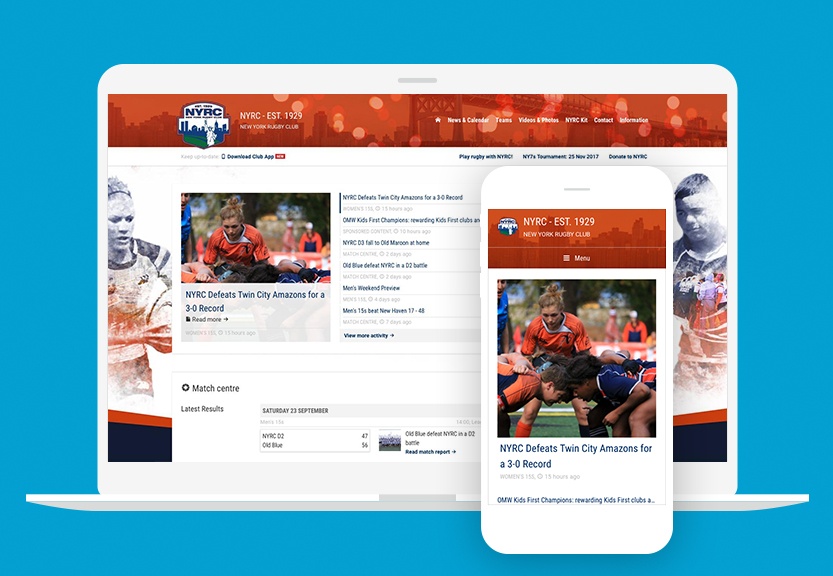 Responsive sites: A quick stat. In November 2016, more websites were loaded with smartphones or tablets than on desktop computers. It's the first time that had ever happened, and it emphasised the ever-growing importance of having a mobile-ready website

According to Ofcom, in the first quarter of 2017, 76% of UK adults had a smartphone so the trend of increased website traffic through mobile devices is set to continue.
Every Pitchero club website is as efficient and easy to navigate on mobile as it on a desktop, allowing you to deliver content to your visitors no matter the device they choose.


Boost club sponsorship with Pitchero
A club website with Pitchero is your ticket to raising club revenue through your most significant stream – sponsorship.

It takes just a few minutes to get your site up and running, so get started and give your club's revenue streams a boost.

Boost your club's sponsorship income - Free Ebook
Sponsorship should be a pillar of your club's revenue growth. For the ultimate guide to growing sponsorship at your club, crammed full of great tips and advice, click to download our free Ebook below.