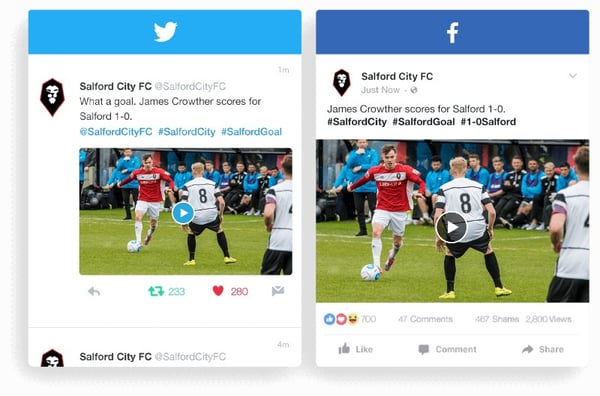 Creating and sharing live video action from matches is not limited to the professional sports teams. Whether it's a goalkeeper's wonder save or a game winning try, you can capture the moments that matter in real-time, without the need for post-editing.
Pitchero Play is a feature within the free Pitchero Manager app for iOS and allows clubs to record, create and share match highlights. Here's how…
Get started in Pitchero Manager app (on iPad or iPhone)

Download the Pitchero Manager app
To record a game, tap the Match centre icon then tap a Fixture
Next, tap the red Pitchero Play button to record
Ok, so you're now recording a match live! When something of note happens like a goal, just select the team, tap goal and tag the player who scored it.
The Manager app bookmarks the footage and creates a short highlight then a video clip will be posted to your club's Pitchero website, the Club app and social media channels to be enjoyed by supporters.
It's fast, requires no complex video editing skills and can be done by anyone who has the level of access (webmaster or team admin) to use the Manager app and record footage for the club.
Video content is a major asset to any sports club because it captures our attention like nothing else.
It's engaging, convenient and if you start your video journey and showcase your games then it can be the best promotional tool going for your sports club.
Note: Pitchero Play is only available in the iOS version of the Manager app and is unavailable for Cricket clubs.