Think of changing website providers, and you'll likely think of tedious, time-intensive tasks that just put your club off making a change at all.
Whilst initially daunting, making that leap and moving from another website host to Pitchero is remarkably simple, and brings with it a boat load of benefits that your club just can't ignore.
Here, we'll breakdown the key features that help you seamlessly integrate the main components of your club onto a Pitchero club website, and why its the right decision for your club.
You're not in this alone
The role of the sole webmaster can be a painfully lonely one. Buried under a mountain of admin, we have sympathy for those who struggle on for the good of their club.
That's why every club on Pitchero has the ability to share website tasks by commissioning a number of webmasters and team admins, each with their specific area of responsibility.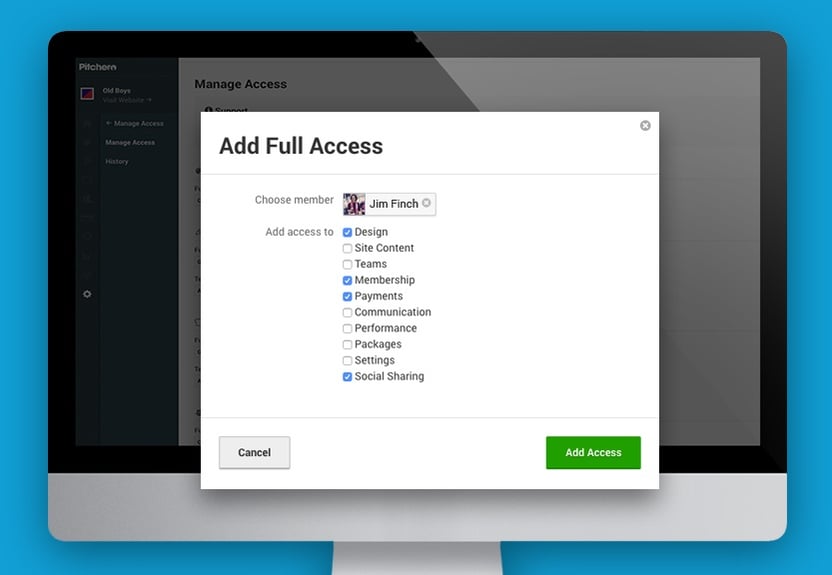 Take a weight off your mind
You have total flexibility to give a number of people webmaster control. Alternatively, you can allocate individuals access to specific areas of your club website, such as certain teams or features.
Allocate the tasks outlined below and spread the transition to a Pitchero club website even easier. Then when you're all up and running, you can bring in team admins to overlook the weekly running of a team's selection, content and more - allowing you to get back to the things in sport your enjoy.
Fill out your membership database
Pitchero is much more than just a new shiny club website – its a comprehensive tool for making the arduous day-to-day running of your club a whole lot easier. One feature that significantly aids club officials is a membership database held securely online with no storage limits whatsoever.
Getting all your member's details from one website onto a brand new club website doesn't have to be a time consuming task. If you're like most clubs, you've probably already got a spreadsheet crammed full of all your club's various members, including their contact details and other vital information.
And using our seamless integration tool, you can import all those members in just a few seconds. Upload your existing database (as a .csv file) and you can ship all the information you currently hold on club members, such as date of birth, gender, email address and contact numbers, in just a couple of clicks.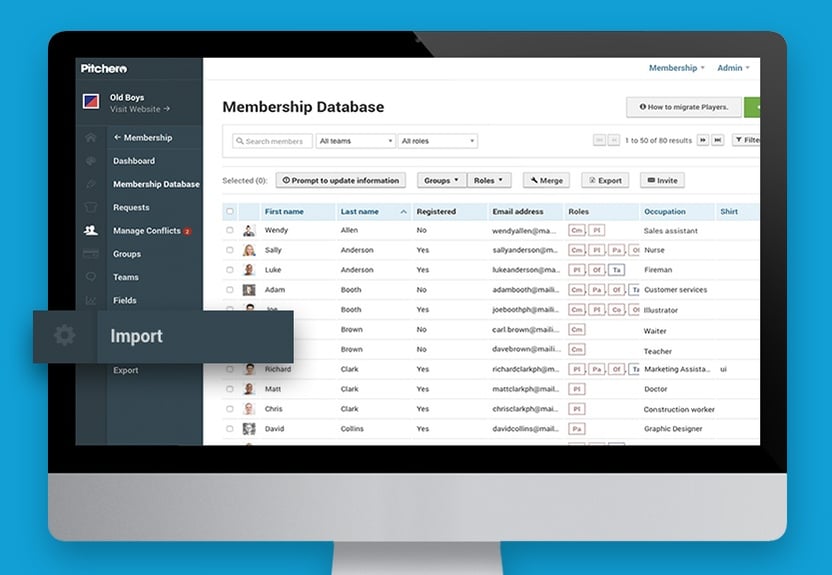 Import a mass of members in a matter of moments
Reducing the most disheartening task to just a few simple steps, moving all your members onto a new online database is remarkably simple.
Plus, if you don't have certain information on members, you can prompt them to update it. Use our uncomplicated click-box system to send an automated email alert to all those members who have incomplete membership fields.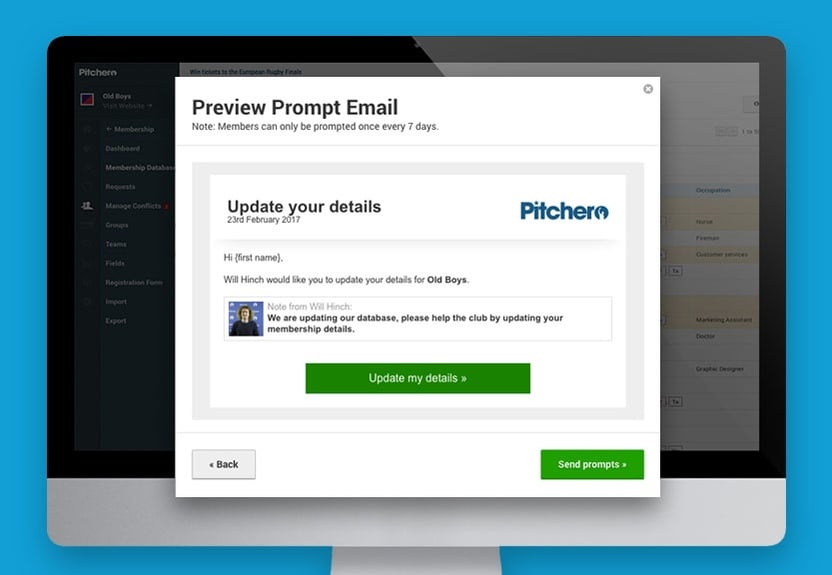 Let your members do the hard work
In the above prompts, you're able to add custom fields to allow you to collect whatever information you need from your members.
The ease at which you can import membership information saves club admins hours of painstaking work individually uploading each member, and puts to bed one considerable pain-point of switching your club's website host.
Automated Fixtures and League Tables
We maintain an exhaustive database packed full of information from thousands of competitions held worldwide.
Complete with the latest tables, fixtures and results, link your teams up to their relevant competitions and we'll automatically pull through fixtures and results from the current season, plus the latest league tables.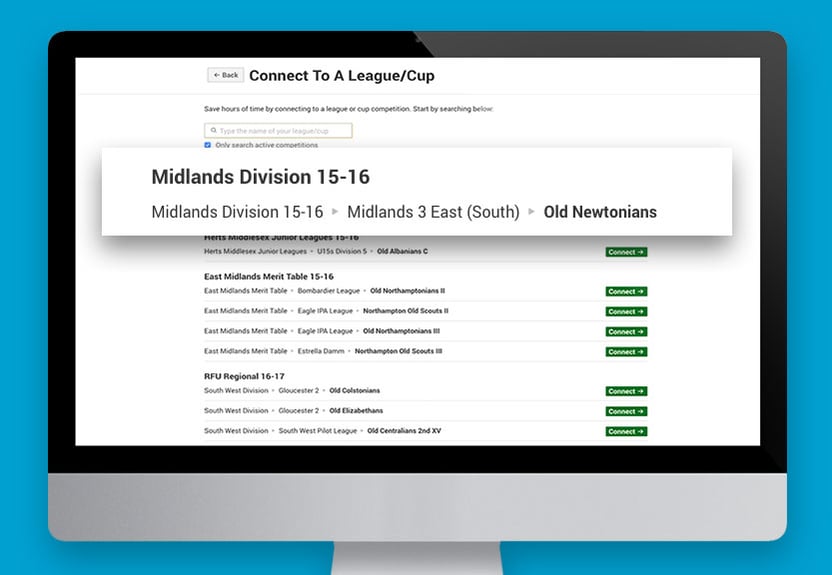 Club Fixtures made easy
With one simple click, affiliate yourself with the relevant leagues - saving you the time it would take to manually input hundreds of club fixtures and results.
Suddenly, making the transition to a brand new club website seems a doddle.
Switch over your domain
If your current club website already has a unique domain name, there are processes in place that allow you to switch it over to a Pitchero club website.
To make the switch, you'll first need to head to the control panel of the domain registrar that you purchased it from. There you can create a CNAME record for the domain you wish to transfer.
Note: For help on how to redirect an existing domain name, head to our blog post on the subject. Alternatively, contact support@pitchero.com and they will be more than happy to talk you through the process.
Once you've informed your registrar of the redirection, there is one step remaining. In your Club Control Panel, head to Settings > Domain Name to enter your now configured domain and start using it within 24 hours.
If you're coming to Pitchero without a custom domain, you're in luck. You can purchase a unique domain name for your club website in the Club Control Panel, making the whole process incredible straightforward.
Four steps to a unique custom domain
Boost your website's search engine rankings and give it an air of professionalism by using a custom domain - complete in just four easy steps.
Note: Only available on our Standard and Pro Packages.
Become a content King
One major advantage to moving to Pitchero is just how intuitive the Club Control Panel is. You'll be up and running creating great content like the latest club news and match reports in no time. You can also backdate news and attach match reports from previous fixtures, meaning your club doesn't lose any of its old content.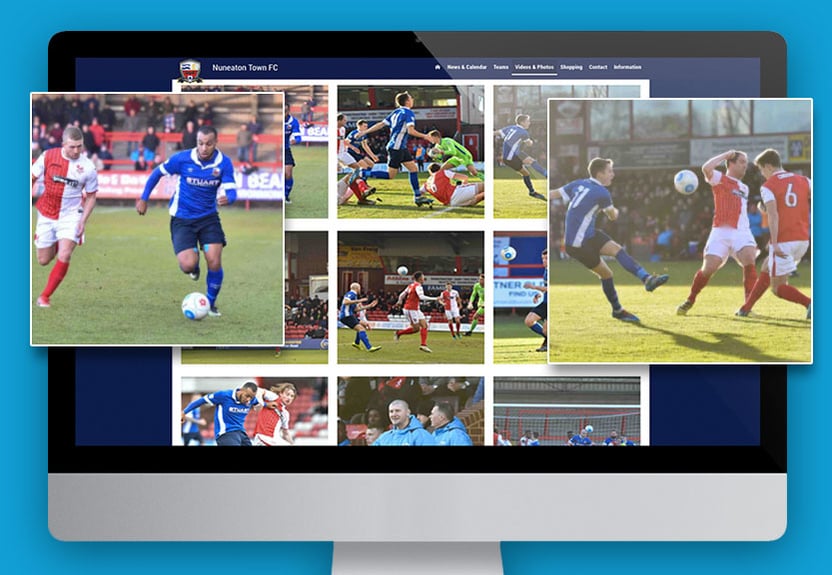 Make your club website a hub of information
Content is key to keep visitors rolling into your club website. With a Pitchero club website, photos can be imported in bulk and uploading videos is really easy, ensuring your club's media is accessible to all your club website visitors as soon as your site goes live.
And remember, there are no no restrictions on how many photos and videos you can upload, allowing you to create one fantastic media resource for your club.
Simply the best support
All these great new features can be a little overwhelming coming all at once, and all that's required is the soothing, reassuring words of someone who knows club websites like the back of their hand.

That's where our dedicated support team come in. They're on hand to help you with any problems you might have, and can be contacted through a number of different mediums.
Drop into live chat for instant support, drop us an email or give us a call on and we'll talk you through any issues.
Easy then, right?
Follow the simple steps above and you'll be well on your way to club website glory. But first, you have to sign-up and begin your free trial with Pitchero.