For me, new guidelines are needed for postponing football matches in times of inclement weather for both League and Non-League fixtures.
Matches are called off far too easily in the modern era. Going back to when I was a kid in the 1970's, games regularly took place on mud-heap pitches. Places like Chelsea, Derby County and QPR in the old First Division had muck and grime playing surfaces but the players just got on with it. The same readily applied in Non-League football circles. And if there was snow, an orange football was deployed!
Thankfully, modern technological advances mean that football pitch maintenance is now almost a science. Those muddy arenas are mostly a thing of the past. But it seems that standards have advanced so much that fixtures are currently being postponed due to the slightest pitch imperfections.
Let me give you an example. Earlier this season, I drove four and a half hours to a Non-League venue to watch a cup tie. The away team and their supporters had made a similar journey which amounted to around 200 miles each way.
The pitch definitely looked playable to me when I arrived. Alas, the fixture was called off less than an hour before the kick-off as the match referee wasn't happy with a small section of the playing area.
I don't want to name the home club or the referee. I certainly won't attribute blame to anyone as this blog is intended to promote Non-League and grassroots football in a positive light. But I just feel that the situation could have been avoided.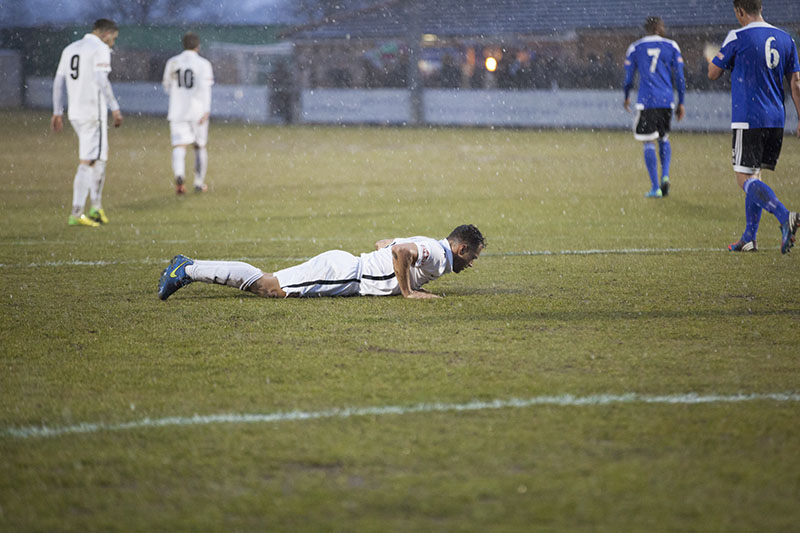 Such late postponements have been commonplace this season. They are particularly unfair on the away teams' players and fans, who may have taken time off work and travelled long distances at great personal expense.
My suggestions to eradicate the problem are as follows:
In times of bad weather, a pitch inspection must take place by a qualified referee before the away team and supporters set off.
This inspection should also fully take into account the weather forecast.
If there is any doubt whatsoever about the game taking place, call it off there and then.
No postponement should be allowed after this cut-off point unless there is a huge deterioration in the pitch condition that wasn't envisaged by the earlier weather forecast.
I know that some referees will say that they cannot postpone a game based on a weather forecast. They will also state that their main concern is the safety of the players and this may lead to a late postponement. So I feel the guidelines need to be changed to help match officials and everyone else involved.
One league is already on the case. I liked a very sensible statement sent out by The Spartan South Midlands Football League's fixture secretary Karen Browne to member clubs earlier this month when ongoing severe weather conditions were forecast.
"SSML clubs have all been advised that due to frozen pitches they have the option of calling off without calling in a referee.
"In view of the Arctic-like proportions of snow and freezing temperatures we have all been suffering from, after a consultation between the Chairman, Vice Chairman, Mike Taylor, both Referee's Secretaries and myself, we have decided that no pitch inspections will be carried out prior to tomorrow's games, and we are giving you carte blanch to call off your respective matches.
"However it must be stressed that if you can get your game on, then please do so. If you are in doubt as to whether the game can be played, and you wish to call a referee in prior to the kick off then please feel free to do so.
GAME OFF!

Unbelievable Jeff...

— Tadcaster Albion (@TadcasterAlbion) January 21, 2017

"Obviously the more games that can be played the better, but all of us realise and understand the problems that you have been having.

"This decision has not been taken lightly, but it will save clubs time and money to call their matches off as early as possible and at the same time stop referees travelling all over the place to carry out pitch inspections, which in some cases are completely unnecessary due to the current state of the grounds.

"This memo does not apply to clubs who have county cup ties. Please adhere to the rules of those respective competitions with regards to calling off those games.

"When calling off your games, please remember to inform me, all match officials, Terry Hunt (Premier Division Referees), Mike Desborough (Premier Division Assistants and all other Division Referees and Assistants) and obviously your opponents.

"Please be aware that this memo only applies for games due to be played on 14th January 2017. Karen Browne, Fixtures Secretary."

Karen then issued a similar, shorter statement before the frosty Saturday of 21st January…

"SSML clubs have all been advised that due to frozen pitches they have the option of calling off without calling in a referee."

Maximum respect to the Spartan South Midlands League for helping their clubs, players, referees and spectators in this way. It is an understanding approach which should be adopted across the county.

Therefore my message to the football world is - if there is any doubt, call the matches off early!