Collecting Match fees is one of those things that all cricket clubs need to do but it can be a real pain. Players not paying on time. Volunteers chasing and trying to track who's paid what. Trips to the bank to deposit the money.
It's very time-consuming, not to mention stressful for captains, Treasurers and clubs. In this guide to match fees for cricket clubs, we'll show you a way to do it all online instead.
With Pitchero, cricket clubs can use the free Manager App to pick teams and request match fees. Players or parents use the Club App to confirm selection and pay by card in seconds.
What we'll cover (

click each chapter to go to that section

)
How does my cricket club do match fees with Pitchero?


First, set up Stripe as your payment provider to enable your club to collect one-off payments.

Then, head to your Club Control Panel (under 'Shop and payments').

Give the match fees a name (e.g - Juniors)
Add price variations (Example 'Starter' or 'Substitute')
Assign teams to the match fees
Select the bank account to be paid into
Complete the setup
Coaches and Team Managers can use the Pitchero Manager App to manage match fees on a fixture, allocate players with match fee variants, prompt players for payment, track who has paid and mark a manually collected payment.
[Read our Guide to Match Fees Here]
In the Club App, players and parents can pay for a specific fixture (or settle up any outstanding fees).
It's fast, convenient and can be done from anywhere.
Alternatively, anyone can login to their Pitchero account via a web browser and pay their match fees that way instead.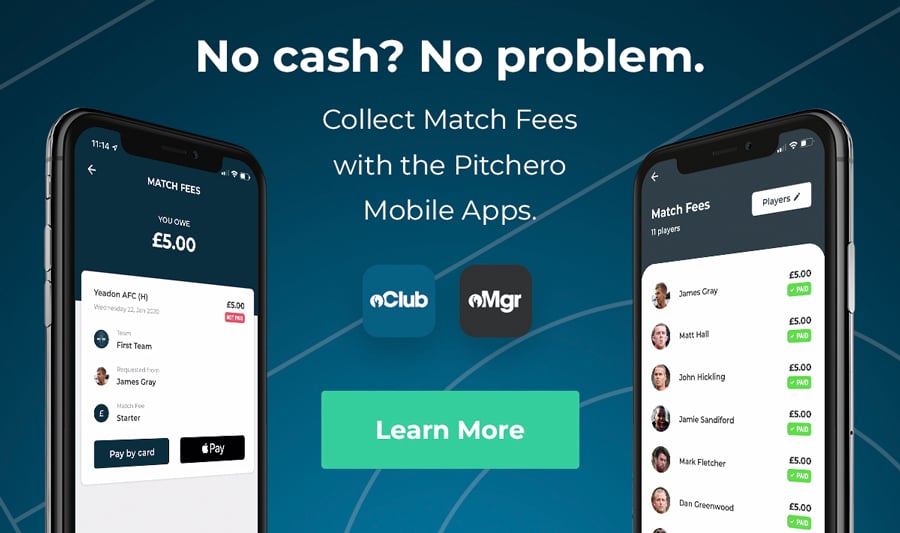 What are the benefits for cricket clubs?
The short answer is that it will save your club officials lots of time and increase the chances of everyone paying.

Doing match fees offline, cricket clubs end up not collecting them all and writing that debt off. Captains forget who's paid, the paper with the teamsheet and cricket subs gets lost. It happens.

Instead, all the online payments with Pitchero are tracked and can be viewed.
This way, players and the cricket club have peace of mind, there's no confusion and the club has a live record of exactly what the finances are.


✅ Collect more match fees

✅ See exactly who has paid or not

✅ Send payment reminders in seconds

✅ Convenient for members and club officials

❌ No manual chasing payments

❌ No handling cash or trawling through bank statements

❌ No trips to the bank

What do cricket clubs say?

Moving to a new way of doing match fees takes a bit of time but many Pitchero cricket clubs have already switched.
Take Reading Cricket Club, who we spoke to last season, about how they've found the difference.
Chair and Treasurer Jacqui Salazar called Pitchero's match fees solution 'a Godsend' and the club is now completely cashless.
Paul Berry is Chair at St Chad's Broomfield Cricket Club and likes the way it's made life easier for volunteers:
'We have collected our annual membership fees through the website for several years and last season we also used it for our match fees. This has reduced the workload for those who were responsible to collect these in cash.'
Common Match Fees Questions

1. How do we get help setting up our match fees?

No problem at all. You can request a demo where we'll show you how it all works and answer any questions you may have.
2. What are the transaction fees?

They vary depending on your club's website package, the payment provider and which country you're in. (See our guide).
0.9% - 2.9% (Pitchero transaction fee)
Stripe 1.4% + 20p

Clubs that process match fees online just factor in any fees and see it as a worthwhile cost of collecting more and the best route for everyone.

3. We need cash for paying umpires and scorers

Many cricket clubs do this - but it doesn't need to stop you using match fees for players.

Your options include:
Having a cash float just for umpires/scorers
Paying them after the game using Apple Pay or Google Pay
Start collecting match fees at your club
If you're not already doing match fees with Pitchero, it's easy to start and we'll be happy to help you get set up: