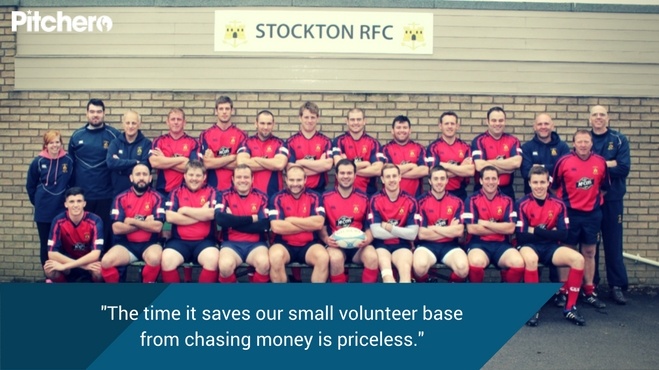 About Stockton Rugby Club
Stockton RFC is a large community club based in the North East of England, with numerous senior, junior and mini teams.
As with many large clubs, they have struggled to collect payments from players on a regular basis. The age old excuses of "I'll pay you next week" or "I don't have the cash on me" can often lead to missed payments and lost revenue.
Since they introduced an online payments system, the club have seen a massive increase in regular paying members - resulting in a steady stream of income for the club.
What they did
1. Created a Senior player recurring payment.
2. Assigned all senior players to the product.
3. Sent email requests for the players requesting they pay online.
Click here to see Stockton's payment products.
Here's what they said
"This was our first season using the Pitchero Payments feature and it has already made a huge difference to the way the club runs."
"Previously, we would have struggled to get 30 paid up senior members and would be chasing match fees each week. We now have 70 players all using the direct debit system."
"This obviously has a great impact on the club's cash flow and has allowed us to plan things like kit much easier."
"The ease of use for the user is fantastic. Setting up a Go Cardless account is easy and once the players register online we can also improve our communications with them."
"The regular reporting is excellent and has kept our treasurer happy. The 2.9% fee also offers excellent value and is cheaper than many similar systems."
"The time it saves our small volunteer base from chasing money is priceless."
Owain Jenkins - Stockton RFC.
About Payments
Not sure how the Payments system can help your club? This video will show you how...
Getting started
To start collecting payments online today, go to your club website control panel and click Payments.
Or watch the quick start video below.