Boost your clubs short term cashflow with online donations.
Thanks to the fantastic support of club members, Pitchero clubs have already raised over £25,000 using the new donation tool. It took just 6 days to reach £25,000 and more clubs are going live with the new tool each day.
Feedback from clubs has been excellent:
Chinnor Rugby Club "I just wanted to say thanks for the excellent work that you and Pitchero have done in putting together a clear, comprehensive and very helpful set of materials for helping clubs ask for donations from members. I didn't join the webinar but read the blog post, watched the video guide, and set up a donation product here at Chinnor RFC. So far we've received £5,575 gross and our Board is very pleased!"
Upminster Cricket Club "The tool was very easy to use as people could click on a pre-set figure or enter an amount themselves, feedback from users was that both desktop and mobile went through without problems... The whole event has helped raise over £5000 of which a sizeable amount were donations which people were still contributing to over the weekend.
Richmond Cricket Club "Our Appeal is going well, and the tool is a part of that. We have already made significant progress, with some people taking the opportunity to donate a bespoke amount. I have been hugely impressed with the responsiveness from Pitchero".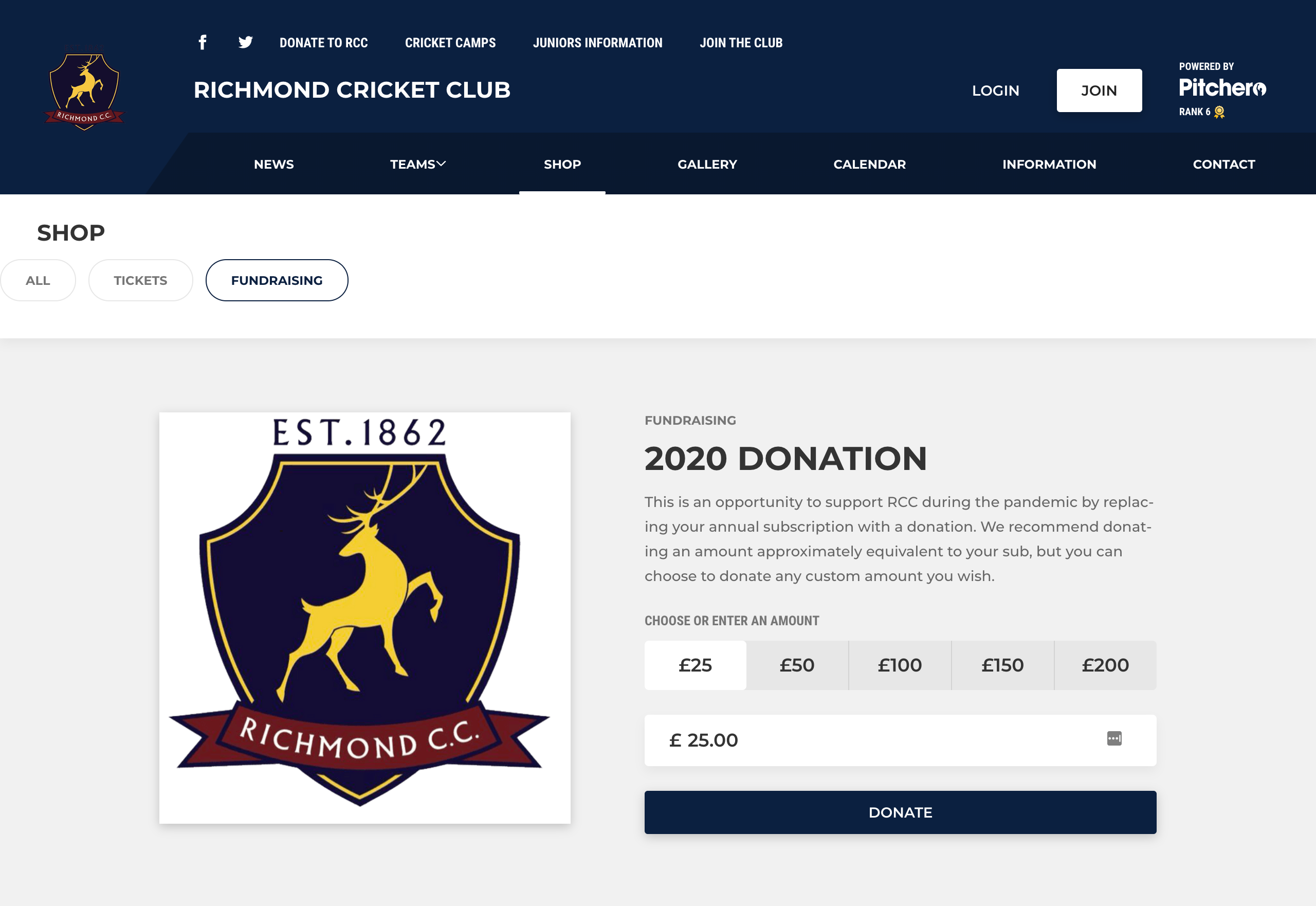 The new tool takes just 60 seconds to set up.
Club Officials access the tool via the Shop and Payments feature in the club control panel. Once set up, club members can make a donation to the club and the money raised is wired directly to the club bank account.
The money raised can be used by clubs in lieu of membership fees, match tickets and bar revenue - you decide!
To boost your fundraising it is vital clubs promote the new donations page. Here are a few great ideas and how your club can promote your fundraising.
Post a new item on the club website.
Send an email to all registered members using the website email tool.
Add a Quick Link to the top of your club website.
Share the page across social media; Facebook, Twitter and Instagram.
Share the page in team WhatsApp groups.
Send a press release to the local press.
To see how different clubs are using the new donations tool, check out the links below:
If you are still unsure and would like to book a quick call with an Account Manager click here. Account Managers will call you back at a time which suits you and answer your questions and provide set up advice. Don't be shy - book your call today!
For more information about the new Donations tool, click here to read the Ultimate Guide.