At Pitchero, our club website packages come in four tiers, each as feature-packed as the next. Below is details on each of our packages, including pricing and the features you'll get - so you can build the best club website to suit your club's needs.
Our core features
No matter what club website package you sign-up to, you'll get a whole suite of superb core features.

Membership management: Store all your member's details in one secure, paperless online database - with no storage limits.
Online payments: Take the stress out of paying club subs and membership fees by creating and tracking payments online.
Member communication tool: Keep all your members in the loop by with communication tools that you can use wherever you are.
Website performance data: Track how your club website is performing with insightful and intuitive tools to track website traffic, engagement and more.
Club mobile app: Read the latest news and match reports, confirm your availability for upcoming matches, and communicate with team mates - all with the Pitchero club app.
Team Manager app: The only app any coach needs to run their team. Check who's available and make team selections for upcoming matches - all on your smartphone or tablet.
Basic
Pitchero is a free-to-use service for everyone, and that option comes from our basic package.
Clubs on Basic are limited to three teams, but still come with all of the great core features you get with any club website.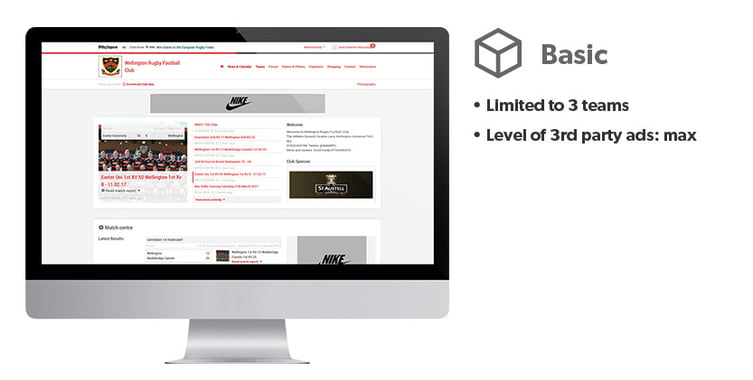 Starter
Ideal for smaller clubs, the Starter packages allows you manage as many teams as you like, as well as ensuring no full-page advertising will ever appear on your club website.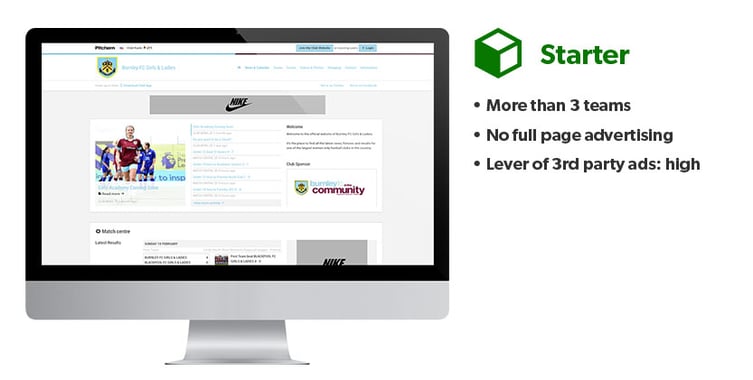 Standard
The Standard package is our most popular package, bringing with a fantastic range of features that help your club to grow.
Clubs on the Standard package are able to choose from a choice of website template designs, bringing flexibility, personality and originality to your club website. On top of that, our in-house design team will create a bespoke design that optimises the passion and dedication your club shows every single day (check out our design showcase for just a selection of the best). You'll also be able to embed club sponsors in your website header, allowing you to raise club revenue by selling website space at a premium.
Elsewhere, you're able to map a custom domain to your club website (allowing you to go from www.pitchero.com/clubname to www.clubname.com), giving your website more identity and making it easier to find online. We'll also hook your site up to Google Analytics for an even deeper level of tracking website performance, and reduce advertising even further.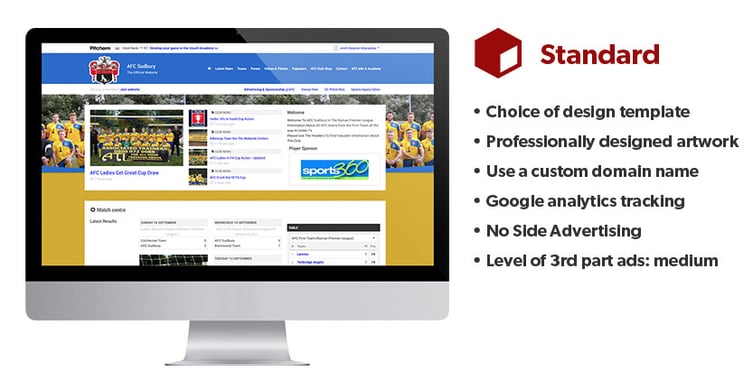 Pro
For clubs that are serious about sport, you'll need to sign up to the Pro package, where you'll find the widest range of features to help run your club.
You'll receive priority support from our dedicated team, who will be happy to guide you through any issues you may have. Communication is also improved, as you'll receive comms reports on who did and didn't open emails and clubs communications.
For clubs who create a lot of quality video content, YouTube integration is also a great feature for Pro package clubs, as you can embed all your club videos directly from YouTube into your club website. As another revenue-boosting feature, the Pro package allows you to create a club shop via Paypal, where you can sell club merchandise to all your supporters.
To round off a great selection of features on the Pro package, you'll be able to opt-out of third-party promotions, and advertising on your club website will be at a minimum.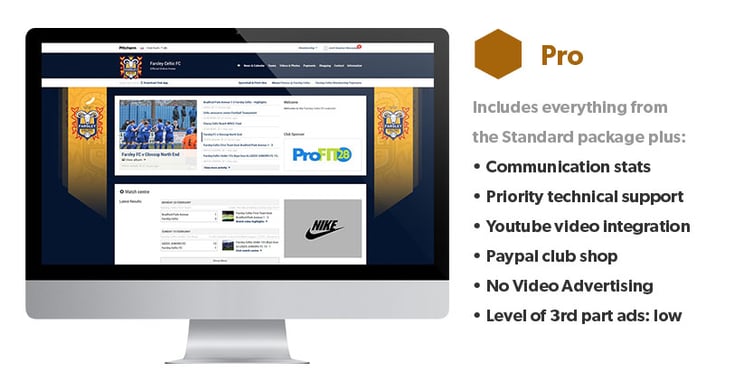 Get started with a FREE trial
Each of our paid packages comes with a month free trial, so click here to get started.
Already with Pitchero?
If you've already got a club website with Pitchero and want to upgrade, click the packages button on your club control panel and select the package you wish to upgrade to.
Questions? Contact support
For more information on our packages, or if you have any questions on how to build an epic club website with Pitchero, contact our support team.
Email support@pitchero.com, or give us a call on 0113 292 6070.