We're hugely proud to announce a brand new partnership with Football Association of Wales. As an Official Grassroots Partner, we'll be bringing innovative digital technology to grassroots football across Wales.
As a Grassroots partner of the Football Association of Wales', we'll be working together to deliver world-class technology to every grassroots football club across Wales. Using Pitchero's website, membership tools and mobile apps, we'll help clubs increase their revenue and uncover the next generation of sporting stars.
We're also honoured to named as an Official Partner of the Football Association of Wales' Coaching Education Level 1 and 2 programme. Assisting with coaching conferences and courses, together we'll strive to help grow coach participation and education across grassroots football in Wales.
Mark Fletcher, Pitchero CEO and Founder, said "Our partnership with the Football Association of Wales further strengthens our core mission to unite and strengthen the presence of all UK grassroots sports.
"To be associated with all levels of club development alongside our new additional role as coaching programme partners is a huge privilege, and we will continue to service all levels of grassroots and professional sport throughout this iconic partnership."
Jonathan Ford, Football Association of Wales CEO, said: "Working alongside Pitchero, we're relentlessly building towards a stronger future for grassroots football in Wales. The FAW is investing time and resource to creating a future generation of global superstars, made possible through this grassroots initiative."
How Mountain Ash will grow their club using Pitchero
Clubs across Wales are set to benefit from our digital tools, training and guidance on revenue generation and online sponsorship; the first of which is Mountain Ash FC. At the partnership launch at Dragon Park, we caught up with their Club Secretary Liz Driscoll and Parent Karen Cutts.
Liz points to the professional design of Pitchero websites and the ease in which club officials can use Pitchero as significant benefits to Mountain Ash. For Parent Karen, having Pitchero's centralised communication tool is vital to keeping coaches, players and parents aware of what's going on at the club.
Get started with an Official Grassroots Partner of Wales Football Association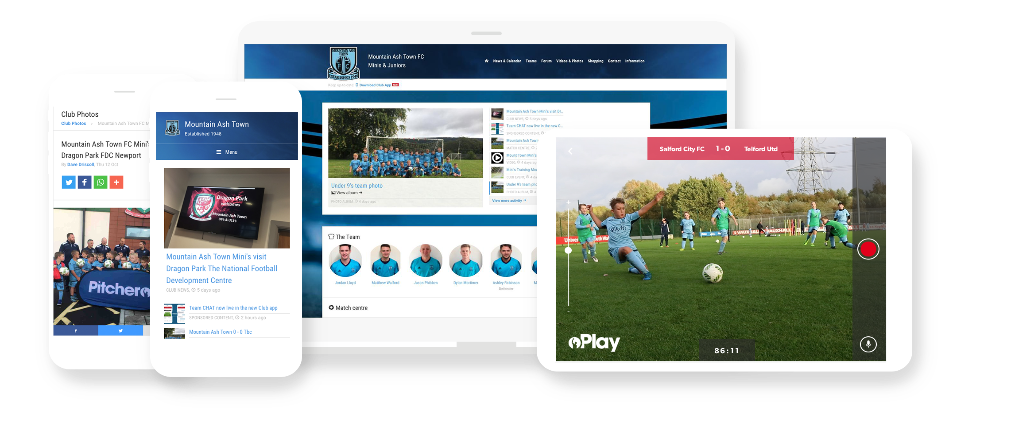 Pitchero's suite of team management tools and mobile apps are available to all grassroots Football Association of Wales clubs. Get started today and we'll be on hand to help you grow your club.