We're delighted to announce that Pitchero has won the 'Best Technology for Participation' category at the Sports Technology Awards 2020.

In a virtual awards ceremony (due to Covid-19) hosted live from London on 10th September, it was announced that Pitchero picked up the award for Best Technology for Participation ahead of fellow nominees Footy Addicts, Let's Do This, Spond, Swim England and Tacklebar.
The judging panel consisted of over 50 leading influencers from sporting and technological backgrounds and said the following about Pitchero: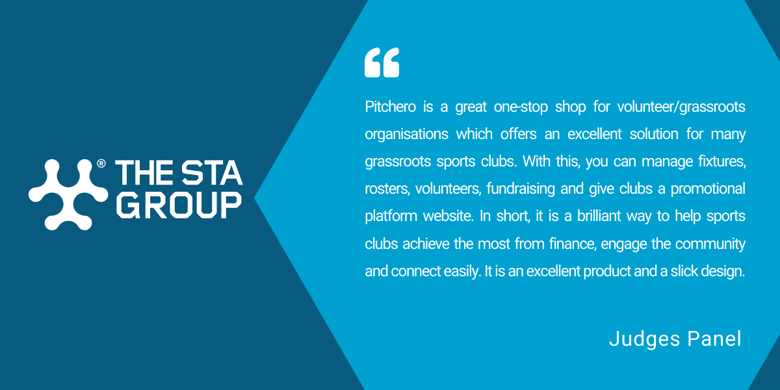 Pitchero was shortlisted for this award due to the company's continued commitment to facilitate participation in sport. By offering grassroots clubs a professional online platform, this provides an opportunity to attract new players and engage with existing players in an attempt to increase participation and grow club membership.
The Sports Technology Awards is the leading global celebration of technology-led innovation across the international sports sector with entries from over 30 countries.
Held annually as a competition to highlight outstanding advances in the industry, the Awards were judged by over 50 leading influencers from sporting and technological backgrounds, with big name players such as ASICS, BT Sport, BBC, ITV and RFU competing for victory.
For more information about the Sports Technology Awards and to see a full list of categories and winners, click here.
Congratulations to all winners and nominees and thank you to the millions of people who continue to use Pitchero each month.
Thanks also to the Sports Tech Awards Group for hosting the event.
---
To find out more about Pitchero and how it could help your sports club, book a call with a Pitchero expert today.