At Pitchero, it's great to see our clubs getting the best out of their club website to help them grow. One way in which they do that is through a stunning website design.
Hundreds of clubs have taken advantage of a website design with Pitchero. Here, we handpick our top 5 and discover what makes them sit in a league of their own. Like what you see? Let our design team create the perfect artwork for your club website.
Get a brand new look to your website
Created in partnership with our in-house team, we can take the passion and spirit of your club and bring that to your Club Website.
Available on our Elite and Ultimate Packages, submit a design request in the Design section of your Club Control Panel and work with our in-house design team to bring your Club Website to life. Just like these five did.
1. Fraserburgh FC
From the off, you can see how clean the website looks by using black and white colours. It coincides with the club badge and adds contrast between the old club photo on the left and a more recent one on the right.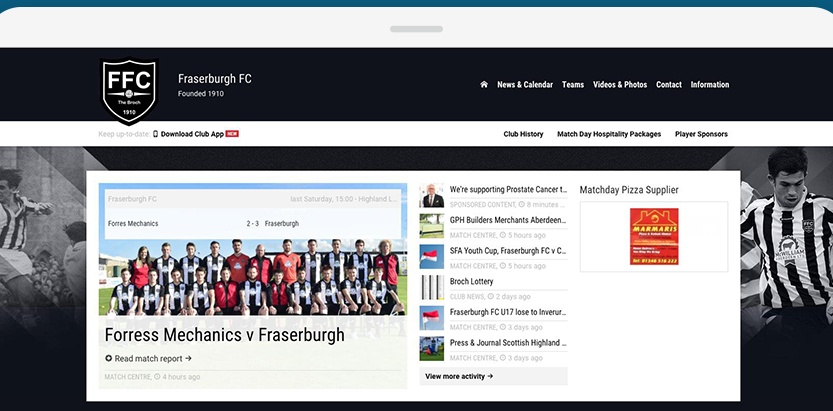 It helps to sum up the club's history very nicely, as it mentions when the club was founded in the logo. The website also features high quality images on the homepage, this is extrememly important as a common downfall of a good club website is the quailty of images.
2. Maldon & Tiptree
Firstly, the use of red header on this page stands out whilse preserving usability and readability.
The use of imagery on this website is the main feature that sets it above the rest. The large, high quality photo of the club grounds is overlaid with the stylish shards of players which makes the website look clean and professional.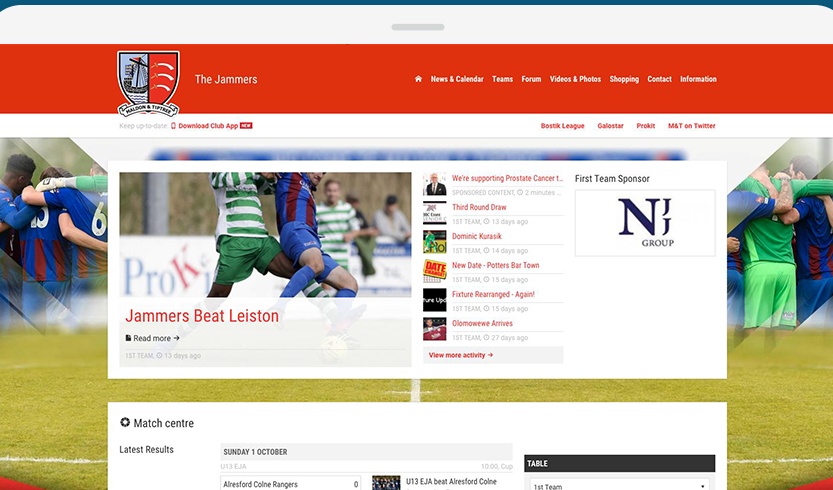 The carefully selected images of the players with their arms around each other is a good message for the homepage of a club website. It shows unity, teamwork and passion.
Finally, the prominent positioning of the first team sponsor is important on any club website. As a result of this simple design feature, clubs could increase sponsorship deals and boost revenue.
3. Manchester Rugby Club
This rugby website is up there with some of our best. The texture in the header created by blurring empty space fom the background adds to the theme of the whole page, whilst being readable and useable at the same time.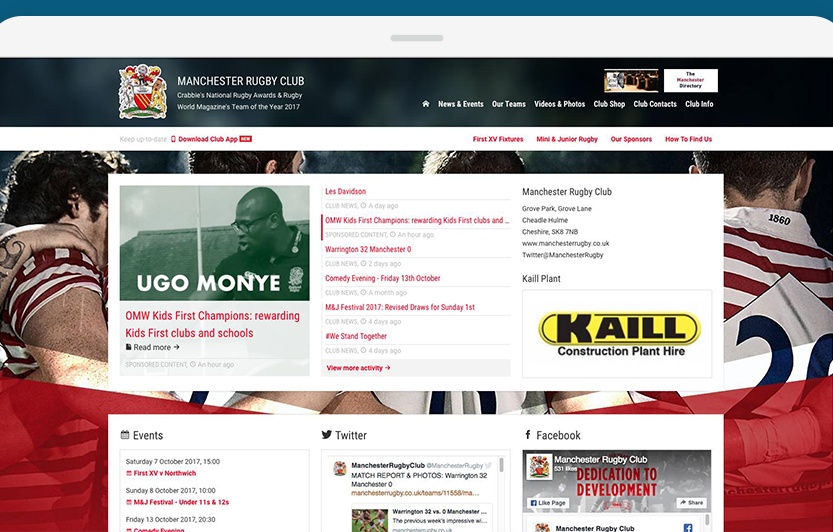 This is continued throughout the page with moody photography used, making the club look professional. Similar to Maldon & Tiptree, there is strong team imagery featured showing unity.
Straight away you can see social feeds and plenty of content throughout the homepage, something hugely important in a club website design. The club looks more active, engaging and is more likely to attract new members, sponsorship deals and boost revenue.
4. Hyde Cricket & Squash Club
This club website demonstrates the clever blend of colours in the header which ties in with the cricket pitch theme embedded on the whole page.
Also in the header, the club sponsors are displayed. Like we've mentioned, having sponsors featured in an obvious place on your club website can be great for future sponsorship deals and an increase in revenue.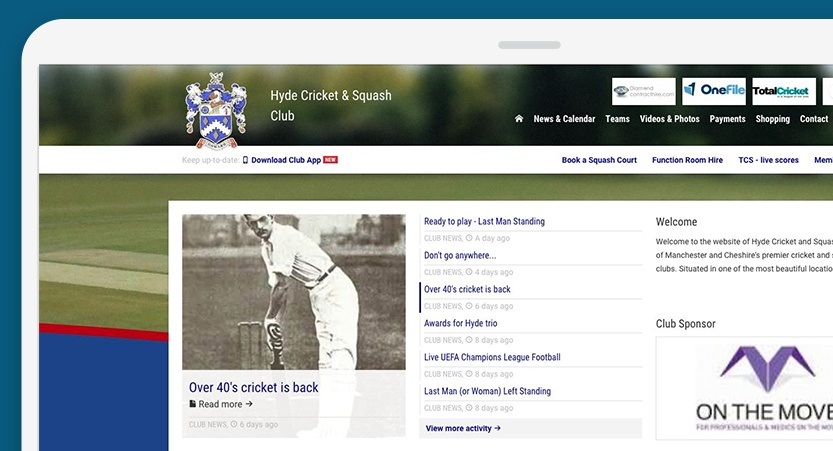 The club logo fits in nicely with the colour theme of the page and makes the club website look clean and professional.
5. Basingstoke Bison Ice Hockey
Basingstoke Bison Ice Hockey Development Club have used a simple design so that the focus can be on the attractive logo. The logo is reminiscent of an American sports team, NFL for example. This automatically makes the website look more professional.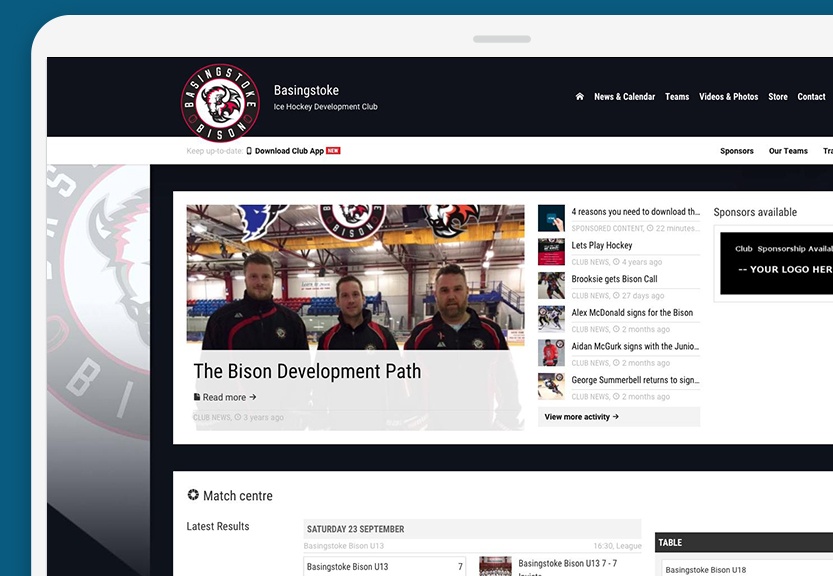 The logo design then carries on as a main theme of this page, with the black and red colour scheme keeping the site looking smart.
The website is easy to navigate and has fixtures and results obviously displayed on the page under 'Match centre'. This makes it easier for members to access information and keeps the website engaging.
The benefits a superb site design can bring
Want a website that looks as good as this lot? Our in-house design team are on hand to work with you to bring your club website to life.
With it, you'll bring a number of important benefits that you might not have considered before.
Set a great first impression to new visitors to your club
Attract new members - an impressive club website is key to convicing potential new members your club is right for them.
Increase traffic - a stunning Club Website filled with appealing content will keep visitors coming back for more.
Entice sponsors - what does all the above mean? A better website that you can sell onto sponsors.
A well-designed site radiates professionalism, organisation and a feeling that your club is a great place to come and play sport. With all this, your website has the ability to translate all the hard work you do on the pitch, into a club that generates business from it.
Work with team today to bring your site to life
All Clubs on the Elite and Ultimate Packages can submit a design request today, and before you know it, you'll have a stunning website design too. Head to your Club Control Panel, upgrade and submit a design request today.