Organising training sessions at your club just got easier. There is now a simple way to see when training is, tell your coach if you can make a session and for players to be nudged for their availability too. It is a feature that you've asked us for (to divide fixtures and training) - and now it's here!
Pitchero's exciting new training tool, across mobile apps and the website, allows players or parents to set their availability for upcoming training sessions in the Pitchero Club app.
Using the Pitchero Manager app, webmasters and teams managers can now add/manage sessions, prompt players, track availability and attendance.
Training for Webmasters/Team Admins (Pitchero Manager app)

In the Pitchero Manager app, you will need to have either Team Admin or Webmaster access in your Pitchero account. You can view this via Pitchero Club app > Account > Roles.
Add a training group
A training group is a group of people assigned to attend a training session. The group could be first-team only, all senior players or whatever you like.
Add a session
A training session is made up of attending teams and shows up in the Pitchero Manager app separately to Match Centre fixtures.
Once you have created a training group, you can add training sessions to your schedule.
Include details like: location, organiser, teams participating, date, start/end time, how often the training happens and a description (such as specific footwear/kit to bring).
Manage sessions
Coaches and team managers can see who is available for any training session in the Training section at the bottom of the screen.
There is an Availability section that shows overall numbers for who is: Available, Unavailable, Not sure or Not set.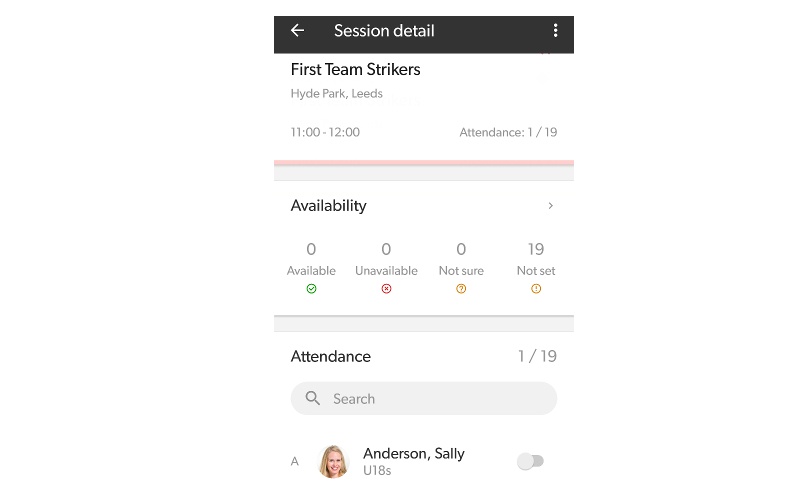 Track availability and attendance

Tap Availability to find out which players are available for a future training session. You will see an A-Z list of players with their current status.
Below Availability is Attendance where you can keep a record like an online roll-call.
Just mark a player as attending/having attended a training session.
Sending prompts
To plan ahead, prompt players for their attendance so you know what numbers there will be and what players can make it to training.
In the Pitchero Manager app, you can prompt all of your players or tap a name and remind just one player.
Club control panel
As well as apps, you can manage training on your Club Website via the Club Control Panel.
In the Admin, you just select a club then team and choose Training to see an overview of training groups, recent and upcoming sessions.
Similarly, you can add create groups, add sessions, view and amend availability and attendance.
Training for players/parents (Pitchero Club app)
Use the Pitchero Club app to view the club's training sessions and and set availability.
View sessions
Load the Pitchero Club app and tap Schedule at the bottom of the screen.
Existing sessions will be loaded in date order.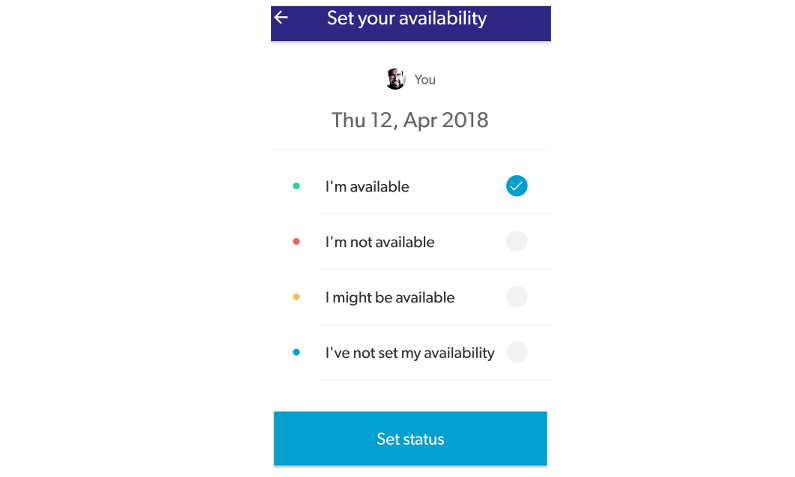 Set availability (with notes)
Setting your availability for an upcoming training session is really easy.
Tap on a training session and set your availability as:
I'm available

I'm not available

I might be available
You can also add a note about your availability, e.g. you need a lift to training.
Final thoughts and Help centre
This new training feature gives players, parents, Webmasters and Team admins all the tools to plan training effectively but if you need further help, check out the Pitchero Helpcentre.
It will guide you through using your Club website, mobile apps and managing your account.
That's about it for now...enjoy the new functionality!