Say Hello to our new line up of Rugby Ball Lights!
We're excited to introduce our brand new line of Rugby Ball Lights, now featuring four new rugby loving nations. They are part of our extended range of licensed Gilbert rugby ball lamps, which now includes lights for England, Wales, Scotland, Australia and South Africa. It's official - we now have the perfect rugby gift for fans of our favourite rugby nations!
STYLISH DESIGN
Designed in Twickenham, the Rugby Ball Light range is an exclusive rugby ball shaped desk or bedside lamp. The Rugby Ball Light is an official licensed product of both Gilbert, and the RFU, Welsh Rugby, Scottish Rugby, South Africa Rugby and Rugby Australia. We've also created an Original lamp, in cool black and gold, for any rugby fans who want to keep their lamp simple and stylish.
A RUGBY FAVOURITE
A replica of the Gilbert Rugby ball used by rugby players the world over, the Rugby Ball Light has been designed specifically for rugby fans of all ages. The 4-piece construction is a stylish duplicate of a size 5 rugby ball and is the perfect rugby Christmas or birthday gift. The ellipse trim colours and team logo look brilliant, whether the lamp is not switched on or off, adding sporting style to any room.
SPREAD THE LOVE
Do you know a Springboks or Wallabies fan who's living in the UK and would love a rugby gift that reminds them of home? We have the perfect rugby gift! Friends with a Welsh or Scottish rugby fan, who would love to brighten up their home with their own branded rugby lamp? Order one for them today!
From Australia to South Africa, Wales to Scotland, treat yourself or someone you know who's rugby mad, to this amazing rugby gift. We've arranged for a special free next day delivery offer for our Pitchero members. Click here to get your hands on one of these unique rugby gifts and enter the promo code PHMFR24 during checkout.
Want to know what your Rugby Ball Light will look like in your home? Head to our Pinterest page and see them in their home environment, like our new Springboks lamp!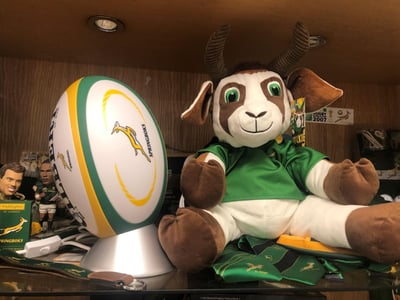 Missing international rugby tournaments? Fancy a laugh? Enjoy these funniest moments from the Rugby World Cup in 2019, with bloopers from our new nation teams!