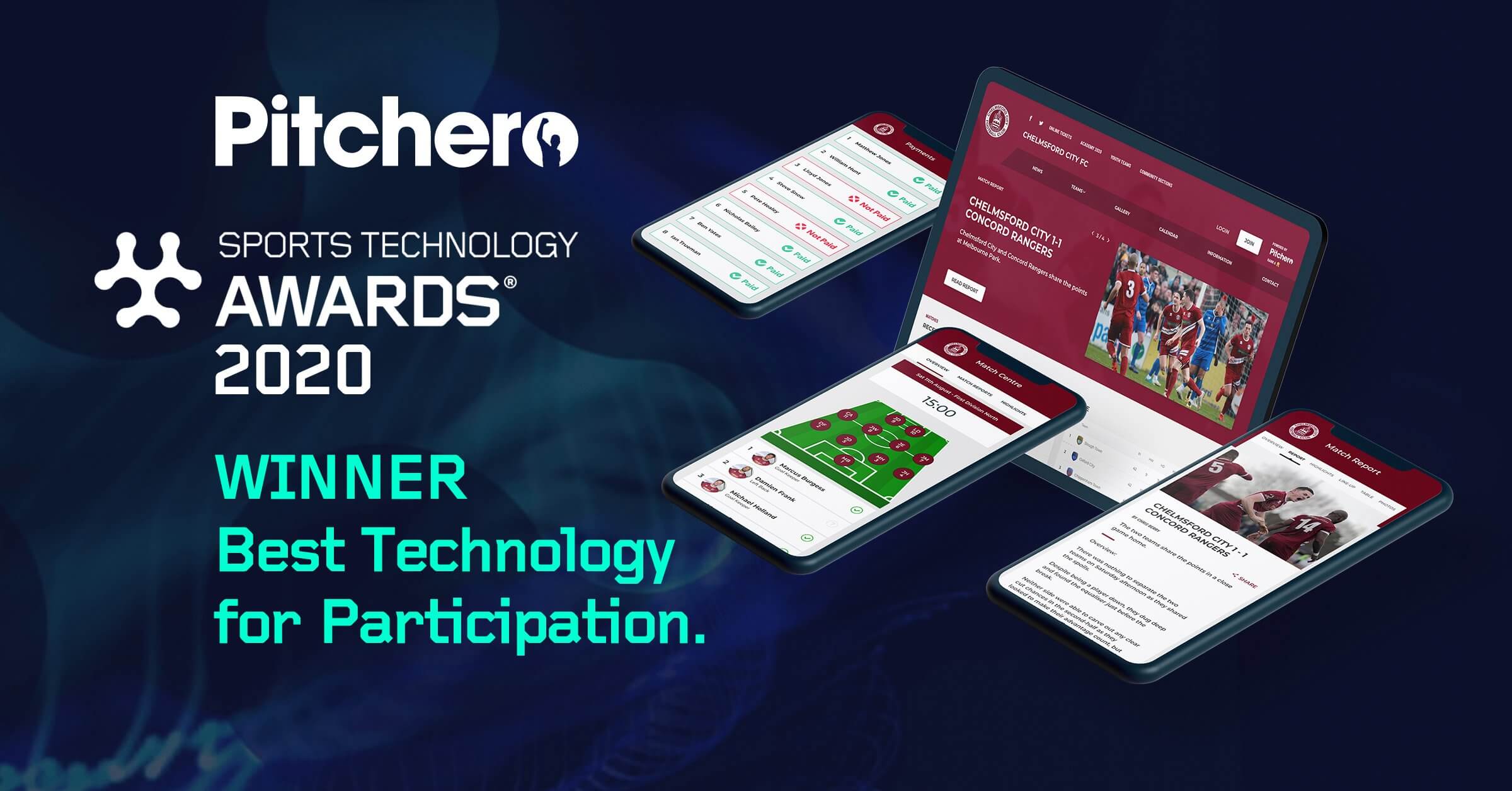 We were delighted to scoop the award after being shortlisted alongside excellent entrants, including Swim England's My Learn to Swim App.
In our view, technology is a proven and powerful catalyst for participation growth in grassroots sports. That's not just players on the pitch but the essential volunteers, coaches and club officials who help make sport happen.
We believe Pitchero's technology can boost participation across three critical areas:

Awareness = more club members

Any prospective player or parent will begin their search online. Quickly finding accurate information will encourage new members to join.
Details of membership prices connected to an online registration form mean anyone can understand a club's offering and join up from home.
Coaches' contact details, dates and times of training, up-to-date fixtures and team photos all break down those initial barriers a new member might have.
Before taking a holiday or visiting a restaurant, we all like to do an online audit first to tick off the questions and make a snapshot assessment of how well suited the offer is.
Prospective players, parents and club members are no different. A professional, up to date, easy to use website will be the start of the journey for new participants.
Admin = more club volunteers
Technology is used every day in the office and at home, but still many clubs have yet to embrace it. The result is painful administration, duplicated processes, overworked and frustrated volunteers.
Simply put, volunteers who give up their time are wasting their time with overly bureaucratic processes.
It is no coincidence that across grassroots sport, the number of volunteers is falling and many clubs are unable to replace them. Fewer volunteers put an ever-greater burden on the volunteers who are left.
Modern, efficient technology removes duplication, gives simplicity and saves days of admin. Volunteers will already use many of the services at work or home; online database, digital payments and group messaging.
Transferring these services to grassroots sport will save hours each week for volunteers, making the role of volunteering enjoyable, which attracts more volunteers to offer their time and skills.

Revenue = player experience

A club's most significant source of revenue is membership.
Research carried out by Pitchero shows that clubs who collect and manage membership online increase revenue by at least 30%.
Why?
Clubs can easily see who has and has not paid and, with a few clicks, send a payment reminder to non-payers.
An on-screen dashboard instantly shows a live financial snapshot and membership dues can be collected all from one place. Those seeking to pay don't need to do it face-to-face but on their terms.
Surprisingly, only 20-30% of grassroots clubs manage their membership this way. Still, far too many rely on cash or bank transfers. The result is extra admin and missed payments. That's overworked volunteers collecting less money.
Clubs with increased revenue can invest in new facilities and equipment, improving the playing and membership experience.
The result is a virtuous circle. More members join because of the improved facilities who pay more membership online which feeds the club to invest more.
In contrast, most governing bodies still don't prioritise technology. The technology they do provide is designed to meet the requirements of the governing bodies and not the club, player or parent.
By merely collecting club money online; membership fees or match fees, clubs collect all the money they are owed. Funding to grassroots sports will increase, and the player experience will improve.
Players stay playing for longer and more players are recruited. Participation grows.
Best Technology for Participation
Trusted by 70,000 sports teams, we have built a technology platform which is low-cost, easy-to-use and frequently updated.
Since COVID-19 closed down grassroots sport, we have built fundraising pages, a track and trace feature and updated contactless payments across mobile apps to protect club members.
Pitchero will not stop because sport and our members do not stop.

To find out more about Pitchero and how it could help your sports club, book a call with a Pitchero expert today.