If you're like me, you probably spend a lot of time sat in the pavilion, feet up, watching everyone else merrily club the ball around the field after you've been dismissed for another disappointing score. Not that village cricket isn't always engaging, but sometimes you'll need some light entertainment to get your through a 50 over game.
For that, you'll need this collection of the best free cricket apps on the market well in time for the 2017 season.
ESPNcricinfo
For dedicated fans of professional cricket, ESPNcricinfo is the number 1 must have app. The world's leading cricket publication post live scores from all the test and associate nations, alongside major franchise T20 and first class competitions – allowing you to stay tuned with all your favourite teams from across the cricketing spectrum.
Alongside live scores, ESPNcricinfo features a wide range of top cricket writers, posting a stream of match reports, opinion pieces and analysis on all the breaking cricket stories. Alongisde the magazine side to Cricinfo, it also features the most comprehensive collection of stats on individual players, competitions and matches.
As a true cricket statto, several house of my life have been lost looking up the top scorer from the 1972 Ashes or checking out Michael Atherton's ODI strike rate (spoiler - it's not pretty).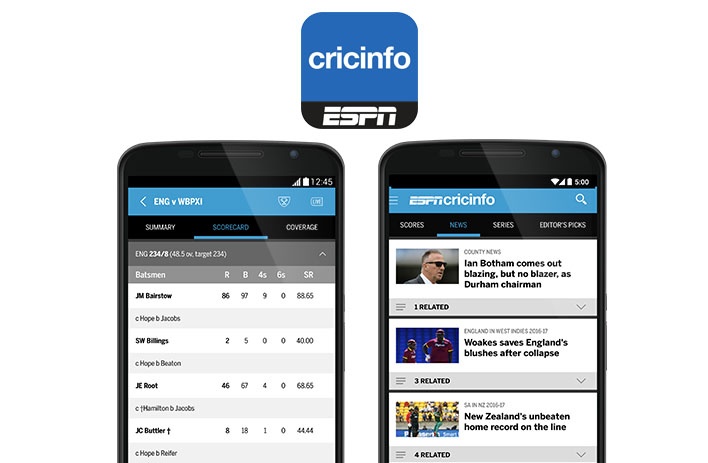 ECB Cricket
England Cricket's official governing body the ECB have their own app, and it excels at providing a layer of sight into how the national team is getting along during the hectic international schedule.
Featuring exclusive interviews and videos with current England players, and coverage of England's Lions and Women's teams, the ECB app provides coverage that goes way beyond the cricket field.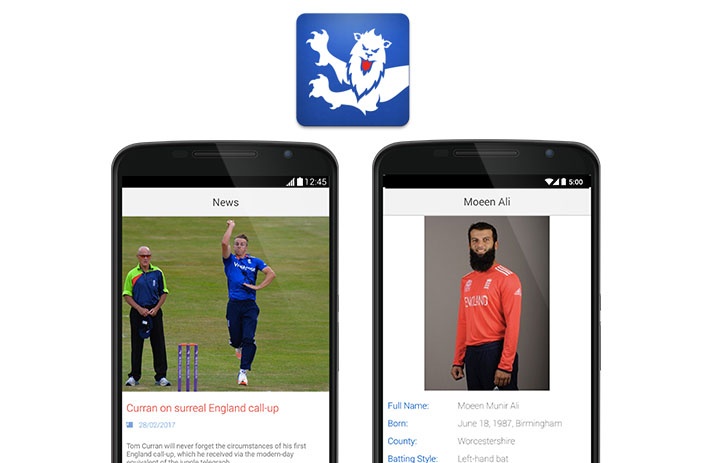 CricViz
Cricket is steeped in statistics, predictions and probabilities, and CricViz brings these facets together to create "Cricket Intelligence".
Using a unique computer model spanning over hundreds of games of internaitonal cricket, the app predicts the outcome of an ongoing test match. Amongst a number of other predictions, CricViz also crunches a number of other stats such as how each team is performing in each facet of the game, or how individual players are performing.
Crucially, CricViz represents these stats in easily-to-consume numbers, rather than complicated graphs - appealing to the inner stat wizard in almost every cricket fan.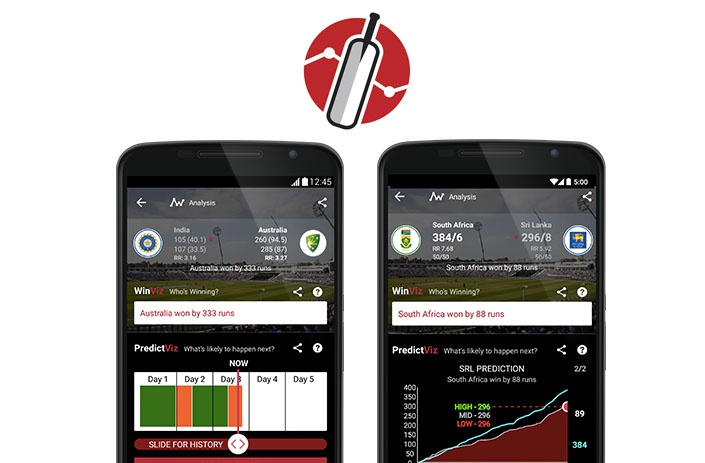 Stick Cricket 2
Draw up a list of supremely addictive viral mobile games, and it won't be long until you mention the ultimate in cricket sims - Stick Cricket. As a desktop game, its power for procrastination probably led to more school detentions that any before it - and it also has an app.
Plus, much to the annoyance of school teacher's across the country, there is now a sequel! Stick Cricket 2 sticks to its simple formula, allowing you to happily bash the ball over the boundary almost at will.
BBC Sport
We all know the BBC Sport as an outstanding online sports publication, and their cricket coverage is no exception.
Probably the best part of that comes in the form of live blogs. BBC Sport will keep you informed of how all England's game are unfolding over-by-over, using social media and partnering Test Match Special commentary to offer light-hearted yet informed coverage of major international cricket matches and tournaments.
The BBC Sport app now has radio capability built in, allowing you to tune into TMS for live radio coverage of all England's games, alongside a number of T20 Blast games.
Cricbuzz
A similar publication to Cricinfo, Cricbuzz has emerged as a contender as your cricket news provider. The most signifcant difference comes from their difference in target audience. Head to the Cricbuzz app and you'll notice a much more Indian focus to their output.
Still, Cricbuzz is a great avenue for cricket news and lives score from international games and major T20 leagues from across the globe. Their recent growth has also seen them take on pundit Harsha Bhogle, who gives his regular musings on topical cricketing subjects.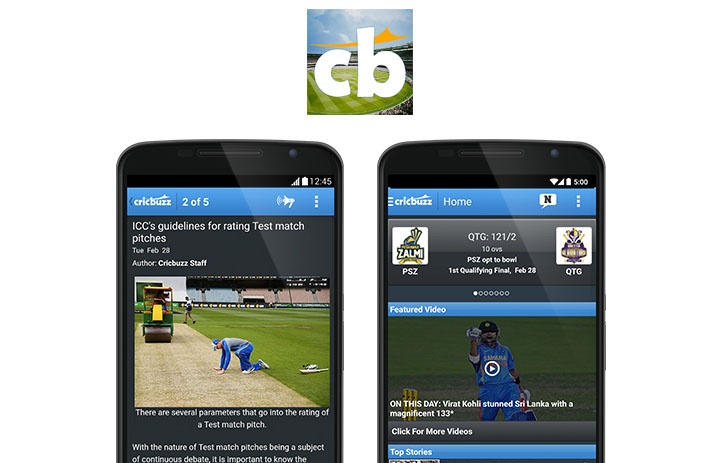 CricHQ
For live scoring of your grassroots club, CricHQ is your app of choice. Hook up your club and post live scorecards as your play on a Saturday afternoon. A partner of Pitchero, you can hook up your CricHQ feed to your Club website, allowing users to keep track of how your team is getting along even if they aren't at the ground.
Aside from team stats, you can make your own individual profile and link it up to your team. Follow your friends, get notified when they're playing and follow their progress ball-by-ball.
Sky Go and BT Sport
These apps come with a caveat. Sky and BT are both providers of live cricket games at international and county level, as well as major T20 franchise leagues. But of course, it comes at a price. If you're lucky enough to be a subscriber, Sky Go will long have been your go-to app for coverages of England games and the T20 Blast.
As of 2017 however, they have a contender. BT Sport recently began broadcasting Australia's test matches - a deal which includes the Ashes series that begins this winter.
Grow your club's digital channels - Free download
Need some help getting your head round Twitter? Not sure how to attract members online? Without our free Ebook, you can get loads of handy tips and tricks to launching your club online, attracting new members and growing revenue in the process.