Free sports apps are a great way of keeping up-to-date with the latest news, events and stories from your sport right there on your smartphone. With plenty out there to choose from, we've kicked off 2017 by putting together the best sports apps to look out for so you're not missing out in your sport over the coming year.
1. BBC Sport
BBC Sport are renowned for giving audiences the latest sports news, live action, scores and highlights. A great feature called the 'My Sport' page allows you to create a personalised theme choosing from more than 300 topics. You can also listen to BBC Radio 5live and Radio Five Sports Extra while you browse.
Plus, regular users are now able to sign-up to be a beta tester for many app updates. This will replace your current version and you will be notified when new releases are available.
2. BBC iPlayer Radio
The Radio arm of the BBC's iPlayer has it's own standalone app, allowing you to catch up with the BBCs suite of sporting radio broadcasts at your convenience. With a number of leading sports events in 2017 broadcast via BBC Radio channels (The Ashes and The Six Nations to name just two), it ought to be your go-to sports radio app in 2017.
BBC iPlayer compliments the BBC Sport app as you're able to listen to BBC Radio 5 Live and Sports Extra for live commentary.
3. Fanatix
Fanatix introduces a new way to track sports news. This app is a fan powered sports video news service, allowing you to upload eight second clips of any sport. This gives you the opportunity to view the sport's best bits before the highlights are even out.
You can also create your own reports and share them with fellow fanatics. This app is perfect if you're wanting to join a social network for football.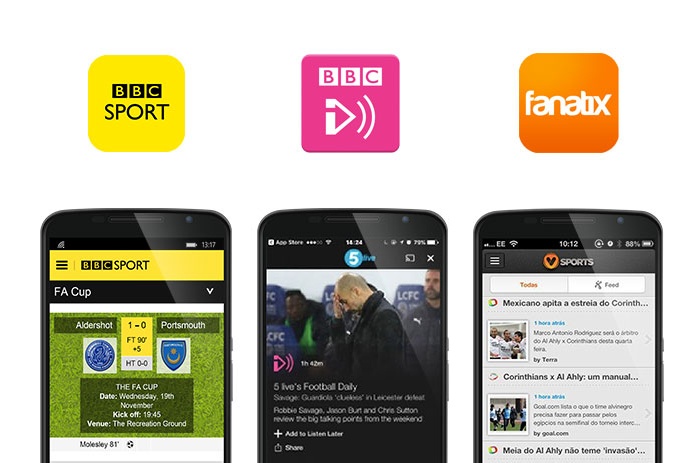 4. Yahoo Sports
Formerly known as Sportacular, this app features a clean design, giving you quick and easy access to news, scores and other information. As well as the simple layout, Yahoo Sports provides detailed player, team and game statistics. The highly customisable notifications alert you when a game is about to start and when a goal is scored for your chosen teams.
5. SofaScore
SofaScore is known as the sport app for 'everyone'. From simple live scores and match information, to detailed statistics and in-depth player analysis. They cover 19 sports with two new sports recently added.
Other features include player ratings, video highlights for each individual sport and heat maps for 38 leagues.
6. 365Scores
365Scores supports 10 different sports, whilst featuring a live match tracker, real time notifications, a choice of specific sports to follow and all live match statistics, lineups and goal highlights.
Unlike others, this app provides a more social aspect, allowing you to send video highlights, match details, statistics to friends.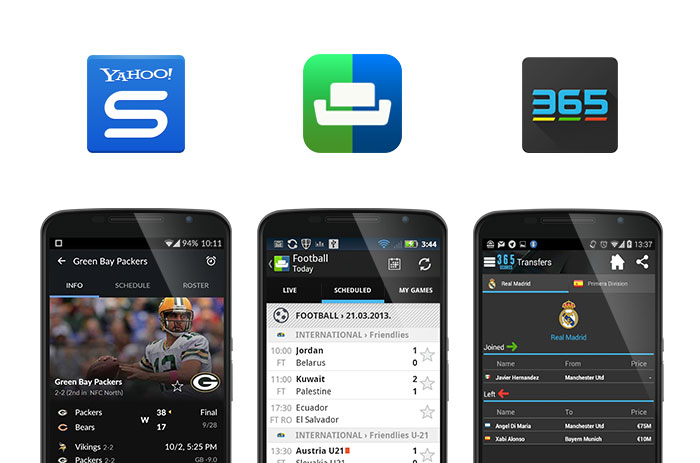 7. Stats Zone
The clue is in the title with this app. For the football enthusiasts, you will enjoy the fact Stats Zone is powered by Opta's most in-depth football database, providing over 1500 stats for every game.
It also features live scores, lineups, substitutions, goal alerts, fantasy football and articles from FourFourTwo's European football experts.
8. LiveScore
Funnily enough, Live Score allows you to enjoy exactly that - live scores. The app covers a range of different sports including football, cricket, tennis, basketball and hockey. A good app if you're wanting a quick update on your team.
As well as scores, the app shows you live league tables, match statistics and detailed match information to ensure you have everything you need to know.
9. Ultimate Rugby
The world's number one rugby app. Ultimate Rugby keeps every union fan connected with the latest news, fixtures, results and events. You're able to watch full match coverage, receive live scores, view in-game match chat video highlights and purchase tickets.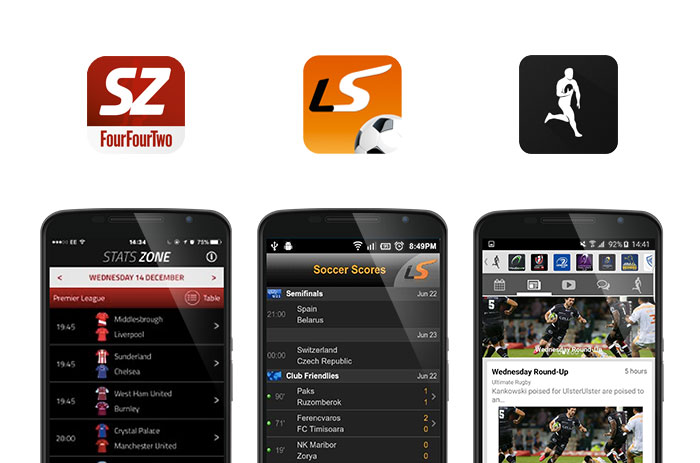 10. talkSPORT and talksSPORT 2 (Radio)
talkSPORT radio is the world's biggest sports radio station and an official broadcaster of the FA cup, the EFL Cup, England Internationals, Aviva Premiership Rugby and the First Utility Super League. You can tune into live 24/7 sports radio and listen to the latest news headlines and results on your smartphone via the app - which also features news, transfer rumours and opinion pieces on the world of sport.
Recently launched talkSPORT 2 brings you live 24/7 radio coverage from alternative sports events as rugby, IPL cricket, tennis, golf, football, racing and U.S sports. Like talkSPORT, it's sister station also brings you the latest news and results.
11. Whistleblowers (Podcast)
This app allows you to hear the latest Whistleblower podcast, get access to exclusive football content plus receive all the latest news, stories and gossip from The Guardian and Telegraph. A great alternative to your standard sports app.
You can also find 'tubes', a collection of the best football videos old and new.
12. CricBuzz
Cricbuzz is a great app for live cricket scores and gives you an unbeatable cricket experience from your smartphone.
It provides live coverage of all international matches and major domestic tournaments, making sure you're always up to date. As well as that, it gives you player and team rankings, player profiles and regular match alerts.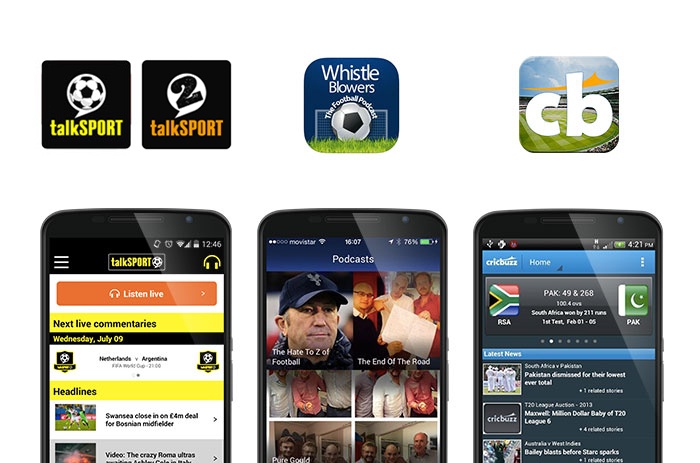 13. Sky Sports
One of the most popular sports apps, Sky Sports is the place to go for breaking news stories. With a large following already for a broad range of sports, you're able to choose your favourite sport and set your notifications to alert you as and when a big story comes in.
14. Sky Sports Football
If you're a huge football fan and already have the Sky sports app, you could try having a look at the football score centre, known as Sky Sports Football. You're able to watch match highlights, see the latest scores and results and be kept in the loop from the app purely dedicated to all things football.
Also, if you're already a Sky TV customer with a subscription, you can watch in-game goal clips from every Premier League match.
15. TuneIn Radio
This app is brilliant for listening to live sporting broadcasts. If you can't decide which sport to choose from, it has over 100,000 radio stations and has a large selection of sports, news and talk radio from around the globe - leaving you spoilt for choice.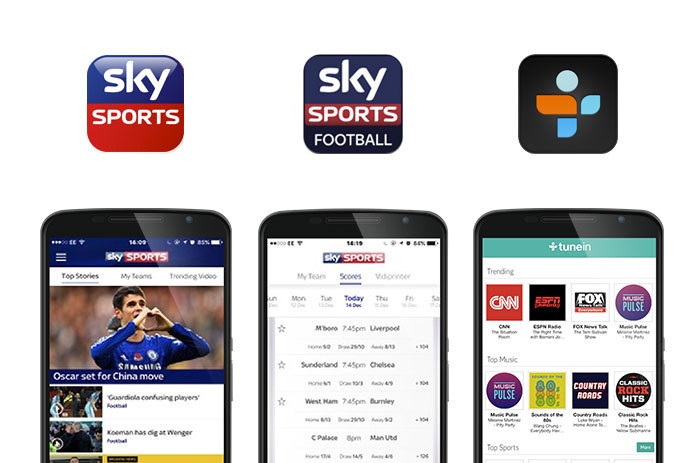 16. Official F1
For all the racing fans, this app has everything you need when it comes to Formula 1. It lets you track each driver during their race, gives you information on the tyres plus top speeds and best laps for each individual car so you can easily follow your favourite. As well as this, the app gives you all the latest news, stories and videos from the track.
You can also purchase tickets and merchandise through the app.
17. ESPN UK
Although an American channel, ESPN provides you with specific sports to choose and follow depending what you're interested in. You can check out the latest news articles, stats and social media posts in a one-stop stream. You can also access ESPN radio to catch up with your favourite commentary and podcasts.
18. FlashScore
FlashScore is a quick and easy way to keep up-to-date on sport as fast as you would being live at the actual sporting event. The fast and accurate system means you will be one of the first to know if a red card is being issued or if a try is being scored.
The app covers a wide range of sports and allows you to choose your sport and listen to live commentary, see live tables and receive the latest news and stories.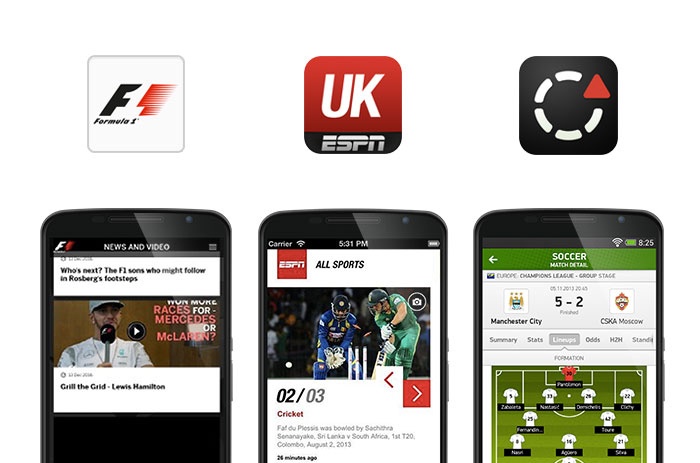 19. FIFA Official App
As the governing body of football, the FIFA app provides exactly what you would expect. You can catch up with the latest news and photos, exclusive videos, interviews and scores from matches played worldwide.
The app also gives you comprehensive coverage of every FIFA competition with a particular focus on the World Cup, with in-depth coverage of the Russia 2018 qualifiers. An essential for any World Cup enthusiast.
20. CricPoint
Similar to CricBuzz, this app gives you all the action from the cricketing world, including live scores, fixtures and results, ball by ball commentary, news and match reports, various points tables, statistics, records and plenty more to ensure you never miss a detail.
21. Love Rugby League
For all the league followers, this app is great for keeping you in the loop with all the latest news, events, stories and upcoming fixtures. It also provides official NRL stats, including live match access to possession, completion rate, kicks, offloads, line breaks, tackles, errors and more.
As the title suggests, this app is great for lovers of the 13-a-side game.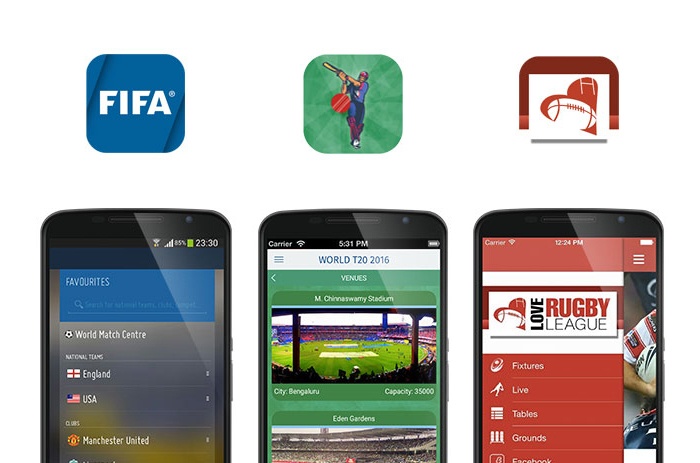 Grow your club's digital channels - Free download
Need some help getting your head round Twitter? Not sure how to attract members online? Without our free Ebook, you can get loads of handy tips and tricks to launching your club online, attracting new members and growing revenue in the process.