Over the years, women's football has produced some incredible talent. With the interest in women's football going from strength to strength, we thought it would be a great idea to take a trip down memory lane.
As we all know, there are hundreds of world-class players and recognition of these players is on the up. We've picked out just some of the best female players in the world and their incredible achievements.
Kelly Smith
Let's kick off with one of our home girls, Kelly Smith. She retired earlier this year after an incredible 117 caps for her country. Within that time, she earned her title as England's all-time record goal scorer, with an impressive 46 goals for her country.
She also became England's first female professional footballer when she joined American side New Jersey in 1999.
At her time at Arsenal, she won five FA cups and scored six goals in those five finals; an incredible achievement. Once being described as the 'David Beckham' of women's football, it's fair to say she's left her mark on English football.
Good luck to @Mark_Sampson and the @Lionesses tonight. Wishing you all be best for the tournament. Go get it 🏆 #WEURO17

— Kelly Smith MBE (@kelly_smith10) July 19, 2017
After retiring in 2015, Smith has gone on to coach and continues to champion the Lionesses in their quest for victory at international tournaments.
Mia Hamm
Mia Hamm is a retired international US soccer player. She graced the football pitch to represent her country for a staggering 17 years.
Often described as a soccer icon, Hamm was the face of the Women's United Soccer Association and a huge name not just in America, but around the world.
In 1991, at the age of 19, she became the youngest team member in history to win the World Cup. In total, she's won two World Cups, two Olympic gold medals and been named twice as FIFA World Player of the Year along with winning U.S Soccer Female Athlete of the Year, Soccer Player of the Year and Sportswoman of the Year over various years by several organisations.
Hamm also held the record for most international goals scored, until her teammate Abby Wambach took over. She remains ranked third in the history of the U.S national team for caps, with an impressive 246 to her name, with 144 assists.
She hung up her boots in 2004 after a more than successful career which earned her the reputation of the best female soccer player in history.
Abby Wambach
We can't talk about great USA players without mentioning Abby Wambach. Famous for scoring one of the most memorable goals in women's football (FIFA later declared it the greatest Women's World Cup goal), Wambach has scored 184 international goals in 255 matches, making her one of the most desirable forwards in women's football.
She represented her country for a staggering 15 years and is still classed as one of America's greatest players. Her trophy cabinet is very impressive with two Olympic gold medals, a FIFA World Cup title, six-time winner of the U.S Soccer Athlete of the Year and FIFA World Player of the Year (becoming the first American woman to win in 10 years).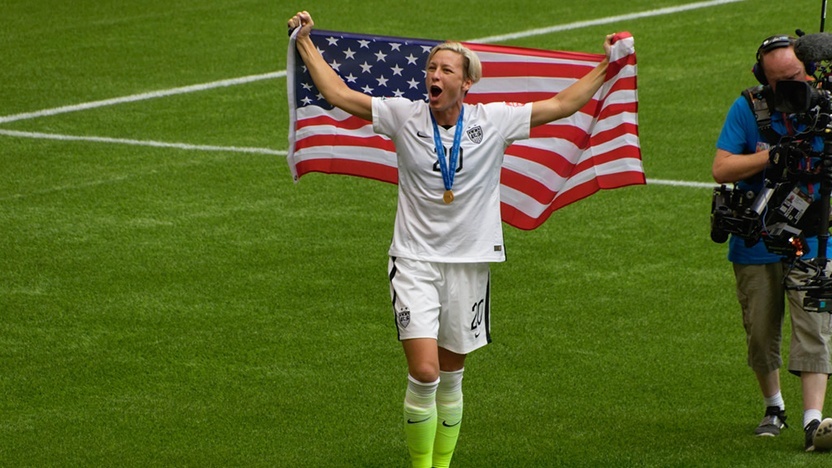 She was also included on the Time 100 list as one of the most influential people in the world. Wambach finally completed her winning streak of the World Cup with the USA at the 2015 competition in Canada before retiring late last year.
Homare Sawa
Commonly named as Japan's finest female footballer, she made her international debut at the age of 15, scoring four goals in her first ever match. She then went on to lead her country to a world championship victory at the 2011 FIFA Women's World Cup.
This was their first ever World Cup win, with Sawa being awarded the Golden Boot for being the tournament's leading goalscorer with five goals. She also picked up the Golden Ball for being the tournament's
In 2012, she was awarded the FIFA Women's World Player of the Year and in the same year helped Japan win a silver gold medal at the London Olympics.
Marta Vieira
Marta Vieira is unquestionably one the most (if not the most) famous female footballers of the last 20 years. The Brazilian has won Fifa's World Player of the Year award five times in a row between 2006 and 2010.
Often called 'Pele' after Pele himself, Vieira has been awarded two Golden Boots and the Golden Boot during various World Championships.
In 2016, the Brazilian represented her country at her home Olympics in Rio, no doubt a special moment for her.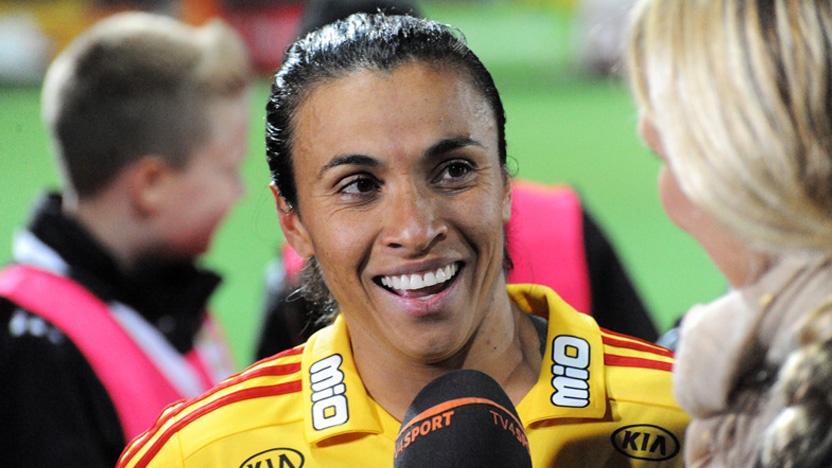 The Brazillian forward champions women's football across the globe through her campaign work and has become one of the biggest names in modern football.
She now plays for the recently created Orlando Pride in the United States.
Birgit Prinz
Germany's Birgit Prinz has had an impressive footballing career, scoring a game-winning goal during her international debut against Canada. She also scored the winner for Germany in the 1995 UEFA European Championship.
Prinz continued to lead her country to victory when Germany won the 2003 and 2007 Women's World Cup, She earned herself the Golden Ball in 2003 and the Silver Ball in 2007.
She has some pretty impressive stats to her name too. Out of 214 international appearances, she found the net 128 times.
She was also named German player of the year eight years running, making her one of the best players in Germany's history.
At club level, Prinz has been just as spectacular over the year, scoring 282 goals in as many matches for FSV Frankfurt, FFC Frankfurt and the Carolina Courage.
Christine Sinclair
Christine Sinclair made her debut for the Canadian senior team aged just 16. She ended up becoming the tournament's leading goal scorer.
An experienced player, Sinclair has competed in four FIFA Women's World Cups, three Olympic football tournaments and has been shortlisted for FIFA World Player of the Year seven times, yes seven.
Christine Sinclair currently captain's the Canadian national team and plays at club level for the Portland Thorns FC.
Hege Riise
After starting out football on a boys' team, aged 14, Riise swiftly became a star in Norway, making her debut for the country in 1990.
After winning the UEFA Women's Championship in 1993 and two years later winning the FIFA Women's World Cup (in which she won the Golden Boot), she went on to make history by winning the gold medal at the 2000 Sydney Olympics.
In this, she became one of only three women in the world to win the Olympics, World Cup and the European Championship. Riise retired in 2006 with 188 international caps to her name.
Nadine Angerer
Nadine Angerer is one of the most famous goalkeepers in the world. Since making her debut for Germany in 1996, Angerer earned 146 caps.
She didn't start off as Germany's number one though. She understudied Silke Rottenberg through major tournaments until Rottenberg suffered an injury just before the FIFA Women's World Cup in 2007.
Angerer took over and the rest is history as they say. Germany went on to win that particular World Cup, the goalkeeper having kept a clean sheet. She also saved a crucial penalty in the final.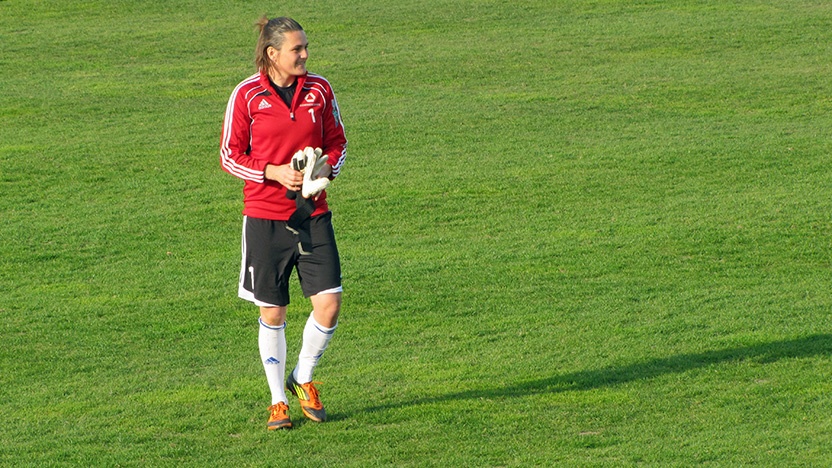 Penalties soon became the thing Angerer was remembered for. She made two vital penalty saves against Sweden and captained Germany to their European title in 2013.

In 2015, she denied France a quarter-final win in the World Cup with a crucial save, allowing them to progress to the semi-finals.