Women's football in England has enjoyed a surge in popularity in recent years, built around the success of the England Women's team and the FA WSL.

In this article, we'll highlight some important milestones that explain the growth in the sport but also look ahead to what's next.
Credit: Liondartois / CC BY-SA


England Women's football: National success

2019 proved to be a remarkable year at international level as England beat Japan 3-0 to lift the SheBelieves Cup for the first time.

That same year, England finished fourth in the Women's World Cup in France; a semi-final defeat to USA netting a TV audience of 11.7m viewers on BBC One.

The international momentum has kept women's football in the spotlight and though coronavirus impacted all sport in 2020, there are plenty of encouraging signs.

Allied with results on the pitch has been the snowballing support in terms of attendance figures.

In November 2019, a crowd of 77,768 watched England play Germany at Wembley.

This was a record for a Lionesses match and just shy of the international record (80,023) that was the 2012 Olympics final.

England Women: profile and social media

Judging the popularity and profile of footballers purely on social media audiences only tell us so much.

However, as a broad indicator on interest in the women's game, it again illustrates the numbers are shooting up. More people than ever before are following the exploits of the England Women's football team.
What a day for training in Manchester! ☀️🥵💪🏼 @ManCity pic.twitter.com/eetkBKDeRH

— Steph Houghton MBE (@stephhoughton2) July 31, 2020
England captain and Manchester City legend, Steph Houghton, has seen her Twitter followers (142k) nearly double in three years.

A quarter of a million people follow Alex Scott, the ex-England and Arsenal defender who is now a commentator for BBC.

For those professionals who embrace the likes of Twitter and Instagram, it has commercial value but also a sizeable mouthpiece to affect opinion and promote the game.

By way of comparison, women's soccer in the USA is on another level with American player Alex Morgan boasting a whopping 3.9m followers!
Credit: Katie Chan / CC BY-SA


FA WSL - Women's Super League

The FA Women's Super League is the top level of the domestic game in England and sees 12 clubs battle it out annually.

The current champions are Chelsea who were awarded the 2019-20 Barclays FA Women's Premier League title, with coronavirus preventing its completion. (Photo is of Arsenal Women lifting the trophy the year before).

Domestic women's football seems to rack up the records but that only points to its significant growth and there are two more to flag up.

In 2019, the Women's FA Cup Final had 43,264 fans watch Manchester City emerge victorious 3-0 against West Ham at Wembley.

In the same month, a Women's Super League North London derby between Arsenal Women & Tottenham Hotspur Women enjoyed a league-record crowd of 38,262.

All of these figures just emphasise the upward trend in popularity, fanned further by increased sponsorship and media coverage.

Barclays agreed a multi-million-pound title sponsorship of the FA WSL in 2019 that sees a renewed effort to help boost involvement at grassroots level.

It includes the FA Girls' Football School Partnerships, a scheme designed to support girls' access to football at school.

Broadcast deals for the Women's Super League sees the BBC and BT Sport share coverage and five fixtures across the opening two weekends of 2020-21 season are set to be screened live.

Here's the women's football fixtures for the 2020-21 FA WSL season.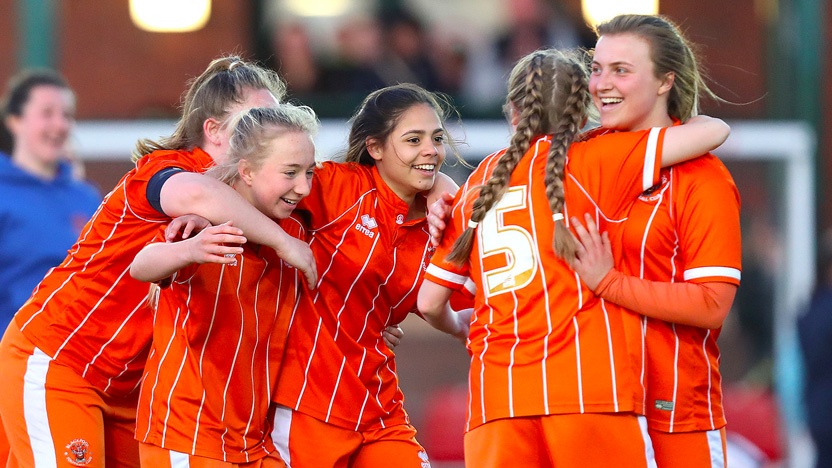 Women's and girls' football - participation
According to Football Association (FA) data in 2020, 3.4m women and girls in England now play football.
That figure is a striking milestone because it has doubled in only three years.

As with all global tournaments, the figures tend to spike after home success and though men's football is more popular by some margin, the women's game continues to show impressive momentum in all areas.

Participation figures fluctuate and are open to spin but there is evidence of many more adults taking up the game (350,000 new participants in November 2019, compared to the previous year).
Meanwhile, girls under the age of 16 are flocking to take part with hubs such as 1,200 SSE Wildcats centres offering chances to have fun and play in a girls-only environment.

As a result, more than 34,000 girls have played football for the first time and as we've seen with other national efforts like cricket's All Stars programme, it's important to introduce a sport at a young age.
The FA's strategic plan ended in 2020 and the new vision had yet to be released at the time of writing but the landscape for women's and girls' football has shifted.
There is always more to do and the FA's head of women's football development, Louise Gear said:
'Attention now turns to the future, and we'll be increasing our influence in schools, colleges and universities with national partners, Youth Sport Trust, Association of Colleges and BUCS.'

Credit: James Boyes from UK / CC BY


What's next for women's football in England?

At international level, Sarina Wiegman has been appointed head coach of England Women from September 2021.

Wiegman is currently Netherlands head coach and the move sees a high-profile, recent international footballer take the helm from Phil Neville.

2021 looks to be a massive year for women's football. A Team GB women's football team will take part in the delayed 2020 Tokyo Olympics Games. England will then host the UEFA Women's EURO finals in July 2022.

Plenty to look forward to and if the grassroots momentum continues, allied with success at the top, there could well be more success stories to follow.