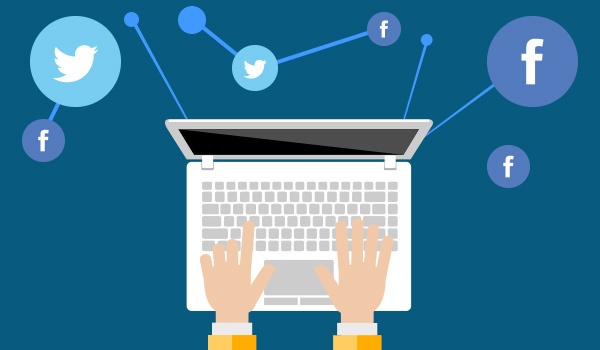 Overview
As I'm sure you're all aware, the last 10 years has seen big changes in the way people communicate online.
The likes of Facebook and Twitter have given people greater opportunity to interact with each other, as well as their favourite brands, sports teams and athletes.
This has created new challenges for sports clubs looking to use these tools to communicate with existing members whilst increasing visibility to potential members.
In this blog, we'll address some of these challenges, and look specifically at how to use social media with your Pitchero website; sharing best practices along the way!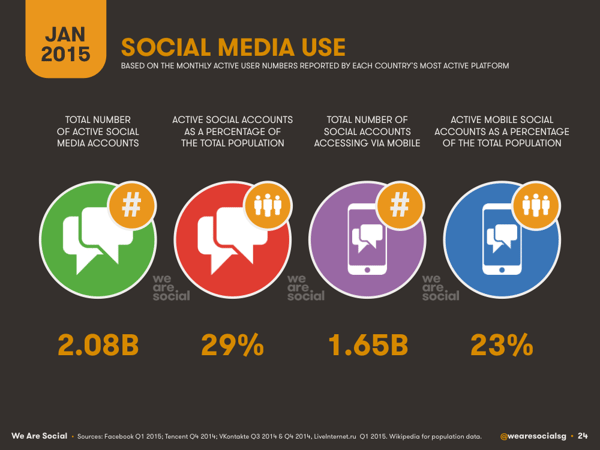 (Source: wearesocial.net)
Pitchero and Social Media
Firstly, it's important to remember you don't need to create an account with every social media platform - not all social networks will be relevant for your club.
Choose the sites that allow you to reach existing members, or gives you an opportunity to interact with potential members.
Your Pitchero site allows you to directly integrate with two of the most popular social networks, Facebook and Twitter, but that doesn't mean you're restricted to just these two platforms.
TOP TIP - Add homepage links to any other social networks you want to promote.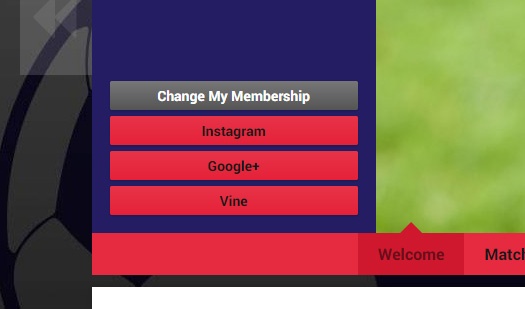 Twitter & Facebook
Within the Settings section of your Club Control Panel is a page called Social Accounts. This is where you can connect your site to the clubs Facebook and Twitter accounts.
Connecting to Facebook will add the recognisable 'f' Facebook icon above the welcome section of your homepage - great for directing visitors straight to your Facebook page.
Adding your Twitter account not only adds a Twitter icon to your site, you'll also see a Twitter feed down the right side of your site.
Visitors will then be able to keep up-to-date with your latest Tweets without having to leave the club website.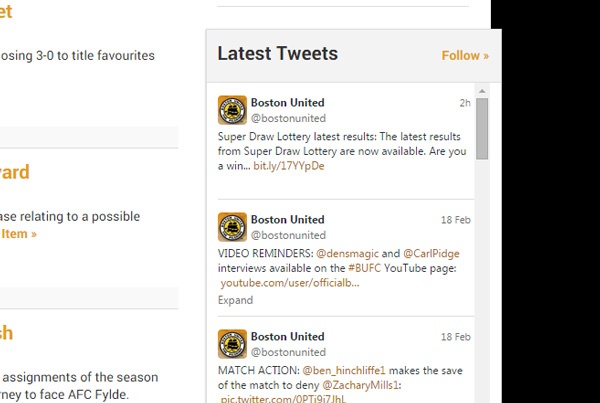 TOP TIP - Use the welcome message to attract attention to your Facebook/Twitter accounts by adding a quick sentence along the lines of "Like us on Facebook" or "Follow us on Twitter".
Social Sharing
Now you've seen how to advertise your social accounts on Pitchero, we'll take a look at how you can share content from your website with followers on a number of different social platforms.
On all News Items & Match Reports, you'll find our new and improved social sharing options, giving you more choice than ever to share your content with.
Click on the Twitter or Facebook buttons to quickly share the item with either platform, or click the More button to choose from a list of others, such as Google+ or Pinterest.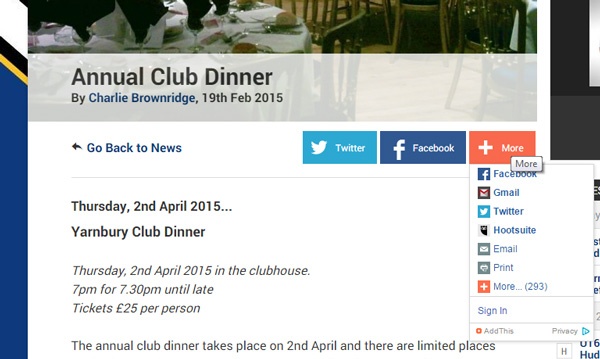 There's also quick share icons on Photos, Videos, Events and more! Just look for the Facebook and Twitter icons on the page you want to share.
Increasing Website Traffic
Sharing content from your site is a sure fire way to increase traffic to your website, as it encourages people to click through to the content stored on your site.
Also, make sure you add a link back to your site, to the About section of all Social Networks you use - this will give your followers a quick way to find more info about the club and could increase traffic.
Linking to your club website from platforms such as Twitter & Facebook will also help with search engine optimisation (SEO). The more links shared that point to your site the better; so make sure you tweet or post links to your site at every opportunity.
Social Guidelines
Whilst using social media has huge advantages for clubs, it's important to be aware of some of the risks, such as cyber bullying or inappropriate content.
Sport England have created a guide on social media safety. It might seem quite obvious, but it's well worth a read.
Most governing bodies will also be able to offer advice on using social media, so be sure to check out their websites for guidelines set out specifically for your sport.
Support
If you've got any questions about social media integration, or need a hand with anything we've gone over, all you need to do is drop an email to our support team and we'll get back to you ASAP!
Thanks,
Pitchero