talkSPORT presenter and champion of Non-League football Tony Incenzo is getting to the very heart of the community game with a series of exclusive blogs as he ground hops around grassroots clubs up and down the country.
Get more of Tony's Non-League diary, check out last week's at Baffin Milton Rovers.
Luton Town U18s 0-0 Stevenage U18s
Creasey Park Community Football Centre, Creasey Park Drive, Dunstable, Bedfordshire LU6 1BB
Tuesday 24th January 2017
Kick-off: 12.30pm
EFL Youth Alliance South East
Admission: Free
Attendance: 26
In times of bad weather, a 3G synthetic football pitch really is a groundhopper's best friend. With so many matches being called off due to frost this past week, I played it safe and headed to Dunstable for Creasey Park's 3G surface where Luton Town's youth team have been playing occasional fixtures.
The ground
The 3G facility is located behind the main stadium pitch at Creasey Park. As with all 3G installations, there is a tall wire fence surrounding the playing surface to protect it from feral animals and other unwanted intruders.
On my visit to @CreaseyPark 3G I saw great @FootballFoundtn work@fcbusiness @DunstableTownFC @afcdunstable @3G4US pic.twitter.com/gXw3qsWdfu

— TonyIncenzoTalkSPORT (@TonyIncenzo) January 24, 2017
Club history
Dunstable is a traditional market town in Bedfordshire and is located just a couple of miles from the main M1 motorway.
I had previously visited Creasey Park on 2nd November 1983 to see a match on the main stadium pitch when Dunstable played Arsenal reserves in a friendly. Arsenal won the game 8-5 and it is still one of the most high-scoring fixtures I've ever witnessed.
However, a major change took place in November 2011 when the new Creasey Park Community Football Centre was opened on the site at a cost of £3.2m. This really is a great development that the whole town can enjoy and benefit from.
The overall complex includes the tidied-up main stadium with a grass pitch, the 3G synthetic full size pitch, a community hall containing bar and catering facilities, eight other grass football pitches from mini to full size for youth and community use, plus a BMX bike track.
The centre is owned by Central Bedfordshire Council with Dunstable Town Council appointed to manage day to day running. There is also "collaborative working" with the Football Foundation, Brewers Hill School and the Bedfordshire County Football Association.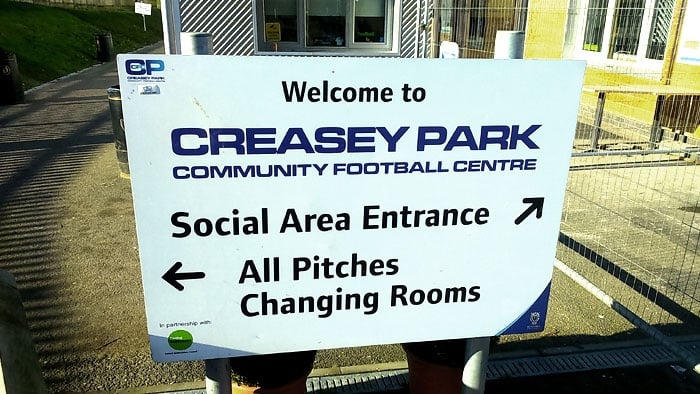 Dunstable Town of the Evo-Stik Southern League Premier Division share the main stadium with AFC Dunstable who play in Division One Central of the same league. Dunstable Town are a re-formed descendent of the Dunstable FC that I watched play in 1983.
From my groundhopping point of view, the 3G pitch can be counted as a different ground to the main stadium.
The match
On this sunny but cold Tuesday lunchtime, I witnessed a slight delay before kick-off as the goal nets had to be secured properly. Once the action got underway, there were some promising youngsters on show from these two professional clubs.
Luton dominated the first half whilst Stevenage improved after the break. But neither side looked like scoring and it fizzled out as a sterile 0-0 draw.
The people
Spectators were allowed to stand inside the tall fencing so we were very close to the pitch.
Those in attendance included Luton Town manager Nathan Jones, the club's chief recruitment officer (and legendary ex-striker) Mick Harford plus Stevenage boss Darren Sarll. It was good to see the hierarchy of these two clubs keeping a keen eye on the progress of their young players.
For a more on Luton Town, head to Luton Town's official website. For more on Creasey Park's teams, head here for Dunstable Town and here for Dunstable AFC.
Tony Incenzo is a reporter for talkSPORT Radio and Sky TV. You can follow Tony on Twitter at @TonyIncenzo