Using the Pitchero Donations tool is a fantastic way for sports clubs to fundraise online. To see the best results and raise the most money it is vital you promote your donations page far and wide. To help you out, we've put together the ultimate marketing plan.
We've created templates that you can use across various platforms to get the word out about your fundraising mission and to kickstart donations. The template pack includes text and artwork for social media posts, a website news item, a club member email and a press release. Click below to download now.
Social media

Social media is a simple and effective way to promote your fundraising to club members and fans.
Downoad these templates as a starting point for your social media channels and tweak them to your liking. We have included text and images for Facebook, Twitter & Instagram. For the best results always include an image with your social media post.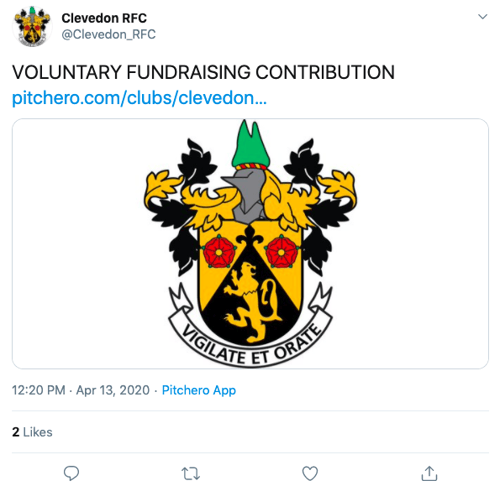 Pro tips:
Create a Facebook or Instagram story to ensure all of your followers see your fundraising post.
Add sport specific hashtags to your Instagram post and tweets. This will gain extra exposure and attract donors that do not follow you on a particular social media platform.
Encourage members to share or re-post your social media posts so that they are seen by as wide an audience as possible.
Add a news item to your club website
Creating a news item is a great way of publicising content that will always be visible and won't get lost in a sea of social media. Use our example club news template to tell your website visitors that you are seeking donations.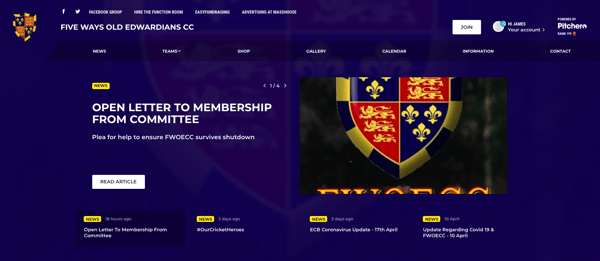 Pro tips:
Make your article featured content on your club website homepage so that it stays in prime

position

at the top of your website. Click here to learn more about featured content.
Always include links to the donations page
Tell a story - explain why your are fundraising and how the funds will be used.
If you are unsure how to add a news item to your website, read our guide here.
Email your club members
What better way to inform your club members than by telling them all directly by email!
With a few clicks, Pitchero club admins can send an email to all registered club members via the club control panel.
We've put together some email text, based on examples from clubs that have raised thousands of pounds already. These emails are PROVEN to be really successful at boosting club donations.
Pro tip:
Use attention-grabbing subject lines so that your recipients feel compelled to open and read your email.
Not sure how to send an email to all of your club members? Click here to learn.
Use images
Images speak a thousand words. Always use images on your donations pages and within all marketing. Why not create a special one off image or use images to depict how the money will be spent? This can really help to make the donation page more eye-catching.

Always set a target
Every great team news a goal to aim for and your fundraising is no different. Set a target using the Pitchero Donations tool and publish this online and within all of your marketing.
Keep members up to date on the money raised. The closer you get to the target the more encouraged members will be to donate!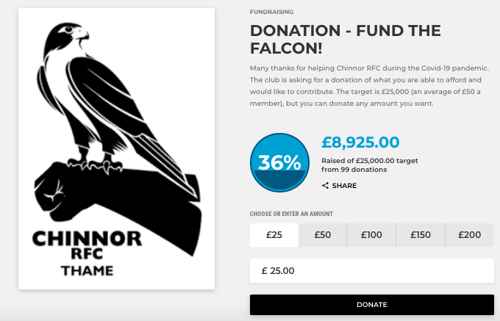 To add a fundraising target:
Select the product in your club control panel and click on 'Product Information'
Select both 'Display total amount raised on product page' and 'Display a fundraising target'
Enter your fundraising target
Publish a list of donors
Displaying the names of members who have donated will encourage more donations - "If Bob has donated £20, I'll donate £25!'. Your club is full of competitive people - let's get them competitive about fundraising!
Pitchero allows clubs to publish the names of all donors - but if a donor wishes to remain anonymous, they can.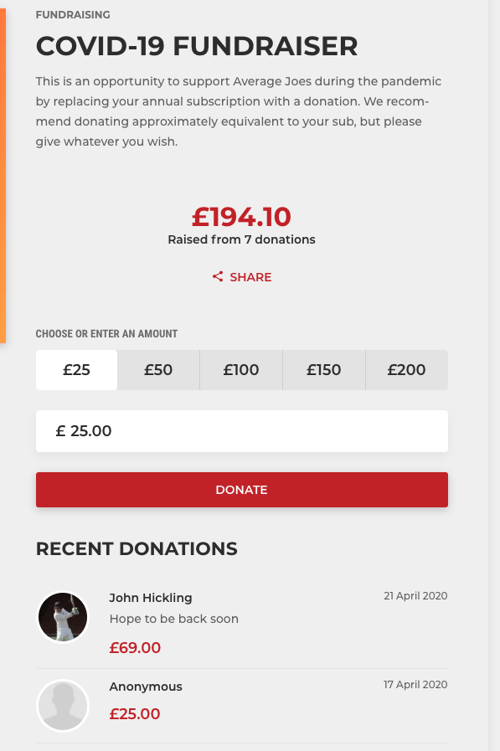 Re-order your online shop
If your online shop has lots of categories your fundraising page may be displayed at the bottom of the shop page.
To make your product easier to find, re-order your shop so that the Fundraising page is moved to the top.
To re-order your products, go to 'Shop & Payments' in your club control panel and select 'Products'. By hovering over each section in 'All Products' you can now click the up or down arrows to re-organise the product order.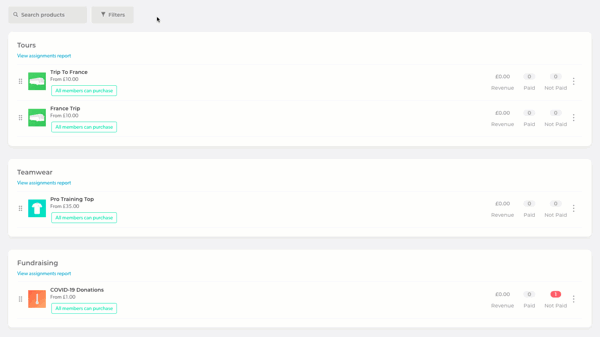 Now that we've shown you how to set up your fundraiser for maximum success, it's up to you to use all of the tools at your disposal to tell everyone about it!
If you're unsure how to use any of the features mentioned in this blog post, please email support@pitchero.com and we will be happy to assist you with your query.