Since the end of October, we've been running a FREE prize draw for one lucky club to win £250 cash & a 1 year subscription to our Ultimate Package (worth £880).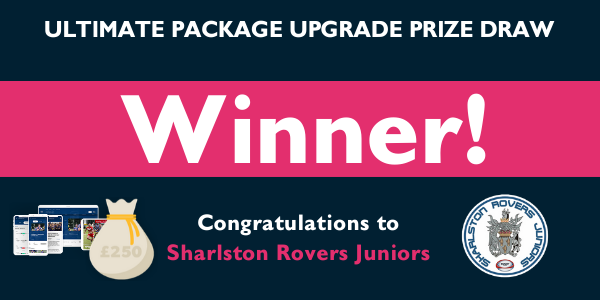 To enter the FREE prize draw, clubs had to upgrade from our Elite Package to our Ultimate Package free trial using a special code at checkout.
After verifying the successful entrants and selecting a winner at random, the lucky recipient of the cash & subscription can now be announced:
🏆 Mark Edwards of Sharlston Rovers Juniors 🏆
Congratulations!
Mark Gave us an insight into Sharlston Rovers Juniors:
"We only started the junior section of our club in 2014/2015 with a handful of players and played our first game in 2016 now we have 136 players and we won our first trophy this year with the U13's winning the Yorkshire junior U13's division 5 championship. We have close links to both Wakefield Trinity with Danny Kirmond, Jacob Miller, David Fifita & Featherstone Rovers James Lockwood being regulars at our club at training sessions and club events. Jacob Miller and David Fifita also have children that play for Sharlston Rovers Juniors."
...and how he uses Pitchero for Sharlston Rovers Juniors:
"Pitchero has helped Sharlston Rovers Juniors club profile by presenting what is going on at the club and making it easier to start new members & collect funds . We have grown so big in such a short time that our facilities are taking a strain and we are currently fundraising for new changing rooms for our club and our Pitchero website is a big part of this by spreading the word of the good things the club is doing for the community. Hopefully with help from Pitchero and the community The Sharlston Rovers Juniors Family will get bigger and better in the future."
---
Stay tuned for more FREE prize draws in the coming weeks to see if you could win for your club.
For more information about our Ultimate Package, click here