Domain names are a vital component of a club's brand appeal. Primarily, they act as a signpost for your club website. They are the web address that shows up in Google searches or visitors use to connect to your club's online presence.
But, it's more than that; domain names are part of your club's identity and choosing the right one matters.
Understanding how to get a custom domain for your Pitchero website or how to transfer one from elsewhere is important.
Pitchero websites are hosted on a Pitchero URL:
https://www.pitchero.com/clubs/oldboysfc
But this can be replaced with your own, custom domain name:
Why a custom domain name will help boost website traffic
- Improve your Google ranking
- A more professional and bespoke feel for your website
How to connect a domain to your Pitchero website
All clubs on the Elite and Ultimate package can connect a custom domain name to their website. If they don't already have one, a free domain is included.

A club can connect a domain to its Pitchero website in 3 ways. Click the links below to visit our Help Centre articles:
Register

a new domain name

Transfer

your existing domain name to Pitchero

Map

your existing domain name to Pitchero
It all depends if you've bought a domain name yet and what Pitchero package your club is on. If your club currently has a Free package, you'll just need to upgrade first.
All three options above can be done via the Club Control Panel > Settings > Domain name

It will save you money as Pitchero covers the registration fee, mailboxes and forwarders are included too and support is all in-house in one place where your website already resides.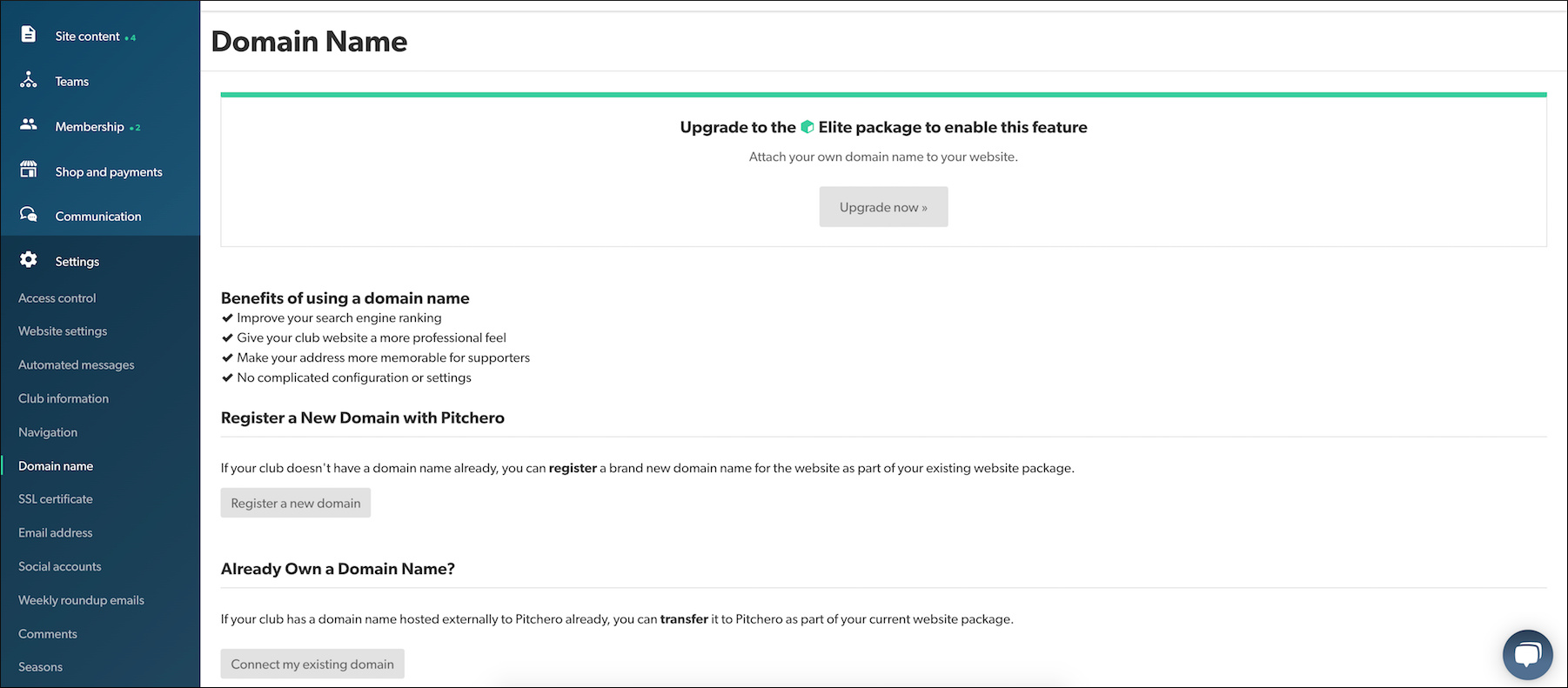 Registering a new domain name
You can do this quickly and easily from your Club Control Panel under 'Settings' then 'Domain name' from the sub-menu.

A good domain name is relatively short and includes words that a person looking for your club might search for in Google.

i.e.) Sunbury Cricket Club is https://www.sunburycricket.co.uk

If it's available, you can register the domain of your choice from your Club Control Panel.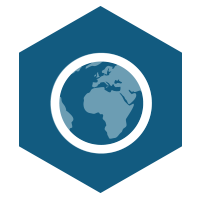 Transfer your existing domain name to Pitchero
If you've bought a domain name previously (perhaps with another club website before you moved to Pitchero), you can transfer it.
You might have bought yourclubname.com from a domain name registrar company like GoDaddy or Namecheap.
Why would you transfer your domain name to Pitchero?
On a basic level, your website consists of: your domain name + your website files.
If those two elements are with two separate companies, that's two logins and you have to make sure they work together. It's easier in one place, particularly if you're not confident with domain name settings.
Having a SSL is a major benefit to the club, especially if the domain is registered with Pitchero. An SSL certificate is a form of security added to domains to ensure that private information entered on the website remains private.

It comes included with our Elite and Ultimate package.
A domain name is registered with Pitchero for 1 year. Once it's registered, it's not good practice for the club to change its mind. The Webmaster may require sign-off from the club before registering a domain name.
Reasons for a club with an existing domain to transfer:
Cost

Ease of management


SSL certificate

Support in-house
How to do the domain name transfer
To transfer a domain over to Pitchero, you first need to email some answers to a few technical questions.

Pitchero will then guide you through the process via email. If it can be transferred, you will be shown where to initiate that process with your current registrar.
It can typically take 48 hours but might be 3-5 days, depending on the domain extension (.com or .net).
It depends on the domain registrar and isn't something Pitchero can control.

Two important things to note:

1. Any email addresses or email forwarders using that domain name won't now work. Once your domain transfer completes, you can create a new mailbox and add a forwarder with Pitchero.

2. There may be downtime on where the domain name itself points to.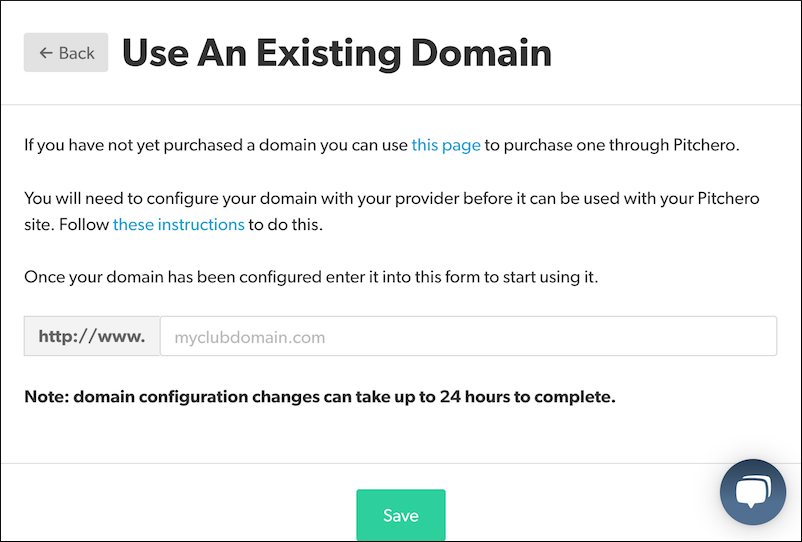 Map your domain name to Pitchero
If you're on the Elite or Ultimate package and have a domain name with another company, one option is to connect the domain to your Pitchero Club website.
It means you still manage your domain name + Pitchero website separately but they are linked.
So, your website URL could be the myclubname.com you've bought elsewhere but it points at your Pitchero club website.
Negatives to this are that you're still overseeing separate logins with Pitchero for your website and another company for the domain.
There is some potential downtime during the mapping but any email accounts hosted elsewhere will still work.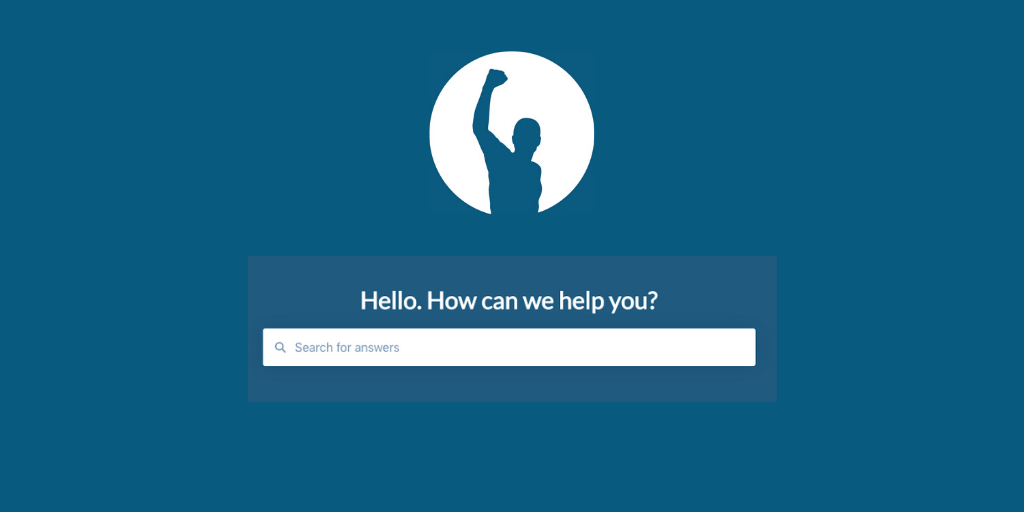 Contact Pitchero Support

If you need assistance with domains, our Help Centre details all of the steps above. Alternatively, you can submit a support ticket with a question and we'll be happy to help.
We aim to reply to all enquiries within 2 working days.