Safety in rugby is one of sport's hottest potatoes. Fuelled by a growing body of research that outlines concussion as a genuine problem in the game, ideas on changing the rules of the sport have been widely disregarded.
Instead, leading kit manufactures have been looking into increasing the level of protection offered by headguards. Which has lead us here, with the release of the first headguard that claims to offer genuine impact protection.
What the N-Pro is
Short for Neuro-Protection, the N-Pro headguard is said to offer unprecedented protection to a player's head during impact. Using five layers of material, the headguard reduces G-Force energy as it's transferred to a player's head.
Such is the scientific basis of the product, the N-Pro is rugby's first headguard to be classified as an EU medical device. Complying with a number of EU directives, the N-Pro is said to reduce energy transferred to the brain by 75%. Plus, it's durable design offers the same protection from a series of impacts.
They probably explain it a little better than me in the video above.
Launched on Monday, you can buy the N-Pro in the UK and Ireland through their website for (an admittedly hefty) £107.
Update:
Since the launch (and original publishing of this article), World Rugby have released a
statement
stating the head guard cannot be used at any level of the game. To this point, the N-Pro hasn't been independently tested in a competition environment, and doesn't comply with World Rugby's regulation 12 or Law 4.
They also state they are working with the developers to potentially implement a trial of the product.
The N-Pro's scientific approach to headguard design is a refreshing one. Mark Ganly and Dr Sandra Ganly, founders Contego Sports (who developed the N-Pro), said it was a central part of creating the product. Mark commented:
"We set out to make a product that reduced the risk of brain injury to the player. In our view we could only do this if we applied science and developed a medical device, not just a piece of sports equipment.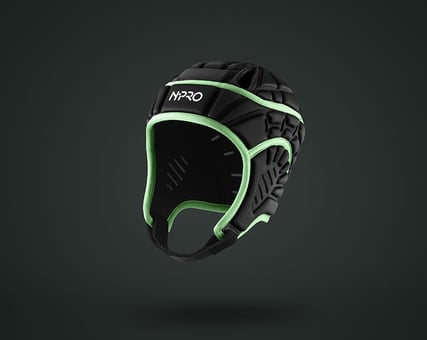 Ultimately, our aim is to enable more players of all ages and abilities to play rugby for longer, and now that we're launching N-Pro, we hope to achieve that."
A timely innovation
The dangers of impact in rugby is one of growing concern to governing bodies and participants in the sport, with regular research highlighting the potential dangers.
The latest of which came in July. A 29-month study funded by World Rugby found a potential link between frequent concussions and functionality of the brain. 485 amateur and professional rugby players took part in the study that found players who received four or more concussions performed worse in tests involving mental and physical coordination, motor speed and multi-tasking.
The study was not considered conclusive, but a possible link between rugby-related impacts to the head and long term brain damage is gathering pace.
So too is awareness. In February, an annual audit said that reported concussions had risen by 59% in the 2013-14 compared with the previous season.
Whilst progression into safety equipment is one avenue for change, alterations to the rules are also being explored. One suggestion is introducing a complete ban on tackling in youth rugby. Lead by a campaign of leading academics earlier this year (which we interviewed here), opposition to such a policy has (rightly) highlighted the need to educate youngsters in tackling techniques to ensure they don't suffer during the step up to adult rugby.
What's clear is that rugby as a sport is beginning to wake up to the potential dangers of concussion. This scientific, evidence-based approach is likely to prove the best way forward.