It's pre-season, and no doubt a number of your club members are manically dashing about the clubhouse in an effort to get everything ready in the time for the first game of the season. A successful season starts with the hard work you put in right now, and many of the small details can be lost amongst the madness.
To help you stay ahead in you preparations, we've compiled a nine-strong list of vital things you need to do during pre-season. It could be the key to boosting your club's performance both on and off the field.


Before you throw you and your club into a brand new season, you need to get a grasp where you're starting from. Gather your club officials, board members and key coaching staff, and analyse where your club performed well last season, and where your focus should lie during pre-season.
Take a thorough approach to your dissection of the previous season. Focus shouldn't purely be around your performance on the pitch, and even if you did churn out some disappointing results, it may be that factors around the club are having a major impact on how you're performing.
Don't stop your search on the field either. As a club, you need to analyse where improvements can be in every facet of the club. Did you raise enough revenue (more on that later)? Are the facilities still up to scratch? Leave no stone unturned, agree on what went well and what didn't, and then implement actions to improve on these points next season.
Once you've come to some common ground as a club, it's time to give yourself a similar progress check. As a player, coach or club member, you have the power to contribute to the good of your club. Ask your fellow team mates or your coach about your performance last season, and ask for suggestions on improving during next season.


Once you've got a grasp on how your club fared last season, it's time to outline where you want to be come the end of next season. As we've mentioned in a recent blog post, sports psychology has proven that setting goals in sport increases motivation and can have significant impact on getting you and your club where they want to be.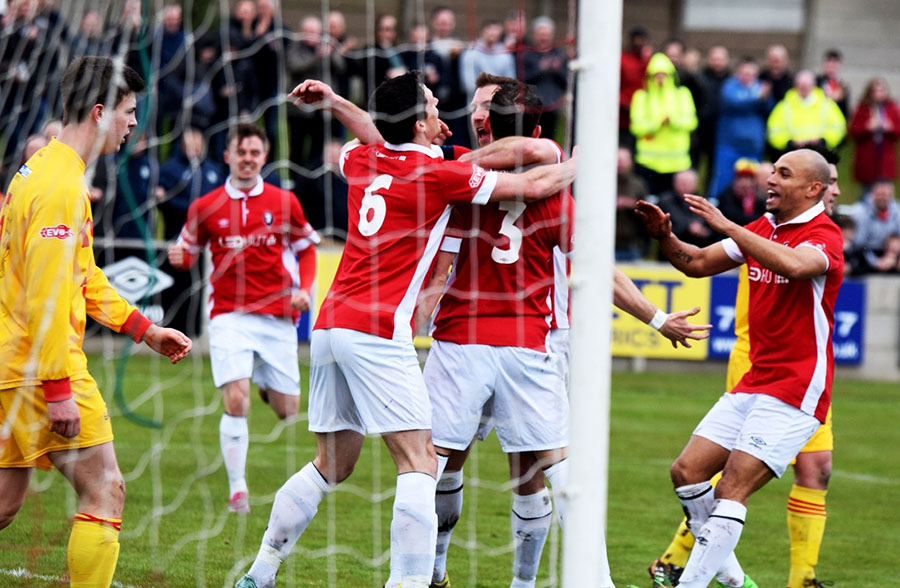 Goal setting is again a process that can be done at club, team and individual levels. Perhaps as a club you wish to increase the amount of members by 20 over the course of the season, or you plan to increase revenue by 25%. As a team, do you want to win the league, win some silverware or consolidate your position in a new division? As a player or coach, you might have your eye on the top goalscorer charts, or wish to complete the next stage of your coaching badges.
These are known as outcome goals, representing where you want to be at the end of your goal setting process. Make outcome goals clearly measurable for anyone involved in achieving them. Then, outline a series of process and performance goals to help you on your way to getting there.
Find out how why setting goals is so important to your club here.


Members are the lifeblood of your club. Without them, your club would not longer be able to serve the local community as it has done for generations. To ensure the worst does not become reality, you need a steady stream of incoming members that will form the backbone of your club both now and in the future.
As a club then, recruiting new members should always be at the forefront of your mind, and pre-season is probably the best time to snap up any prospective newbies.
Of particular interest to any club should be youth players. Once engaged as active members of the club, they can grow into a future captain, coach or board member. Embrace your local community and reach out to parents who want to get their children into sport.
Could your club hold a family fun day whilst the sun still shines? Run a five a side tournament, with games, competitions and a barbecue. Invite local businesses to attend, bringing a service with them to enhance the day and giving them an opportunity to drum up new business in process. Ask the local press if they want to take some photos and run a story on your positive impact in the community, and get the local schools involved by plugging your event to parents and school kids alike.
Paint your club in a positive light to the local community, attracting new members and growing your club's membership.


After several months of sun bathing, barbecue eating and beer swilling, the members of your squad will have totally phased out of their footballing brains; now it's time to switch them back on.
Before pushing them into the gruelling process of pre-season training (something we'll cover shortly), there's always time for a little ice-breaker.
Strengthening your team bond is an important process that can often get lost amongst the glut of fixtures during the season, so squeeze in some team building activities before the season gets underway.
This can be especially important need to ingratiate some new members into the squad. Throwing them into a training session without having previously met their new team mates can be a little daunting (especially for junior players). A team that's closer together is more likely to fight for one another on the field, so building and maintaining that solidarity (using fun activities) can be vital.
Take a look at our ideas for team building activities.


Look away now players, because pre-season training is one aspect of pre-season you can't afford to ignore. Putting the hard yards in now will help stave off fatigue as the season progresses, so plenty of running awaits.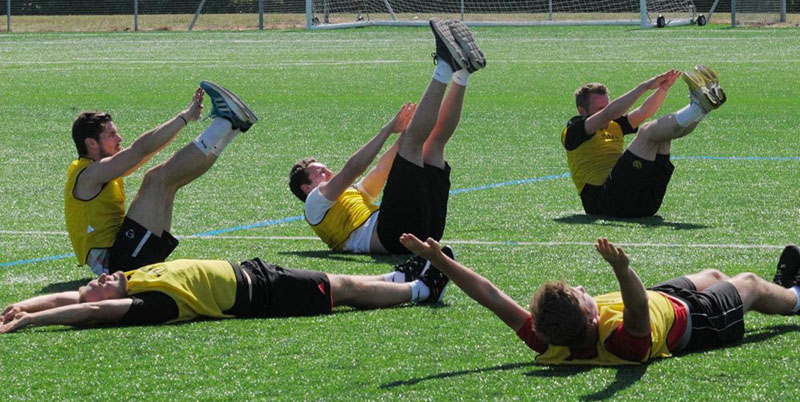 Coaches are often guilty of taking their squad completely down the wrong avenue when it comes to pre-season training. Modern advancements into the science of fitness and endurance now recommend a training schedule that much more closely resembles what a player goes through on the field.
Players can take a huge sigh of relief then when I say that trekking up mountains and running the equivalent of a marathon have been left behind in 20th Century pre-season ideals. In its place, tailor your pre-season fitness exercises to mirror how a player will use their energy on the field.
Get the most out of pre-season in our blog on the subject.


It's no use setting your club up for successful season, only to leave them ill-equipped to carry out their objective on the field. Upgrading you and your club's kit is one way to boost excitement and anticipation for the new season.
If your team are still playing in those old tatty kits you've had a for years, press the club for funds for a new one. Approach local businesses with an exciting sponsorship proposal, and they might be willing to make a significant contribution to investing in a kit they will become the main sponsor of.
Training equipment is another area that clubs often neglect to invest in, but it's impact can be significant. Enhance your training sessions by bringing in the latest equipment, and reap the benefits of a better prepared team on the pitch.
The same goes for you as an individual. Grab some new boots, trainers or protective gear and give yourself every chance of making the new season a success.


Once your squad are up to speed fitness-wise, it's time to get them some competitive action. Friendlies are a great way to ease your squad back into the swing of things, leaving coach's plenty of room to experiment with new tactics and personnel changes.
Throwing your club into a season without a decent level of on-field action is one way to ensure you don't get off to start you need. Friendlies can provide that for you, and even give you a chance to test yourself against higher opposition – providing you find the right opponents.
Speaking of which, we have a great tool for filling up that pre-season calendar – the Fixture Pool. Find clubs around you and challenge them to a match in a simple, online system.
Click here to find some pre-season opponents with Fixture Pool.


Players and coaches are often forgiven for putting their feet up and enjoying some time away from the game during the summer months, but that isn't the case for everyone at the club. A groundsman's job is never complete, and they will stepping up their efforts to get the pitch ready in time for the first whistle.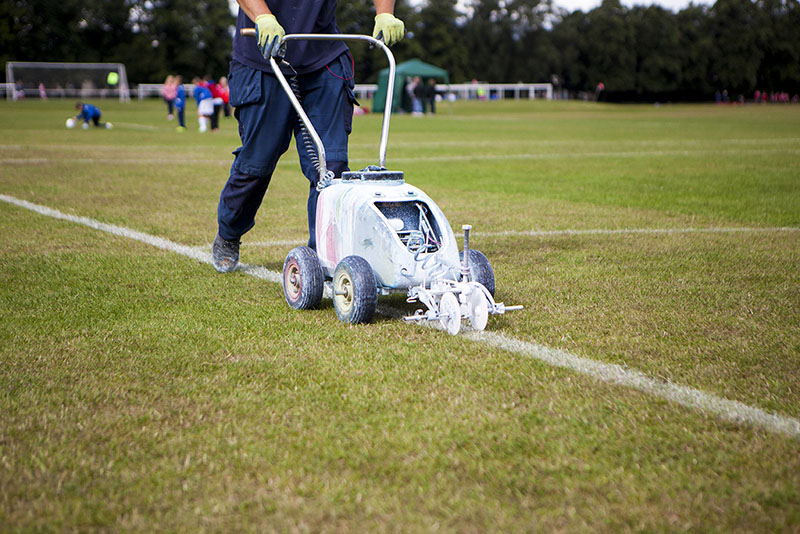 Aside from preparing a lush grass pitch or perfectly maintained artificial surface, other areas of the club will no doubt be in need of a brush up. Many clubs will organise a pitch-in-and-help-out weekend, where club members pull out the pots of paint, nail and spanners in an effort to spruce up your home ground.
Re-stock the fridges, give the clubhouse a lick of paint and dust off the benches in the changing rooms. It's those little touches that bring that feel good factor back into the club, helping you to build a head of steam going into the new season.


As a club, you're no doubt constantly searching for new sources of investment. Grassroots clubs are often run on shoe-string budget, but there are plenty of ways you can ensure those club coffers are given a boost this season.
Sponsors are central to that, and you can harness the power of online to maximise investment from sponsors. With a club website that allows you to position sponsors in the header of your site, you can approach sponsors with a saleable asset that's worth parting some cash for.
Collecting membership fees are another vital but headache-inducing part of collecting club revenue. But again, you can use your club website to collect those membership fees online, ending the usual paper IOUs and chasing round after players who are yet to pay. Plus, that recruitment drive we spoke of earlier can provide a handy top up to the membership subs you already collect.
Outside of digital spheres, there are a number of other ways to raise cash for your club – and many of them link directly to other parts of your pre-season checklist. Remember that family fun day you'rve organised to grab the community's attention? You could run a similar event that focuses on raise funds for a club that serves the people of your community so well.
Elsewhere, that work you've just done to spruce up the clubhouse could be converted into cash. Hiring out your club for private functions is a simple way to open up a brand new revenue stream for clubs.
Find out how to harness the power of online to increase club revenue.