Thousands upon thousands of us rock up week-in, week-out to run around for 90 minutes on a soggy, slanted and ultimately below average football pitch.
Over the years, we've played against the best and worst Sunday League football has to offer.
The following is a selection of players we'll have played with, or against, at some stage in our illustrious careers.
1. The Neymar wannabe
Tricky, agile, quick and a goal scorer. This guy is is none of those. He'll be wearing the latest Nike Mercurials and can perform a decent step over, but that's about as Neymar as it gets.
2. The rapid one, who can't actually play
You're more than halfway to being a solid Sunday League footballer if you have bags of pace. This guy will always be in the team, not on his technical ability, because he hasn't got that, but purely because he can kick it 10 yards past the defender and leave him in his wake.
3. 'Crouchy'
The tall guy. He might only be 6ft1, but that's plenty tall enough to give him the nickname. Like the real thing, he looks like he'll be useless, but ends up skinning you at least once during the game.
4. The drunk one
We've all been there, but this lad is there week-in, week-out. He'll swear he wasn't necking £1.50 tequila shots and Jager bombs at half-two in the morning but in fact, he was 'just a bit tipsy' when he went to bed at half-11.
"@BBCSporf: BREAKING: A picture that really reflects Sunday League Pub football. pic.twitter.com/FcRhl2N1"

Brilliant! Defender drunk?

— Martin Earl (@MJE03) December 23, 2012
It won't be until the last 25 minutes that he'll have sobered up, score the winner and celebrate with a couple of pints in the pub after the game.
5. The manager's son
It's a classic. He'll always get a game despite being one of the worst players. Great news if you're against him, not so great to have him alongside you in central midfield.
6. The semi-pro
Fair enough, he's one of the better players in the team. But because he had trials at a Championship club when he was 11, then played a few games for a National League side, he thinks he should be playing at Old Trafford instead of the Old Inn pub.
He'll create or bag the winner on more than one occasion though, so fair play.
7. Set piece 'specialist'
Finds the net in training. Scores a worldie in the warm up; but as soon as it gets to the game? Lost in the farmer's field. Every. Single. Time.
Tag a mate who couldn't hit a cow's backside with a banjo! 😂⚽️ #grassroots #sundayleague #freekick pic.twitter.com/5JOCNKp2db

— Grass Root Goals (@GrassRootGoals_) September 5, 2017
8. All the gear, no idea
The most expensive boots, the slickest hair cut and they even buy new shin pads every year; but none of this helps him to become a better footballer at the end of the day, does it?
9. The fridge
A big presence at centre back, but can hardly move. He'll send chills through your striker; nothing stands in his way. To get the best of him though - a bit of pace usually does the trick.
10. The big lad up top
99 shot power and surprisingly quick along the ground, these guys can be very deceiving...sometimes.
Sunday League football 👌🏻 pic.twitter.com/GxHLqGpspS

— Photos of Football (@photosofootball)

September 10, 2017
11. The overseas player
No-one knows exactly how he found the club, but becuase he's from Brazil he must be good right? He'll make your defenders look silly with a filthy nutmeg and pop in an exquisite finish in his bright orange boots, making him a nailed on starter.
Problem is, he isn't actually that good, rarely helps putting the nets up and down, is pretty lazy and almost certainly turns up 20 minutes late every week.
12. "Look at that guy, he'll be useless"
It's customary to check the other team out a couple of times during the warm up. You'll see one lad who's shirt is too big, still has bed hair, wears worn out boots, his socks will only just cover his shin pads and you'll think he's there to make up the numbers.
Oh, how very wrong you are. He'll be skillful, quick and will probably be the man you're marking. Your Sunday just got a whole lot harder.
13. Mo Farah
As the name suggests, this guy has stamina for days and literally won't stop running all game. He's certainly not been gifted with natural footballing ability, but his fitness levels mean he's perfect at wing-back.
14. Mr injury prone
There's always one that has a dodgy knee or ankle and as we know, Sunday league pitches aren't for the faint hearted. If you've got weak joints, you're in for a difficult ride.
15. The angry one
One decision to go against this guy and his head has gone. Winding him up is funny, until you're on the receiving end of an attempted 'tackle'. Trying to calm him down when he's on your team is a complete waste of time too.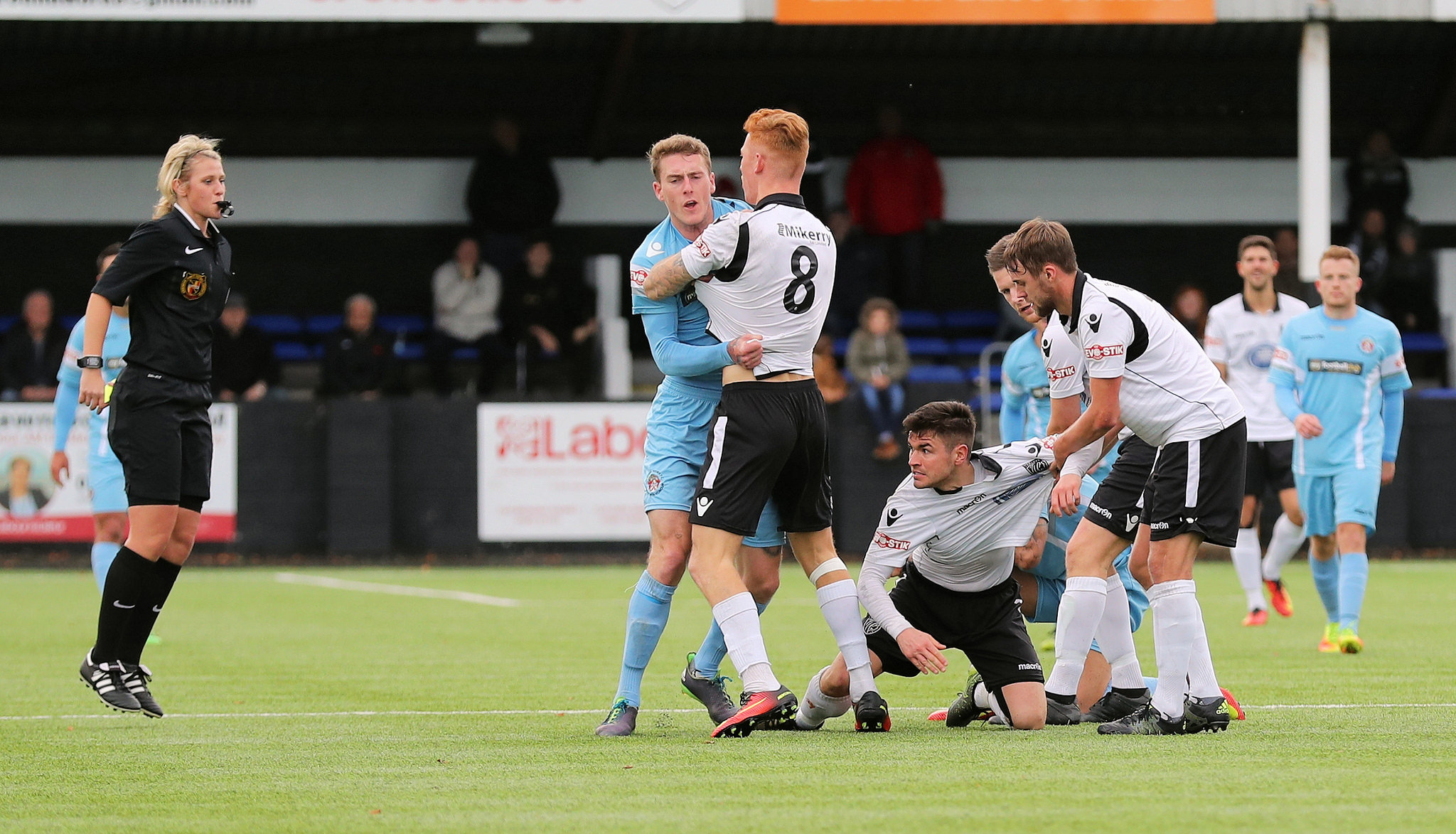 You know he should be sent off most weeks but because the refs are normally scared of the wrath they'll face, a yellow card will suffice.
16. The cliche spouter
He'll have very little knowledge of the game, but he's picked up phrases like "Box em in lads", "Second ball boys" and "work the channels" along the way.
Do you know any other types of footballer that you think everyone will have played against? Leave us a comment, we'd love to hear some other classic Sunday league players.