We have released a major update that helps clubs add stock/capacity levels to products in their online shop.
This means that clubs can manage the whole process of selling tickets for an event or a tour all within Pitchero.
Importantly, consumers are automatically stopped from purchasing items once the capacity is reached.
No more over-ordering and no need for third-party systems like Eventbrite or spreadsheets to link it all together.
Sell the number of places for a club dinner or the next first-team match precisely. You, the club, have full control and flexibility.
Forget handling cash or tracking orders and extra admin on paper. There's live reporting and everything is backed up in Pitchero for when you need to view it.
Save your volunteers time and simplify how you run your online shop!
The next evolution - which we're exploring - is an update that allows members to add multiple products to a shopping basket.
For now, let's dive into the detail of how your club might manage stock levels in different ways.
Setting a capacity/stock level
When creating a Product to sell, one of the options you have is whether the product has variants - e.g. You create a ticket product for an event but add 2 variants for the types of tickets you are selling - Adult tickets & Junior tickets.
Stock limits can be added at the Product level or the Variant level. it depends on your event or tour as to which is the best option to use.
We've mapped out four scenarios below. It should help you understand how best to set up your club products in the future.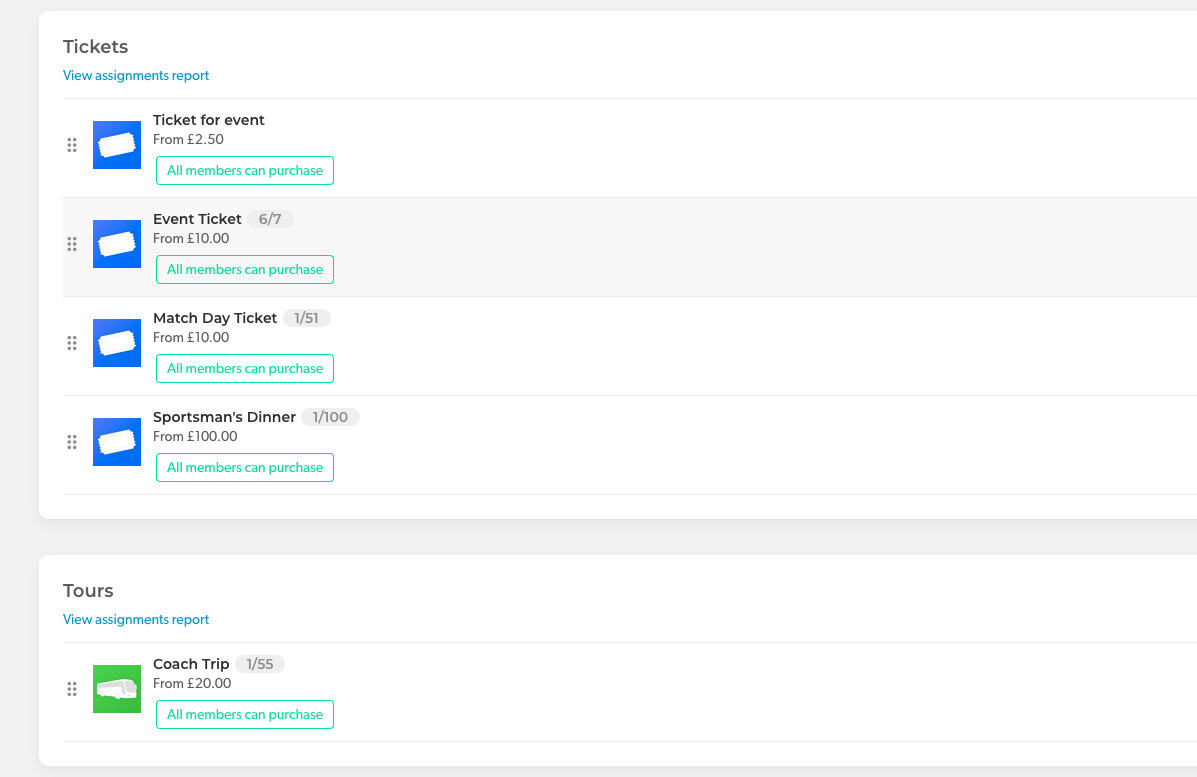 Ticket Example 1 - Adding Capacity at the Product level

An example might be an awards dinner where the club have 100 seats available. There will be adult, child and family pricing available.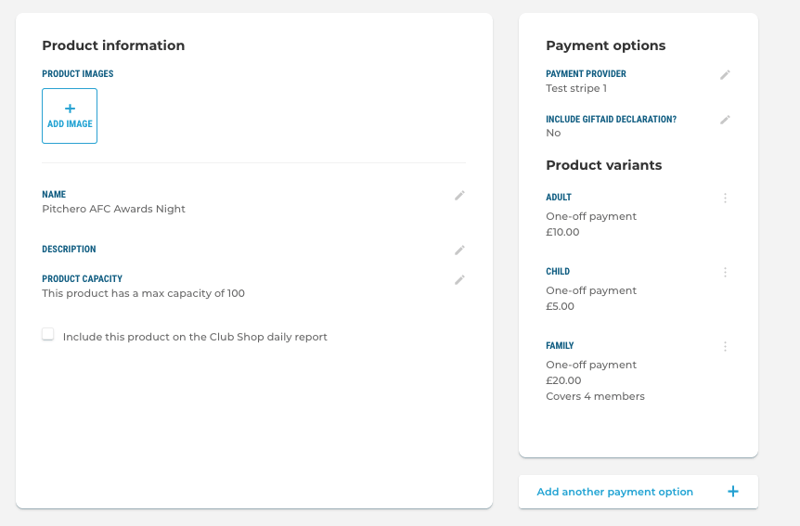 It doesn't matter how many of each variant are sold as long as the 100 capacity is not exceeded.
In Pitchero, the capacity of 100 is set at the product level and the pricing structure is set up as normal.

In the front-end (below), members can keep buying tickets from any variant until the capacity is met. At this point, the product is marked as out of stock.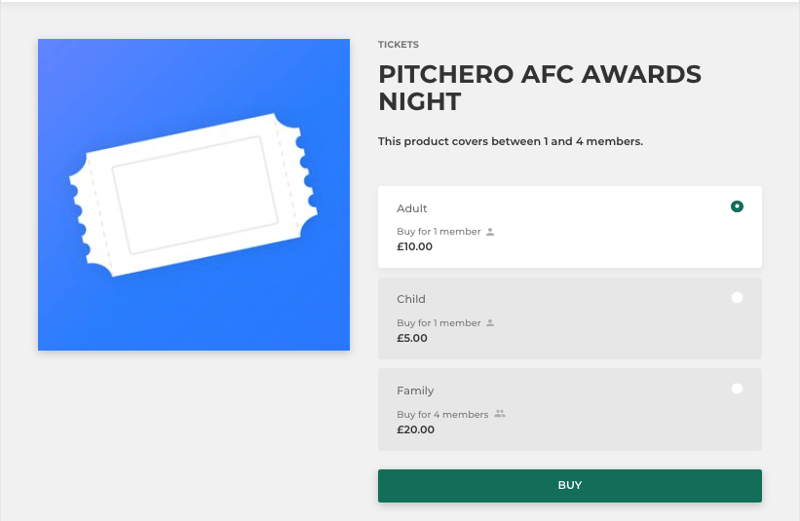 Ticket Example 2 - Adding Capacity at the Variant Level
In this example, you can sell match day tickets where there are different prices and availability per stand.
The capacity is set on a variant level and therefore a 'stock' limit is added per stand. The limit per variant is used to create an overall capacity (see below).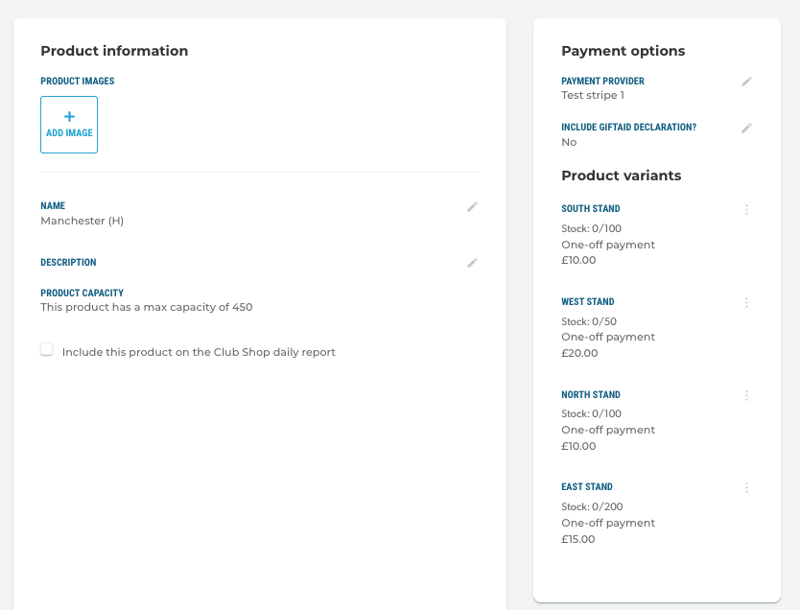 Here, the product is the fixture and the variables are the different areas of the ground with each stand having its own capacity of tickets.
For the user on your Club Website or Club App, they can purchase variants until the limit is reached and it will then be marked as 'out of stock'.
The variants are independent so one can be out of stock while another can still be bought.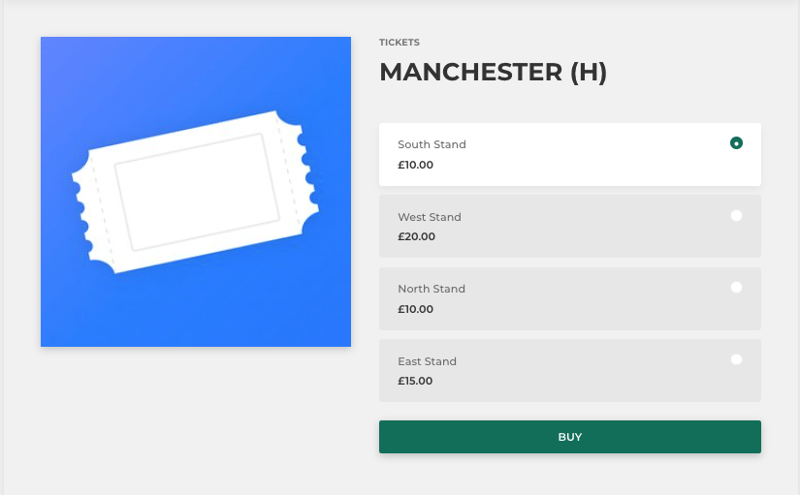 Tour Example 1 - Adding Capacity at the Product Level

Club are putting on a bus to the seaside where a friendly game is played on the beach. There will then be a barbeque before the bus returns back to the home pitch for midnight.

The bus can only take a maximum of 55 members. There is a meat and vegetarian option for the BBQ. Non-players will pay slightly less for the trip.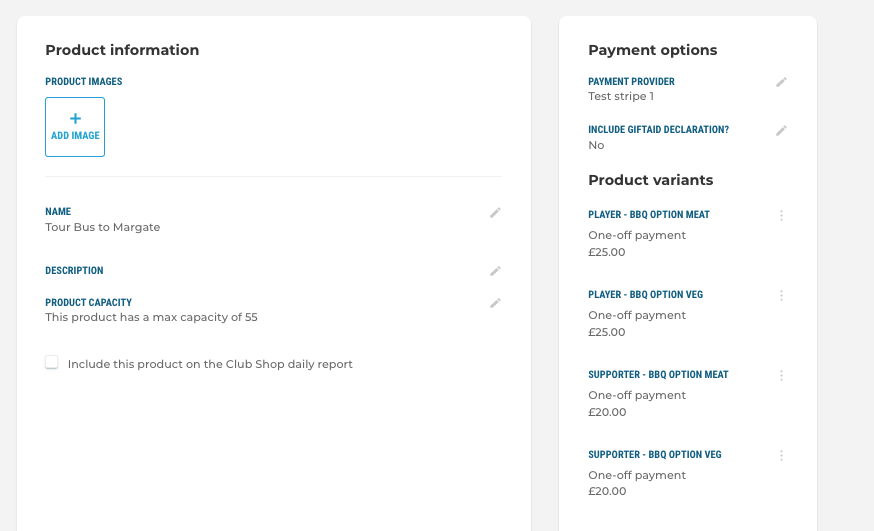 What you'd do is set the capacity to 55 on the product and decide pricing variants as normal (see above).
Within the Club Shop on either the Club website or Club App, your club members can keep buying tickets until the capacity of 55 is met. At this point, the product is marked as out of stock.
With variants in Pitchero, you can set different prices and descriptions for any product to be as flexible as possible.
Tour Example 2 - Adding Capacity at the Variant Level
For the team tour, the club have arranged rooms at a local hotel. There is a limited number of each room type.
'Stock' is set at a variant level for each room. An overall capacity is generated for the total number of members who can purchase the product. (stock limit x number of members who can be assigned to the product).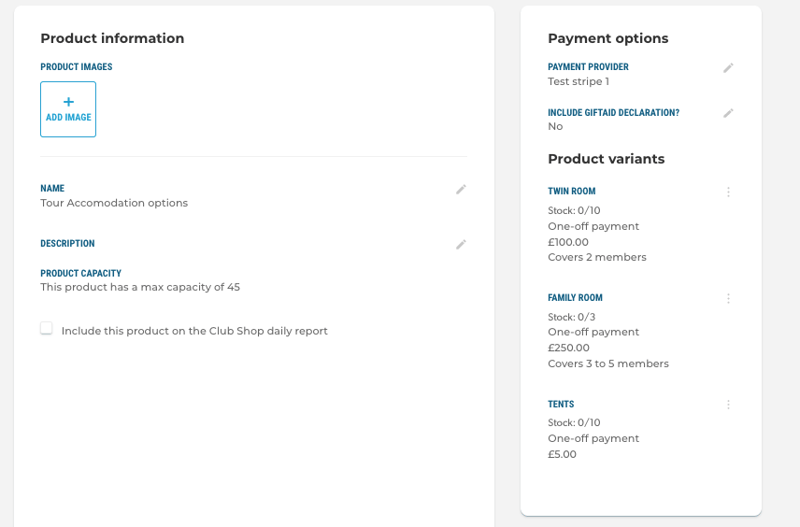 Members can purchase room variants until the stock limit is reached and then it will be marked as out of stock. Members can still purchase room variants which are in stock (see below).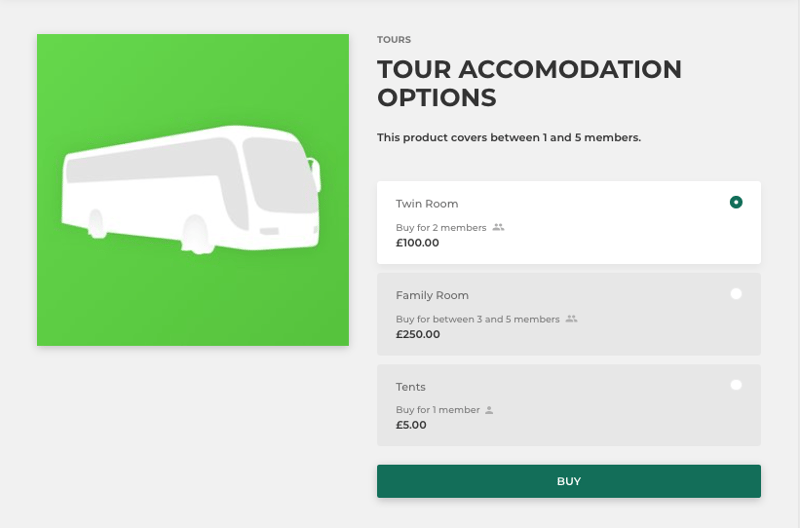 We're really excited to offer this flexibility to clubs who want to use Pitchero to sell tickets and tours with all of the variations there might be.

Sell, organise and manage availability with confidence while offering a slick experience in your online shop.

Need further help?
If you need help with anything to do with products and stock levels in your online shop, you can explore the help centre, email support or book a demo with one of our experts.