Pitchero partners with Bookteq to help sports clubs hire out and manage their sports facilities online. Boost income and reduce club admin!!
Pitchero & Bookteq

Pitchero's award-winning club management solution provides clubs with everything they need to manage their membership, online payments, teams and club communication online.
From today, an exciting new feature has been added with the integration of Bookteq's online booking and venue management system.
Pitchero clubs will be able to use Bookteq's intuitive online booking system to manage pitch, bar and facilities hire online. The Bookteq system is flexible and can cater for any facility the club has to hire. PLUS - every Pitchero club can enjoy an exclusive 1-MONTH FREE TRIAL with Bookteq.
Increase your bookings and maximise revenue
Thanks to the Bookteq integration, clubs using the Pitchero Elite & Ultimate package can now publish an online booking calendar via the club website. This means customers can view available spaces and book facilities online 24/7.
Customers no longer have to call a club volunteer or send an email. Instead - they can make a booking instantly online!
Instant online bookings will remove a major barrier to new customers, resulting in more bookings and more revenue!
Plus, you can advertise your facility on Playfinder; the UK's leading sports booking portal, to find new customers actively looking to hire facilities in your area.
List and hire out anything!
The integrated venue booking system can be used to promote any space, from grass and 3G pitches to bars, boardrooms and conferences, reception rooms and changing facilities.
Clubs can be as innovative as you like - lease spaces for; parties, fitness classes, conferences, community meetings, caravans - anything!
Less admin and happy volunteers
Stop using an old book under the bar to manage your facilities. End the missed calls, lost emails and endless questions from customers.
Move your entire booking system online.
Clubs can organise online bookings across multiple sports and spaces, keeping the process simple for club volunteers.
Every part of the booking process is managed online, including; payment, email confirmation and invoice.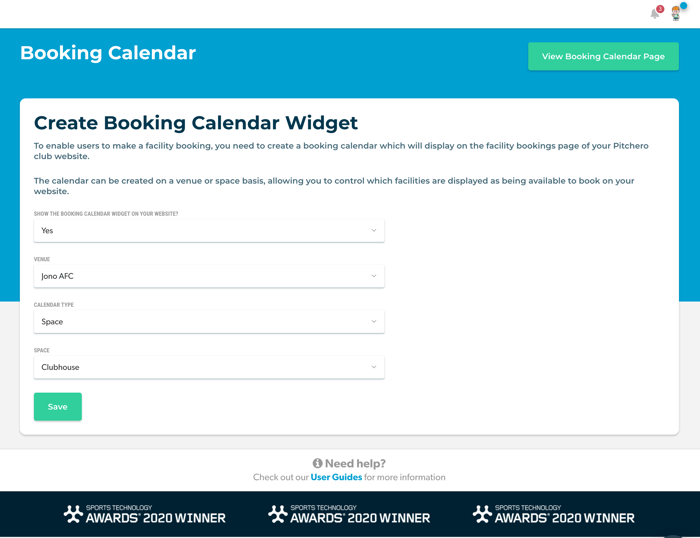 Key features
Embedded online booking calendar within your Pitchero Club website
Digital venue management
Works across multi-sport venues
Suitable for all facilities: 3G pitches, grass pitches, bars and reception rooms
Multiple user admin
Online payments and reporting
Automated invoicing
Excellent customer service
Connect with Playfinder's venue marketplace
PLUS - Exclusive to Pitchero - 1 MONTH FREE TRIAL
How clubs will benefit
Seamless integration
More venue bookings
Increase club revenue
Reduce volunteer admin = happy volunteers!
Attract new customers to the club
Manage all club spaces in one place
Automated reporting and invoicing
How to get started
We've added a new section to your Club Control Panel called Facility Booking. This is where you can create a Bookteq account and connect it to your club website.
Simply click the "Get started today - connect to Bookteq" button and complete the registration form - a member of the Bookteq team will be in touch to complete the set-up of your account and your 1 month free trial.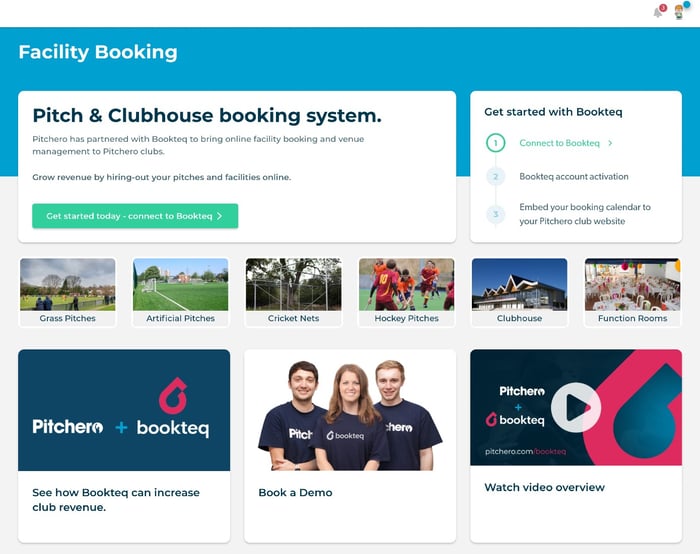 Once your account has been created, it will be automatically connected to your Pitchero club website, and your "Facility Booking" section will now show a list of facilities that you have created on the Bookteq system.
In here you can choose which of your facilities you'd like people to be able to book directly through your club website.
Turning the calendar "On" will add an online calendar to your club website under a new section of your club website "Bookings".
Visitors to your website will then be able to see the availability of your facilities and book directly online, 24/7.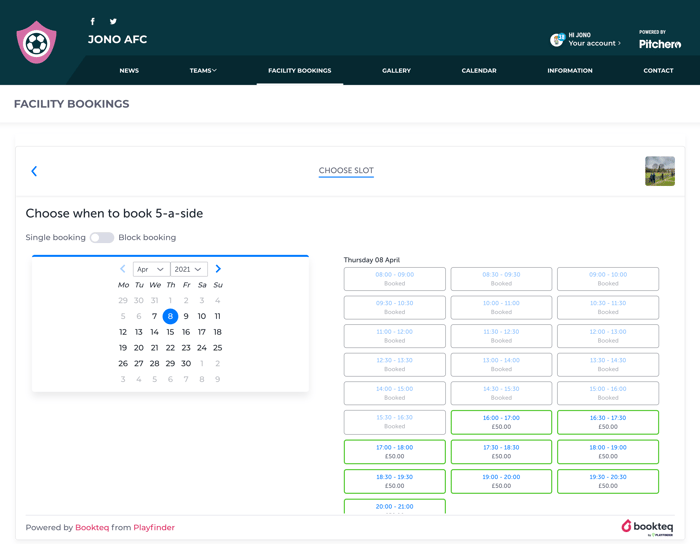 Book a demo
Bookteq have a team of experts ready to help you get the most out of your facilities. Click here to book a personalised demo to see how you can increase club revenue and save time. Or visit bookteq.com for more info.
Happy customers
We recently caught up with the team at Tooting & Mitcham United FC, to see how they've found the Bookteq system so far.