With the ever increasing number of sports websites available online, it's easy to drown in the amount of content there is available to sports fans. Still, there are countless locations you can head to, each offering a different way to enrich your sporting life.
Thankfully, we've done all the hard work for you. Below is a comprehensive account of the UK's best sports websites. From football to hockey, the latest news or viral video funnies, these websites all have something to offer you.
For the all-round sports fanatics...

Just want to digest some sport? Here are the best multi-sport content providers.

What it's good for:

The best coverage of major sporting events.

The BBC has one great advantage over the majority of other sports websites and that is the absence of adverts. It's the best website available to find the latest sports news and keep up to date with the latest scores and results from around the UK and indeed the world.

During significant world sporting events, such as the Olympic Games or Football World Cup, the BBC ramps up it's coverage by dedicating an entire section of their site to the event. As the BBC is often a holder of TV rights to these events, it tends to be the best place to catch all the action.

During these events, the BBC offer an unrivalled live-blog service, perfectly blending informal chat with commentary from pundits and interactions from sports fans via social media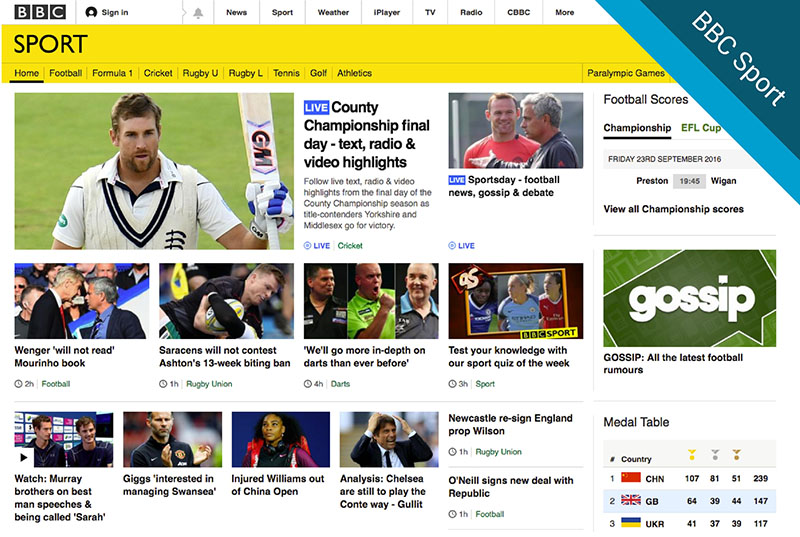 Elsewhere, you'll find other video content including interviews with top sports men and women, plus highlights of sporting action across the UK. Plus, featured articles from ex-sportsmen and women or sports columnists feature heavily, offering additional insight into different sports such as cricket, golf, Formula 1, cycling, Olympic Games and the recent Paralympic Games.
For a sports website that has all the bases covered, BBC Sport.com proves hard to beat.
What it's good for:
A great accompaniment to your Sky subscription.
SkySports is the biggest broadcaster for live sporting events in the UK and covers a wide variety of sports, such as football, cricket, golf, tennis, darts, rugby union, rugby league, wrestling, boxing, NFL and well....pretty much anything going really.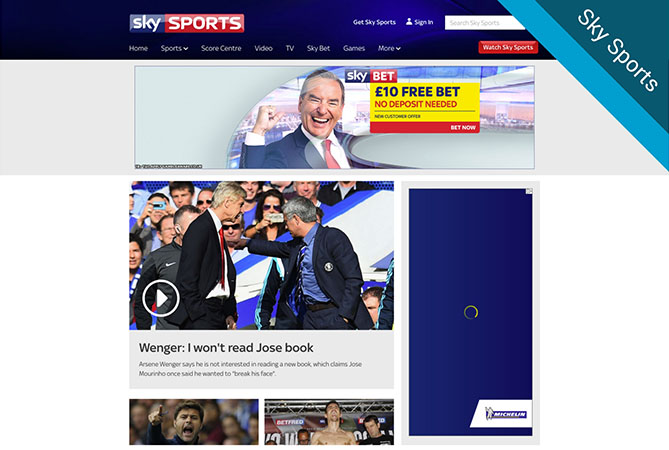 Football clearly takes precedent on the SkySports website, covering the elite level of the sport in all four corners of the globe. Still, head to the drop down menu and you'll find the plenty of content from your favourite sport, where the latest news, video content, live scores, results and fixtures are all on offer.

Understandably, SkySports.com does lean on it's partnering TV service quite a lot. Coverage online tends to see an increase if that event finds it's way onto SkySports TV, and the website often harnesses the power of there on-screen pundits to create featured articles and analysis. Plus, if you're a subscriber to their TV packages, you can get access to exclusive video content.
What it's good for:
The very best in sports journalism.
The Guardian has been a popular newspaper got generations, and their website takes the mantle online by offering outstanding sports content. Similar to the BBC and SkySports, Guardian Sport brings the latest news to its readers but in addition provides a wide range of opinion and featured articles.
There is also video content available although this is not as heavily featured as elsewhere. Guardian Sport covers football, cricket, rugby union, Formula 1, tennis, golf, cycling boxing, rugby league and US sports as its main offerings.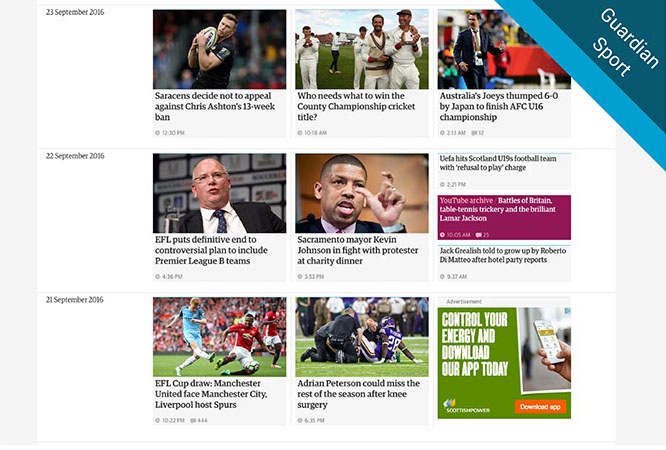 Where it can stake a significant advantage over pretty much everyone else in this rundown is on content quality. As a publication that builds its reputation on the quality of it's written work, the Guardian harnesses their army of proven sports journalists to create the best featured and opinion pieces around.
For a strong mix of featured articles and news, Guardian Sport is a fantastic choice.
What it's good for:
A tailored sports feed that suits prioritises your teams.
Despite its American beginnings, Bleacher Report's website now has an British and American offering, with content tailored specifically to the audience in each country.
Where Bleacher Report differs from those above is in it's team-orientated outlook. Known as the "Team Stream", you have much more control over what content you see. Create a login and select your favourite teams to form a stream of content that only includes the sports, competitions and teams you're interested in.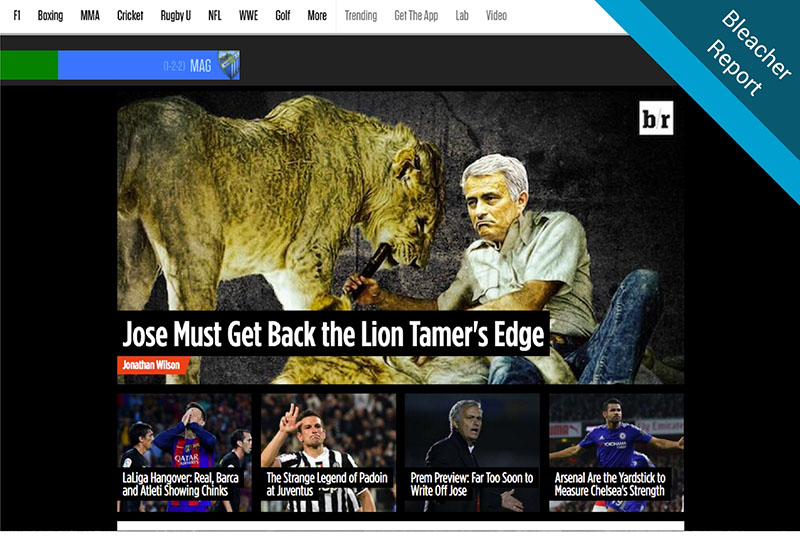 Again football features prominently, but Bleacher Report is also a great website for US sports news. Thanks to their mass of online contributors, BR has a significant body of content that covers everything from in depth analysis to off-beat funnies.
Aligning with BR's modern take on short, snappy viral sports content, the 'trending' section of the website is a great way to keep up with all the breaking news across social media.
For Football-crazed fans...

Football fans really aren't short of options in terms of online content. Here's some of the best.

What it's good for:

Excellent coverage from every corner of the footballing globe.

With a fantastic domain name like 'Goal' the owners have developed a hugely popular football website and it's easy to see why it has a reputation as one of football's premier websites. There is breaking news that keeps fans up to date with the latest happenings in the sport; plus fixtures, results, league tables, opinion polls, latest transfer rumours and videos.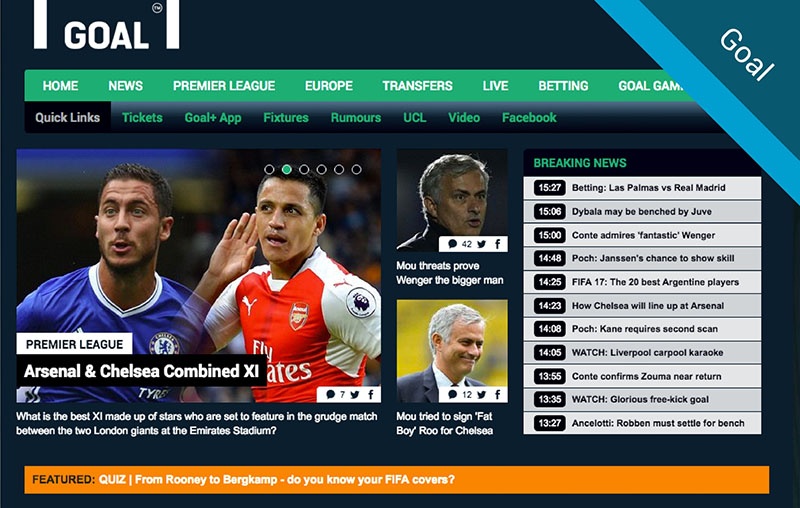 The website boasts over 500 reporters in over 50 different countries – meaning Goal is likely to be your best bet for football news that covers all of the game's major worldwide leagues.
The 'transfer talk' section of the website is very popular, bringing the latest news and rumours in the often chaotic world of football transfers.
What it's good for:
A great resource for getting deeper into football.
The FourFourTwo website is a fantastic football resource for those who want to delve deeper into the beautiful game. Aside from the latest news section on the homepage, FFT features content you can't get with the other sites we've mentioned.
Statszone is a stato's dream. Featuring a wealth of information during live games and at the final whistle, you can track everything from individual player influence to the location of every single pass made in the game.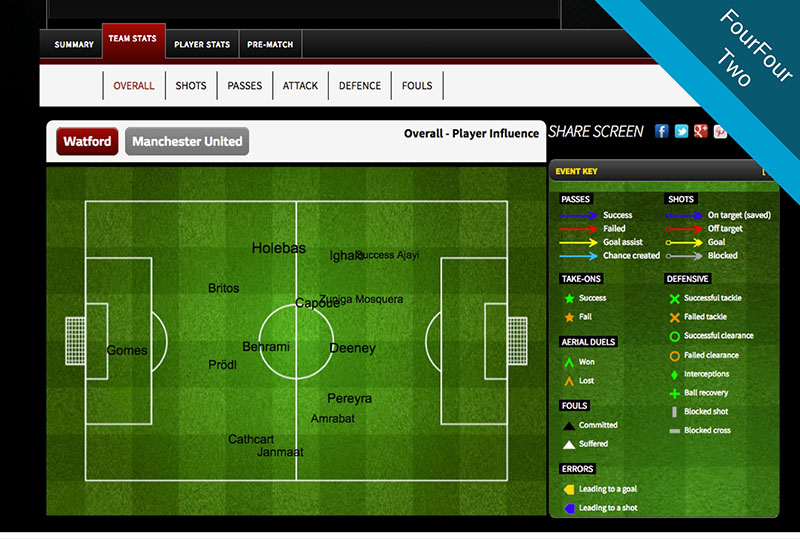 Elsewhere, FFT's Performance section is a tremendous resource for coaches, providing training drills, tactics and nutritional advice – often from the mouth's of the world's very best.
However, FourFourTwo also takes a look at the funny side of football and provides interesting scouting reports on the latest up and coming talent. In addition to the daily features and analysis, this is the best football website for those who really have a passion for their game.
For Rugby enthusiasts...

For fans of the oval-shaped ball, here are some of the finest rugby sites around.

What it's good for:

Rugby news from every major global competition.

For us, this is the best rugby union website currently out there. Covering everything from the latest news, views, videos and features, every professional tournament has its own dedicated section, including extensive coverage of women's rugby.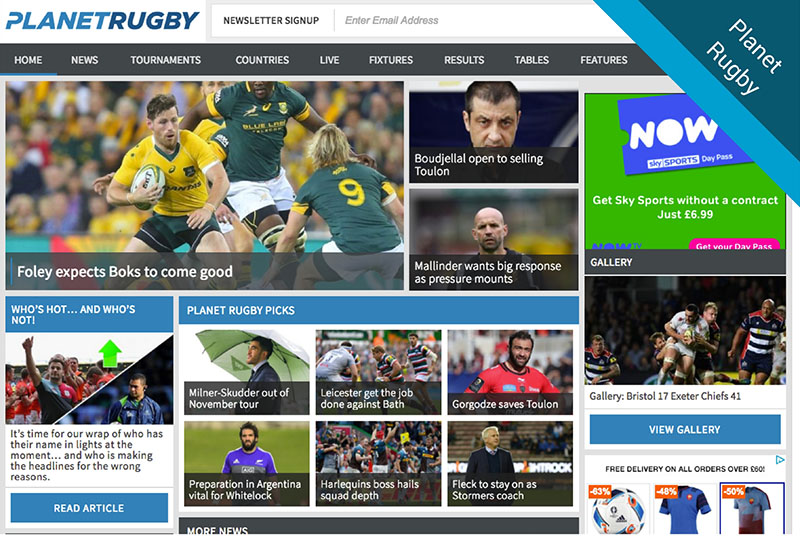 There are live updates of matches in progress, regularly updated featured articles and even a very active forum where fans can air their views on the latest goings on in their sport.
For extensive rugby union coverage, Planet Rugby is a great bet and should be bookmarked by all enthusiasts of the sport.
What it's good for:
A great match day experience when you aren't in the ground.
Where Ultimate Rugby differs when compared to Planet Rugby is on their game day experience. For major competitions like Premiership Rugby or the Pro 12, each fixture features a detailed match centre where you can get closer to the action.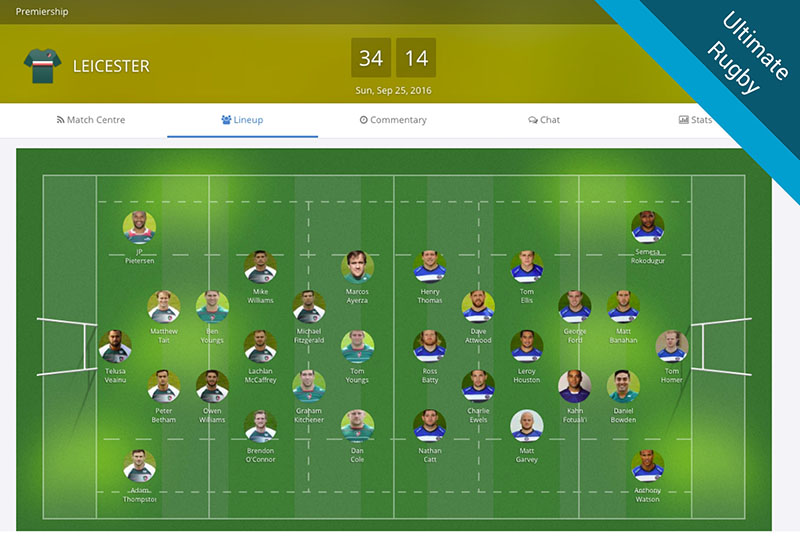 The live feed features news articles from that specific fixture, plus lineups, stats and even a live chat feature where fans of both sides can comment on the game as it goes on.
Ultimate Rugby offers a more tailored approach to individual matches, giving rugby fans a great match day experience even when they aren't at the game.
For lovers of Cricket...

Cricketers! Here's your best bets for finding great cricket content online.

What it's good for:

The all-round website for every cricketing need.

In terms of statistical features, historical data and current results, it's difficult to look further than ESPN Cricinfo. Not only are cricket statistics available in a raw format as far back as the 1700's, a number of writers provide brilliant statistical analysis articles on a weekly basis.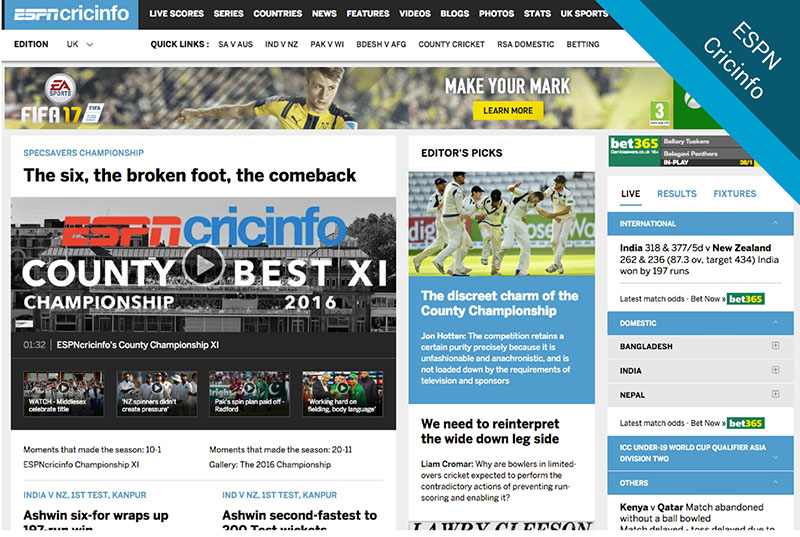 Some of cricket's finest writers are with Cricinfo, and their coverage for less fancied areas of the sport, such as County cricket and the grassroots game, makes it the best place to go for cricketing purists.
Live, ball-by-ball updates are also available, as is a desktop scorecard which will keep you updated on the latest score in a match as it happens.
ESPN Cricinfo is number one for lovers of cricket.
What it's good for:
Off-beat musings about the sometimes baffling world of cricket.
This website provides an alternative look at cricket and does it particularly well. Originally created by two Indian cricket fans, Holding Willey present a number of interesting and thought provoking articles on the sport.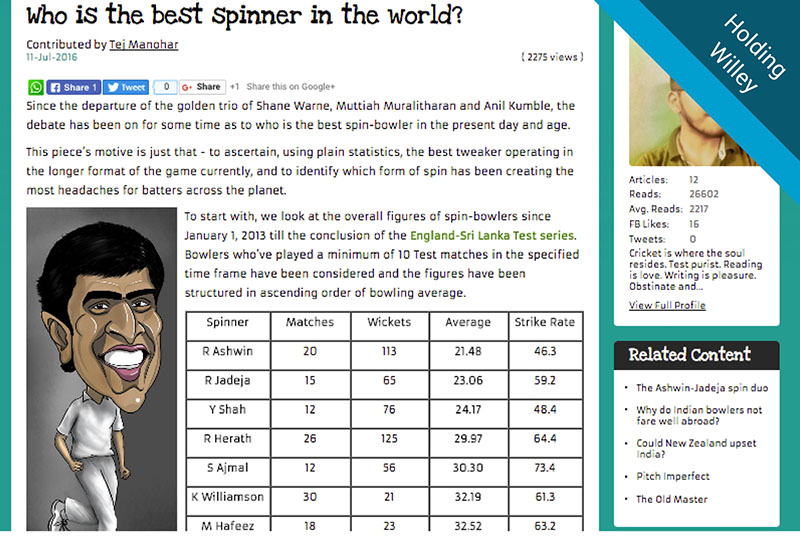 Elsewhere, there are witty cartoons and the latest scores from around the world. The website also allows guest writers to send in articles, which is a great way to get your views across to a wide audience, however unusual or controversial they may be.
For Hockey enthusiasts...

Finally, we have one for hockey fans.

What it's good for:

Riding the wave of Olympic glory.

Following the excellent performance by the British women's hockey team, winning the gold medal at the 2016 Olympic Games, the Great Britain Hockey website is sure to have received a spike in visitors.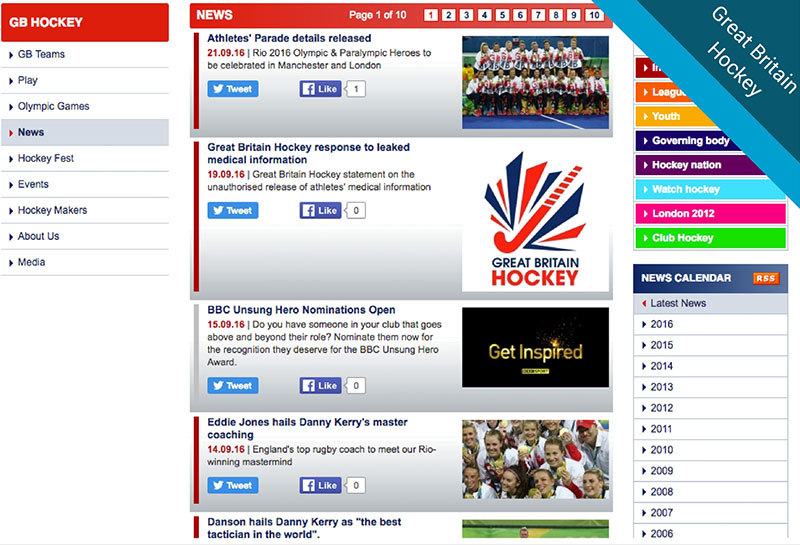 The site provides all the latest information regarding the British teams, such as squads, fixtures and results plus all the latest news surrounding British hockey. There's also a great link on the website detailing the nearest places in the UK for those who would like to get involved and play hockey.
There is no better website for keeping up to date with everything in the growing world of British hockey.
Grow your club's digital channels - Free download
Need some help getting your head round Twitter? Not sure how to attract members online? Without our free Ebook, you can get loads of handy tips and tricks to launching your club online, attracting new members and growing revenue in the process.