Pitchero are delighted to announce a brand new partnership with The Coaching Manual.
The Coaching Manual is for football coaches who want to improve their understanding of coaching, develop a productive training strategy using real-life sessions from well-respected coaches around the world, and accelerate the development of their players by creating a first-class learning environment.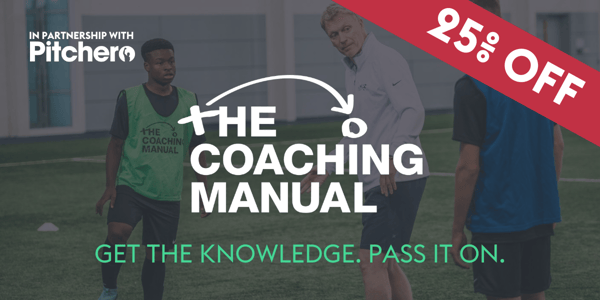 Thanks to a partnership with the League Managers Association, The Coaching Manual's premium content includes a series of 'Masterclass' packages featuring high profile coaches such as Rene Meulensteen, Steve McClaren, David Moyes, Alan Irvine, and many more. These Masterclasses feature full training sessions including warm-ups, drills, and conditioned games, and also include coaching points, diagram animations, and full-length exclusive interviews with each coach.
The Coaching Manual is trusted by elite and grassroots clubs and organisations around the world, including Rangers FC, Southampton FC, Chicago Fire, the American Youth Soccer Organization, and more. Earlier this year, The Coaching Manual announced a partnership with the Professional Footballers Association, which will provide professional players training under the PFA umbrella to access top-quality education as they make the transition to coaching at the end of their playing career.
The Coaching Manual was created by a group of football and technology experts, whose passion is to share knowledge and expertise to help coaches and players improve. Founder Chris Barton said: "The Coaching Manual was built to make top coaching content available to everyone, whether they are a student, volunteer, or working in the professional game. Our objective is to inspire coaches and players around the world to fall in love with football like we did. We are proud of what we have built, and proud of the fact we are able to help thousands of coaches around the world every single day."
This means that the content and resources trusted by elite clubs and professional bodies is available to everyone, for a fantastic price - with an extra 25% off thanks to this new partnership with Pitchero.