It's widely speculated the reasons behind children not getting active and playing sport. According to recent research, the days of kids eagerly running out to play football come rain or shine are over. In fact, the inclement British weather actively puts off 13% of children from lacing their boots in the first place.
Danny Andrews explored the reasons behind this statistic and what other influencing factors have contributed towards these numbers.
This statistic was highlighted in a recent survey carried out by team wear supplier, Kitlocker, in an attempt to discover why fewer children are getting involved in grassroots football these days.
Is the British weather worse than it used to be?
In stats revealed by the Met Office, the annual mean temperature in 2016 was 0.5 degrees warmer than the average for 1981-2010, and winter 2016 was the mildest on record for England and Wales*.
Not only that, 8 out of ten of the warmest years in the UK have occurred since 2002 (with the top ten all being since 1990). This clearly highlights that the weather is certainly no colder than it used to be.
Rainfall, however, is another story. Although mild, the winter of 2016 was the second wettest on record*, second only to 2014 and seven out of ten of the wettest years have occurred since 1998. It could well be that it is indeed rain that is stopping play * In a series from 1910.
Hold back the rain
Although kids are put off at the thought of playing in the rain, the FA and various sportswear manufacturers have identified this and have created alternative playing options in an attempt to alleviate the problem.
Astroturf and 3G pitches
Having facilities such as astro turfs and 3G pitches remove issues of mud and waterlogging that can make playing difficult. This could be more appealing for a child to play football on as opposed to a muddy grass pitch.
3G pitches also have the advantage that the majority of pitches are built with a specialised shockpad layer which cushions players' joints and absorbs impact to reduce the risk of injury.
No waterlogged pitches at #FrontLawn this morning!!

Action for Havant & Waterlooville Youth, @AFCPortchester and @MONEYFIELDSFC today pic.twitter.com/sinIQ7P3nD

— Gary Pratt (@HampshireFA_SFA) October 1, 2017
Indoor pitches
such as the new St Georges Park in Sheffield, enable teams to train and play in warm, dry conditions, despite matter what the weather's like outside. By removing all weather issues entirely, kids are able to concentrate fully on improving their game and enjoying themselves, rather than being preoccupied with the playing conditions.
Wet weather gear
Advancements in gear and clothing technology make every aspect of the game much more pleasant. Due to the timing of the football season, it is inevitable that kids will be training and play in the cold, wet winter weather.
Base layers are a great way to lock in the warmth and provide a barrier against the biting winter wind, and waterproof training wear helps keep out the rain and ultimately keep the player's mind on the game.
Although players will warm up whilst running around, there will still be times during training and the match itself where they will be standing around or even sitting on the subs bench.
Clothing that contains technology to wick away sweat from the body is also invaluable during the winter months, especially at halftime and post-match when sweaty clothing can suddenly feel very cold and uncomfortable on the skin.
Cosy bench jackets and rain jackets are perfect for warming up quickly after the match and can also make a huge difference to the comfort of those on the sidelines, which may help encourage parents to spectate in bad weather.
It's not all about the weather
Whilst the weather plays a large part in putting kids off, it isn't the main reason why they aren't getting involved with grassroots football.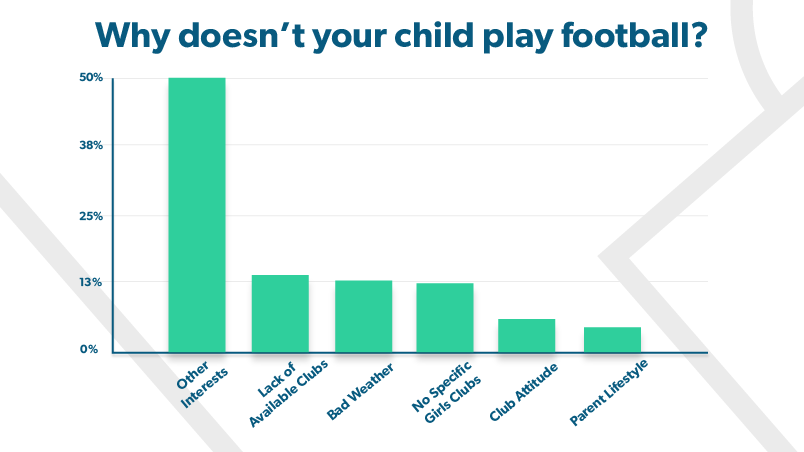 Other interests
Other interests' took the highest amount of votes, an example of which was computer games. With an increase in available alternatives — everything from traditional sports such as rugby and cricket, to newly popular activities like climbing, parkour, and fencing — children have so many options alongside football, as well as more opportunities to try new things.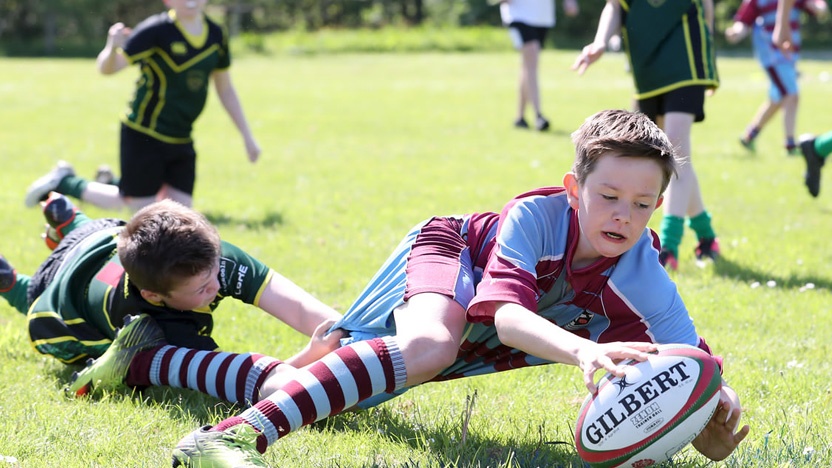 Changing attitudes

There is the perception that there can be an overly-competitive attitude within grassroots football, Understandably, young players may feel intimidated and, as a result, put off joining a club, as 6% of those surveyed suggested.
Thanks to the FA's zero-tolerance approach to intimidating behaviour, any aggressive sideline heckling is now very much a thing of the past, ensuring that grassroots football presents a much more welcoming and inclusive environment for players of all ages and abilities.
Lifestyle commitments
As the survey shows, there are some parents whose children don't play football because it doesn't fit into their own lifestyles. This could be for a number of reasons, for example, the family as a whole could favour a different sport.
Work commitments can also make it difficult for parents to commit to transporting to and from training. Alternatively, families may prefer to keep weekends free from organised activities.
Having said this, there are plenty of school holiday initiatives in which children can access the sport in camp form. This can also bring the added benefit of serving as childcare for busy working families.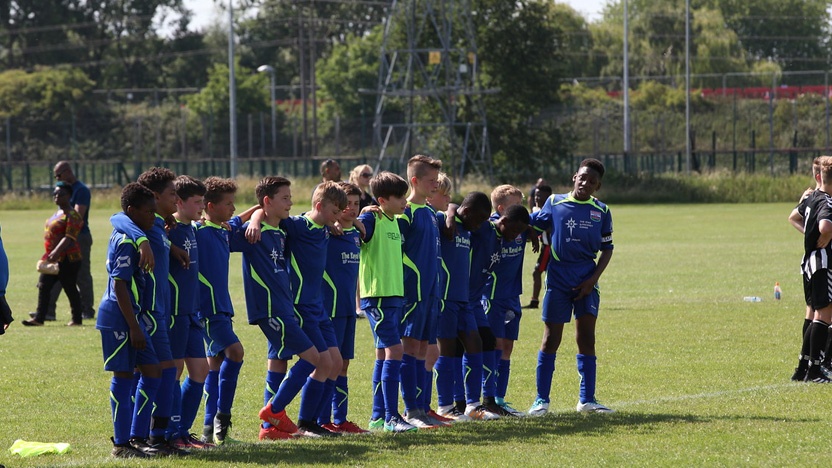 Grassroots football is available to children of all ages and with so many FA initiatives in place, it's well worth parents encouraging their kids to get out there on the pitch and get active, despite the typical British weather.
Not only is it a great form of exercise, it also improves social skills, teamwork and instills a sense of team pride and camaraderie; skills that surely shouldn't be missed out on because of a few drops of rain!