With a New Year comes a new opportunity to freshen up your smartphone will a batch of the best apps that cover the beautiful game – football.
Stay ahead of all the latest in your sport with this wide variety of the best football apps on the market in 2017 and beyond.
1. Forza Football
First, we'll get the foundations right by bringing you the very best access to the latest scores from around the globe. Forza Football can give you exactly that with a sort of no-bells-and-whistles type live scores app that means you'll never miss a goal.
You'll find all the usual customisation options you expect from a football app in Forza Football. Select your favourite teams or specific upcoming matches and receive notifications with pre-match lineups, goals and cards as the game goes on.
All sounds above board right? Forza Football is often the chosen app for live scores due to it's unprecedented speed and accuracy at providing those nuggets of live action. Plus, a built-in widget listing all the scores you're interested in means you don't even have to open the app to find out how your team are getting on.
2. Team Stream
The brain child of online sports publication Bleacher Report, the Team Stream takes what you love and collates a stream of content from around the footballing world based on those preferences.
Select individual teams, leagues or even players to create your own personal profile of football interests. From there, the app will pull transfer rumours, news and live scores through to create a Stream (hence the title) of the latest content from your favourite corners of the game.
As a time saving exercise, it's a great way of keeping tabs on your teams without heading to 15 different sources for information. Plus, you can even filter stories from your favourite writers and setup push notifications to receive breaking news as it happens.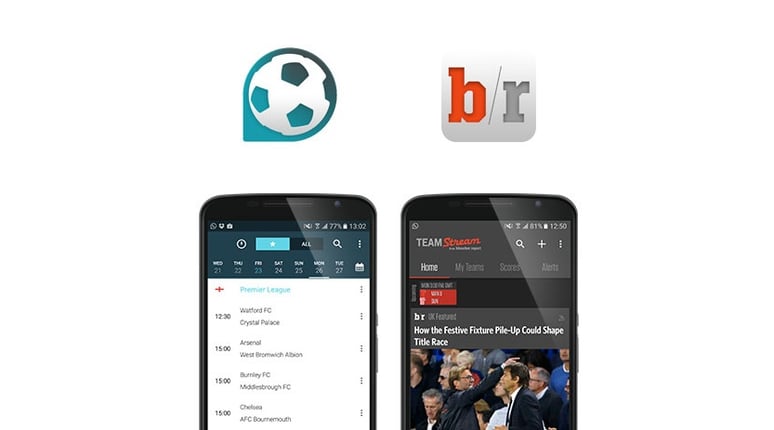 3. Stats Zone
As a huge fan of the beautiful game, I love going deep into the technical nooks and crannies of individuals matches, picking out the statistical gems that might have tipped the balance in a particular teams favour.
As a true statto, I'm well covered for football in 2017. Thanks to the progression of player tracking and game analysis, you can find apps that generate all this data into engaging stats about any of the biggest games in football.
That's where Stats Zone comes in. Created by leading football publication Four Four Two and supplemented with stats by Opta, Stats Zone lets you go a little bit deeper into games from Europe's major leagues and the MLS.
Amongst the available stats are pitch maps showing player influence and the location of every attempted shot and pass during the game. On an individual basis, you can take a look at a player's pass success rate, completed tackles etc and use and intuitive dashboard to filter a player's stats based on a specific period of the game.
Thanks to Stats Zone, football has become much more than just a game of 90 minutes, as my hours of scouring for stats is testament to every weekend.
4. One Football
There are a number of apps available in 2017 that provide a little bit of everything when it comes to keeping up with the latest in football; here, we've plumped for One Football.
Rather than diluting the content by including a wide range of sports (as competitors such as BBC Sport and Team Stream do) One Football's title sort of summarises it's absolute focus on one sport.
Thanks to that focus, the app can provide a comprehensive stream of coverage from leagues all around the world. If you have any affiliation or interest in leagues from the likes of India, Poland or even Albania, you can check out tables, squads and often transfers and social streams of any of the teams you support.
As is customary, One Football has a notifications feature for any teams you want to alerts on. Aside from just match information, these can also include any transfer dealings from the club. Speaking of transfers, One Football collects a variety of rumours from around the internet and collates them into one stream – leaving you with a simple location for catching up on the latest deals.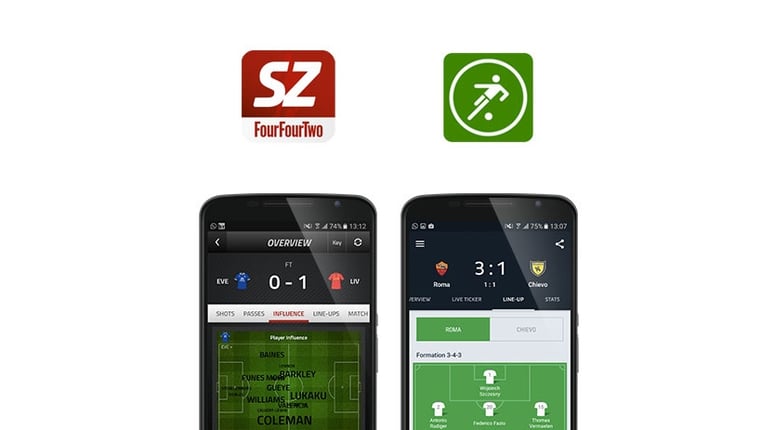 5. Score Hero
Moving aside from all that goes on in football's reality, we've got three gaming options for when you just want to get away from it all.
Starting with Score Hero. You might have seen their billboards crop up at the side of the pitch from various football matches broadcast on the TV. It's popularity is huge, probably due to it's relentlessly addictive gameplay.
The stage-based narrative follows you as you climb the football ladder from lesser-teams bench warmer to star man at one of Europe's elite. To progress, you play out key moments in matches, using your finger to guide a player's passing and shooting.
As a free app, it's perfect for jumping in for a 5 minute stint on the your morning commute or lunch break.
6. Football Manager 2017
Since it's inception as Championship Manager over two decades ago, 2017's premier football management sim has grown a cult following amongst football fans and gamers. In 2017, it continues to go from strength to strength.
Rather than the five minute drop-in-drop-out sessions you'll get with the other two games in this countdown, Football Manager is tough to put down even after a 5 hour stint. If you're unaware of the premise, Football Manager puts you in the hot-seat at a club of your choice. Managing transfers, training, team selections and press conferences, FM 17 is the closest you'll get to proving you can do a better job than the clown currently taking the helm at your club.
Just make sure you head into it without other life responsibilities. Your job, family and general hygiene are likely to be sacrifices of getting involved in the Football Manager hype.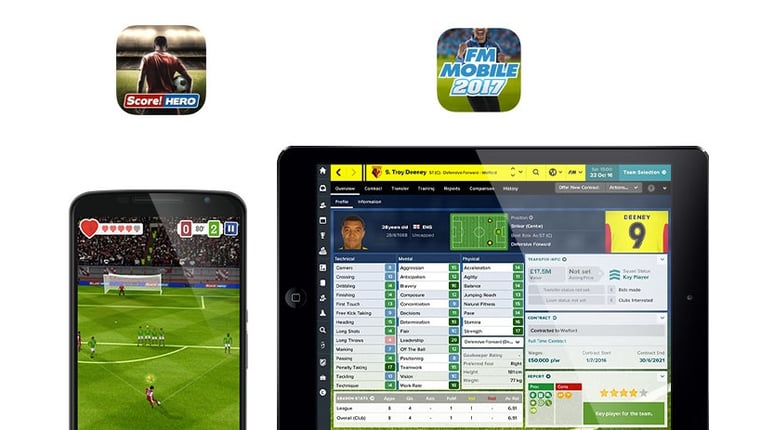 7. Flick Shoot 2
One more game to throw into the mix is a bit of a classic in mobile gaming terms. Simple and easy to jump into, Flick Shoot 2 is one of a number of options for using your finger to slam home a few goals.
Uncomplicated and easy to jump in for a quick round, Flick Shoot 2 asks you to beat any number of obstacles and score by flicking the ball at the correct angle and velocity.
8. TuneIn
Technically not a football app, or indeed even a sports app, TuneIn is a radio station search tool that can mean you'll never miss a broadcast again.
TuneIn's search tools allow you to go through a number of categories to find the station (or podcast) you're looking for (filtering by specific sport for example). Elsewhere, you can save upcoming fixtures to your favourites, and the app will send you push notification letting you know where you can access live commentary of that game.
For lesser-known fixtures, use the generic, text-based search to try and find a broadcast of your specific fixture. Aside from just finding the station, you can also listen to it live through the TuneIn app.
There is one small point worth noting however. Some stations don't allow live commentary of football matches to go out via TuneIn. One example is the BBC (via 5 Live and Sports Extra), who block out the signal whenever a live game is ongoing. To access their commentary, you'll need to download the BBC iPlayer Radio app (which is free).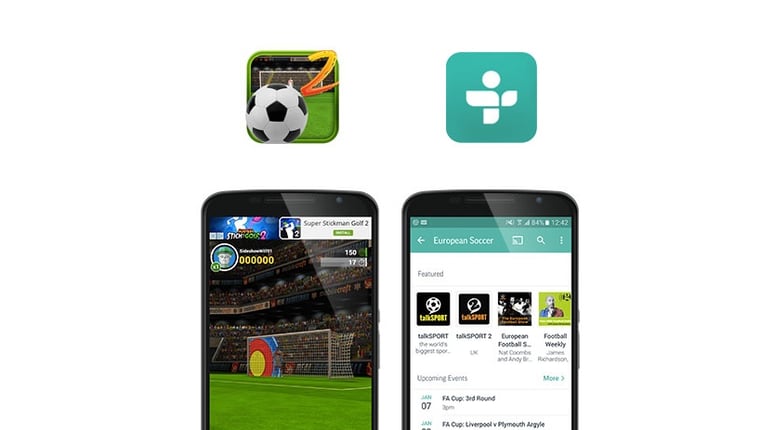 9. BT Sport
If you're not a subscriber to BT's TV and/or broadcasting services, move onto the next app. Whilst you can download and access the app with just a BT login, you won't be able to take advantage of it's outstanding feature without a subscription.
For those that do however, the app is a great accompaniment when you're unable to watch one of the Premier League, Champions League or National League fixtures on the bigger screen. Amongst a number of great in-game features you'll find the ability to pause, rewind and re-watch key moments from the game. Plus, goals can be replayed from entirely new angles, all at your control.
Even when a number of games are ongoing at the same time (as is often the case on Champions League nights), notifications will pop up with events from other games, and one tap will see you transported to coverage of that game to see it back.
As a little sweetener to EE users can get BT Sport for free for 3 months – check that out here.
10. Sky Sports Football Score Centre
For subscribers to Sky Sports, the Sky Go app is the first place to head for live action on your mobile (although it obviously comes with the same caveat as BT Sport above). Still, for those who aren't able to afford Sky's riches of football coverage, there is an option.
The Sky Sports Football Score Centre offers features that don't come with other sports apps. For starters, you'll get all the sports coverage Sky produce through their website, including videos, match reports and alike.
But as the title suggests, this app is more about tracking live scores. A Vidiprinter and match streams collating events from major games allow you to do just that, but it also brings with it match-day highlights of certain leagues.
If you're a follower of a Football League club for example, you can use the app first to follow the score and then to check out the highlights. For Premier League matches however, you'll need a Sky subscription.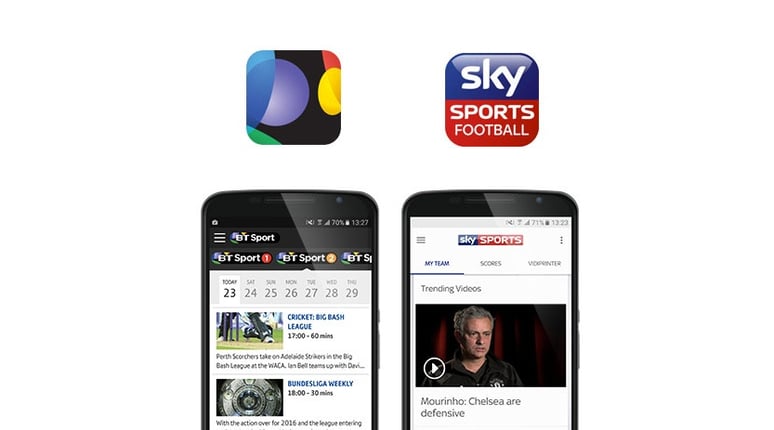 11. Corner
Completely stuck for options when trying to watch the big game from the comfort of your own home. Corner is here to help.
If you're not at the ground, often the best place to watch the game is down the pub with a pint of your local breweries finest. With corner, you can search your local area to find a pub near you that will have the match on.
Search by match or by pub and get into your local watering hole to watch the latest action.
12. Premier League official app
Much like all the apps featured in this list, there are a number of options on the market when searching for an app to help you dominate your fantasy league this season. We've plumped for the most official of them all – the Premier League's very own Fantasy Football app.
The Premier League's official app comes bundled with everything you need to create and run your fantasy team wherever you are.
As a little sweetener, the app also features live blogs from Premier League games, video highlights from some of the top players, as well as a detailing stats archive from players past and present.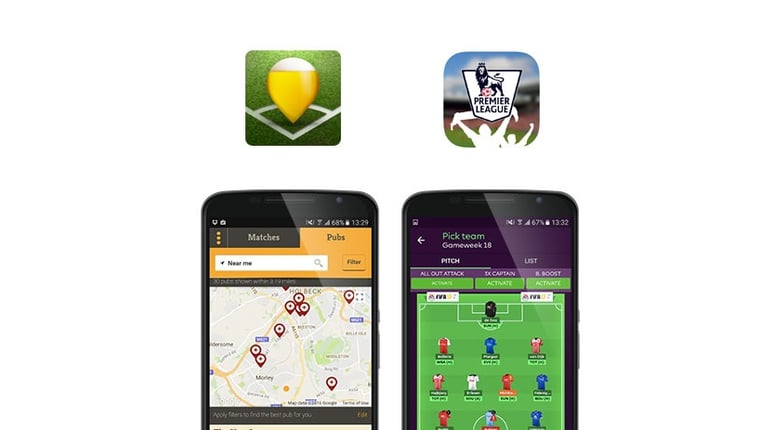 For more on apps, check out our selection for the best sports offerings of 2017.
Grow your club's digital channels - Free download
Need some help getting your head round Twitter? Not sure how to attract members online? Without our free Ebook, you can get loads of handy tips and tricks to launching your club online, attracting new members and growing revenue in the process.