One-off payments collected via GoCardless can now be deposited into your club bank account 7x faster than payments collected via credit/debit card; thanks to the new Instant Bank Pay feature from GoCardless.
Previously, one-off GoCardless payments may have taken up to 5 working days to clear so this is a huge improvement that will help improve cash flow at your club.
What is Instant Bank Pay?
Instant Bank Pay is the latest timesaving feature from GoCardless allowing you to collect funds from your members almost immediately following approval by the member.
These bank-to-bank payments are confirmed instantly, which means better visibility for you and your customers. Save time chasing one-off payments and create a smoother payment experience for your members.
This update is now live for all clubs in the UK who have created a product which is:
Using GoCardless as the payment provider

A one-off payment (not a recurring direct debit)
How it works
If you have set up a Shop & Payments product, which meets the above criteria, Instant bank Pay is now live - you don't need to do anything to allow customers to use it.
The member chooses to pay for the product by clicking on the payment request you may have sent them, or by selecting the product from the Shop & Payments section of your website.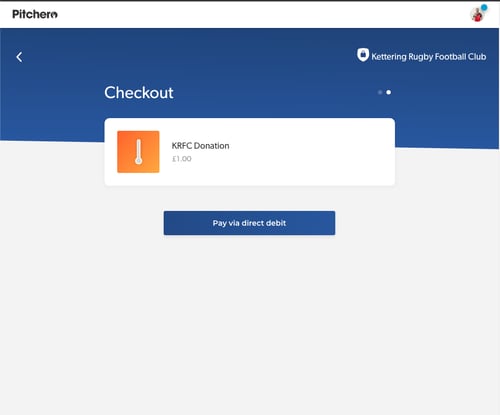 They'll then be taken to GoCardless to set up the payment to your club.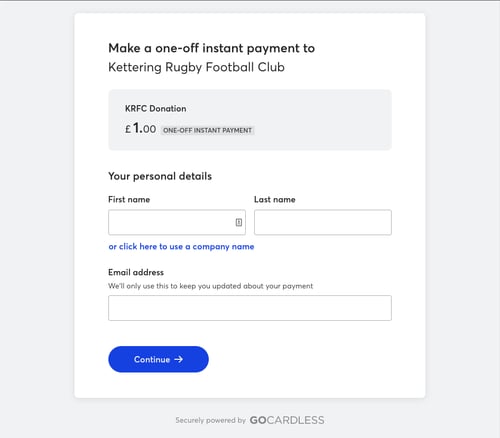 They'll then be asked to enter their bank details (GoCardless is a very secure system that uses a strong level of encryption to keep you and your members safe - here's more info on GoCardless security.)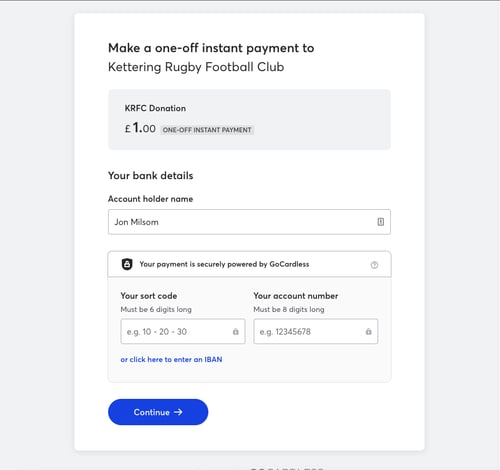 The member confirms the bank details they have entered are correct.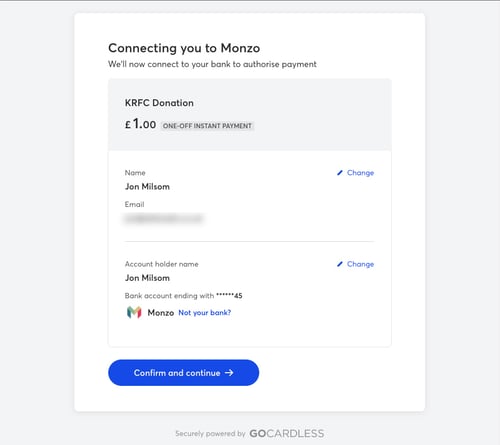 They'll then be asked to authorise the payment from within their online banking/banking app of the bank they use - in this example that is done by scanning the QR code with their phone.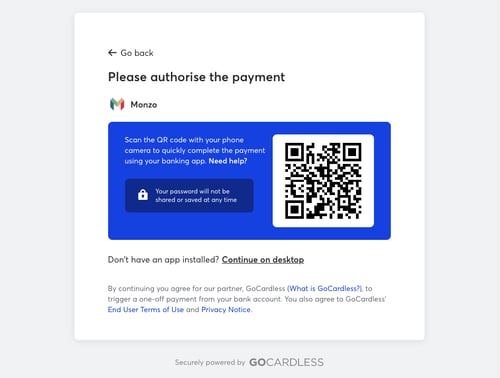 The member approves the payment from within their banking app/online banking.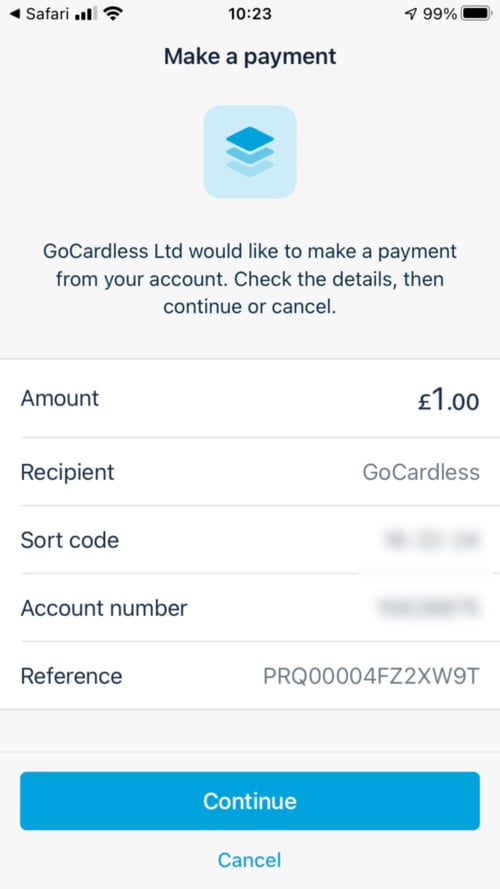 Once confirmed the payment page on the club website will refresh to show that the payment has been successful.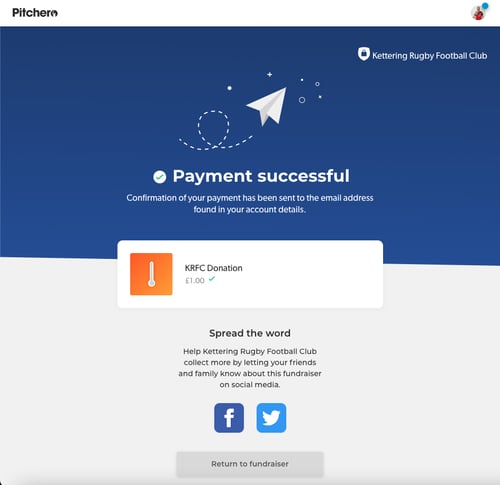 The payment should then be deposited into the club bank account on the same day (in some cases it can take 1 business day).
Please note, this feature is not yet available for payments made via the Pitchero club app.
What does this mean for my club?
For clubs in the UK, this now means you can collect one-off payments quicker and cheaper than using our other payment provider, Stripe (debit & credit card payments).
That makes GoCardless a great option for collecting any of the following payments online:
Annual memberships
Donations
Tickets
Merchandise
Kit
If you'd like to talk to an expert about the kinds of things you could be collecting payments for, then click here to book a call back at a time that suits you.
GoCardless vs Stripe
With lower transaction fees - including the new lower rate for CASCs, registered charities and non-profit organisations - your club will even save money by using GoCardless to collect your payments online compared to Stripe.
Here's a quick comparison of the transaction fees for UK clubs, depending on the website package you have:
| | | |
| --- | --- | --- |
| | GoCardless | Stripe |
| Ultimate | 1.9% + 20p (Capped at £4) | 2.3% + 20p |
| Elite | 2.9% + 20p (Capped at £4) | 3.3% + 20p |
| Free | 3.9% + 20p (Capped at £4) | 4.3% + 20p |
This is even cheaper for any club that is registered as a Charity / Non-profit org / Community Amateur Sports Club (CASC):
| | | |
| --- | --- | --- |
| | GoCardless | Stripe |
| Ultimate | 1.65% + 15p (Capped at £3) | 2.3% + 20p |
| Elite | 2.65% + 15p (Capped at £3) | 3.3% + 20p |
| Free | 3.65% + 15p (Capped at £3) | 4.3% + 20p |
With the lower transaction fees and cap on the total cost per transaction, you could easily save £100's over the course of a season, especially with some of the higher-priced items such as annual membership.
Let's look at an example based on an annual membership fee of £200.
Using Stripe as the payment provider would cost £6.80 in transaction fees for each member.
Using GoCardless would cost £3 per transaction for registered charities or £4 if you're not a charity.
Let's say that 100 members at your club purchase the Annual Membership; you would save £380 (or £280 for non-registered charities), on that one product alone.
Get Started: Book a Demo
To see a live demo of online payments and ask a Pitchero expert how it can work for your club, click here and choose your preferred date & time.
If you already have a Pitchero club website, head to your Control Panel and click Payments and Shop to get started.