Running a sports club takes time and effort every week of the year - so why not make it simpler with a free app for clubs?
It's possible to run all aspects of team management from player availability and team selection to collecting match fees. Players, parents, club officials and supporters are all comfortable using a mobile app and will benefit.
In this article, we'll explain what a sports team app can do, how you can use one to make typical jobs easier and what Pitchero offers.


Free club resources - Club App posters
To encourage your club members to download the Club App, we have free posters in different colours you can share, print and use.

Just click on the sport below and download what you need:
Get started with everything you need for a multi-team community sports club from £30/month (including free apps)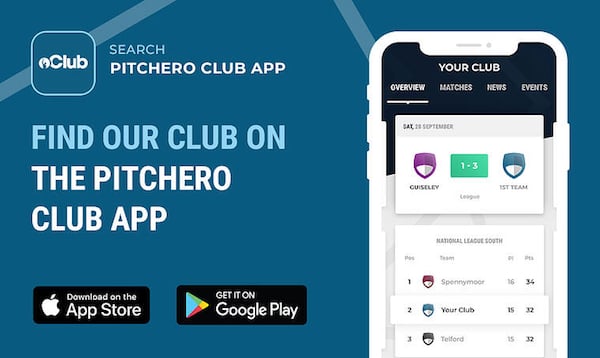 Why do you need a mobile app for your club?

Sports team management involves lots of admin, processes and technology, all overseen by a small number of volunteers at each club.
Anything that minimises the hours spent doing those jobs and improves the experience for everyone has to be a good thing, right?
That's where a dedicated sports team app for your club can make a real difference.
The best apps will make those common tasks easier and quicker; with the user's needs and that of the club in mind.
We are all comfortable doing many things on our mobile phones - reading club news, sending messages or buying products.
Given that mobile apps are so common, it's an opportunity for sports teams to tap into this behaviour.
It's likely club members will always have a phone on them, so they can respond to alerts quickly.
Instant replies to messages
Instant confirmation for availability or selection
Plus, parents have all the information they need in the palm of their hands:
Where the match is this weekend
What time kick-off is
This is invaluable for a family's weekend planning so everyone knows where to be at what time.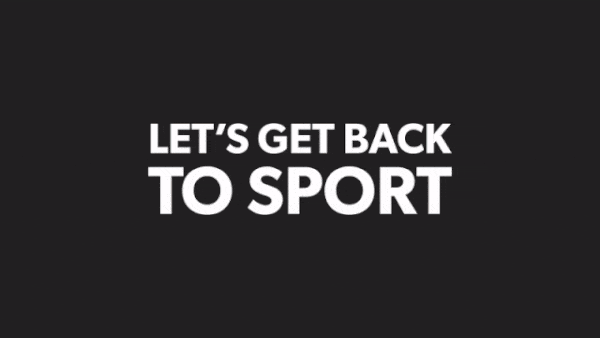 Free Pitchero mobile apps
Pitchero has two free mobile apps for sports clubs that will complement how they keep their members and supporters updated:
Club App
&
Manager App
.
Crucially, they allow clubs to do many common tasks from renewing membership to picking teams in a simple, time-saving way.
It works well for those supporting a sports club to check in where and when it suits them.
Anyone can download and use Pitchero's apps; ​​you just need a Pitchero account connected to your club.
Club App
The Club App is available on iOS and Android and is free with every Club Website.
It is designed to keep everyone updated on what's happening at your sports club.
You can follow up to three teams and your home screen will show:
Fixtures
Results
League Tables
Match Stats
Club News
When the Club Website is updated, the Club App is updated at the same time so information is consistent to avoid confusion.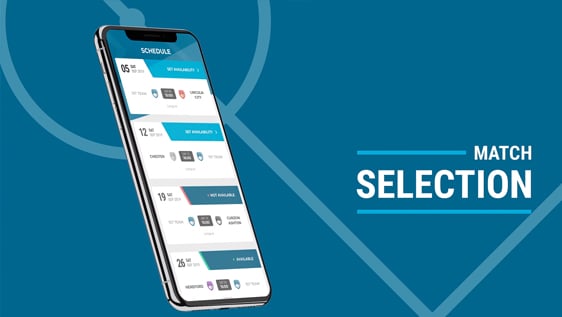 Availability & selection
If you're a player or a parent, our Club App helps you share availability with a coach or manager, from the customised Schedule feature.
Forget calls or texts, coaches send instant prompts via push notifications - you can answer availability requests and confirm matchday selection in seconds!
Use the messaging functionality to chat to teammates, arrange lifts or discuss the next match.
You can send individual messages or set up a group team chat.
Paying match fees
Match fees can be a pain to collect for any club but we've made it really easy for players or parents to pay by card from their mobile devices.
It's convenient, contactless and transparent so both player and club can see who has paid or exactly what they owe.
Photos / Videos

The Club App allows anyone to track their favourite team in detail on the move. That means comprehensive fixture lists, along with recent match reports, photos and videos.

Watch wickets tumble, epic free kicks or penalty saves as soon as they're posted online.
We've also got these free social media graphics and email templates to help you promote your Club App to members.
Get started with everything you need for a multi-team community sports club from £30/month (including free apps)

Manager App
The Manager App is available on iOS and Android and is free with every Club Website. It is aimed at Webmasters and Team Admins.
Head to the App Store or Google Play Store, for instant access to a better way to stay organised.

It allows managers and coaches all the team management tools they need to run training sessions, check availability, select teams and keep in touch with squads.

By combining common tasks in one app (Manager App connects with the Club App that players use), get ready for a quick and intuitive way to manage teams from anywhere.

Here are the key features:
1. Add players or parents
No spreadsheets
Import members from your contact list
Add parents to your database
2. Availability / selection
Check who can play and prompt them (via push notifications)
Discuss and confirm selection
Pick your team and publish online
Communication is everything when it comes to successful team management on and off the pitch or court.
That's why the Manager App makes it easy to keep in touch to talk tactics or practicalities like travel.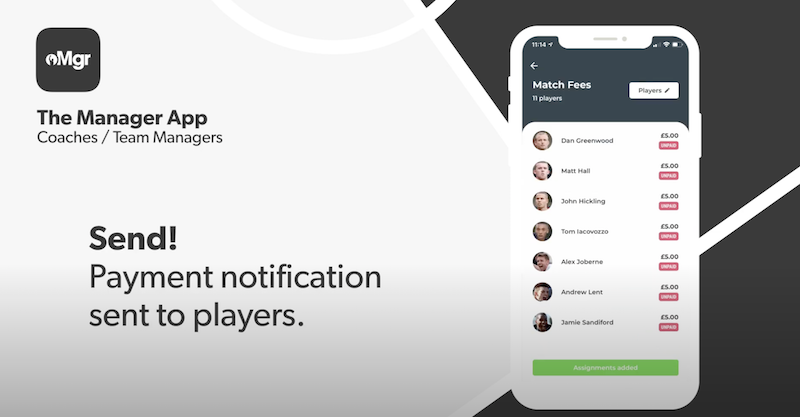 3. Instant messaging
Contact player or parents individually
Send messages to your members
Set up a group chat for teams
Send payment notifications to players
3. Post results & stats
Share match scores live
Add match events like goals or yellow cards
Club Website and Club App are automatically updated
Send the result and stats to social media just after a game
Update one platform rather than social media channels and website separately
4. Training
Create training sessions
Publish the date and time, plus additional notes
Invite players to attend the training session
Record and track player attendance

Why alternatives like WhatsApp or Facebook Messenger aren't as good
It's true that you can post team sheets, send messages and organise a few basic aspects of team management using popular apps like WhatsApp or Facebook Messenger.

They're good at what they do as a community/messenger service - but these other apps weren't designed to support those involved in grassroots sport.

They aren't a sports team management app that's dedicated to all of the things that sports teams do.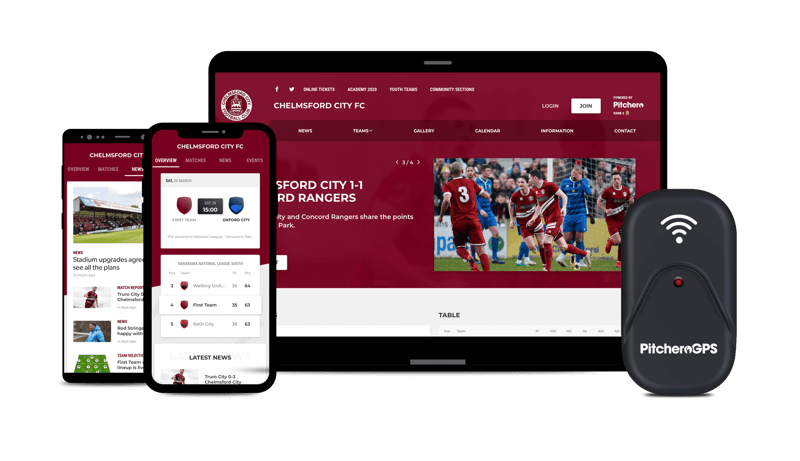 What do Pitchero's Club App & Manager App have that these others don't?


1.) Lots more features - pay match fees, buy events tickets, view transaction history, scroll league tables - the list goes on!
2.) WhatsApp or Facebook Messenger aren't connected to anything - so you duplicate work if that information is needed in any way elsewhere.
Someone is doing time-consuming admin behind the scenes to tie everything together. That's in order to see how selection on WhatsApp relates to a club website or governing body requirements like the ECB's Play-Cricket system.
3.) With Pitchero, all club members' records are in a central database to keep it all current and accurate.
It's easy to make mistakes with Facebook or WhatsApp as they are typed messages that can be misspelt. Players also use slang and nicknames (as it's a chat service) which can make it tricky too.
4.) A sports club needs transparency in its communication with members but tools like WhatsApp offer 'end-to-end encryption' which means just you and the person you're in touch with can read or listen to what is sent.
5.) To comply with GDPR and data protection regulations, as well as safeguarding best practices, clubs benefit from the central database tied to every club account offered by Pitchero.

6.) Pitchero is built on a system of roles approved by each club and access is granted (or not) by club officials. Trust and access to personal data is taken very seriously.

Ready to get started?


Club App
Next, log in or register to access your Club
Read our Club App

Help Centre articles

to customise your app and use all of the features.
We recommend turning on automatic updates to enable new features and improvements the moment they are released.
Manager App
Next, log in or register to access your Club
Read our Manager App

Help Centre articles

to begin managing fixtures, setting player availability and team selections.