It's particularly at times likes these that it can help to know what a club stands for. For Highland Rugby Club, based in Inverness, that means explaining their vision, mission and values.
Outlining your philosophy, objectives and thinking gives clarity both for existing members and volunteers, as well as those who might join in future.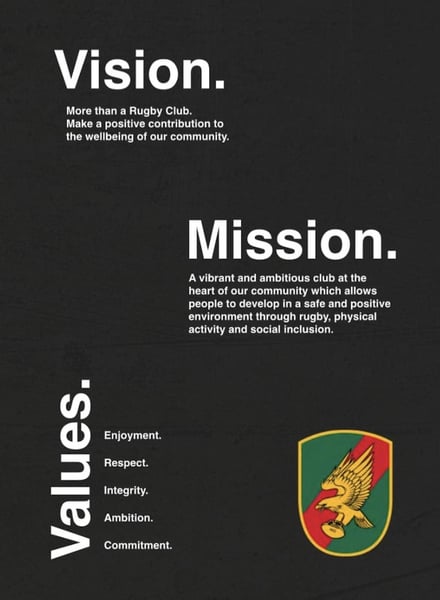 Why are club values important?

In Highland Rugby Club's case, the 'vision' is their broad outlook, embedded in how the club operates: 'More than rugby club. Make a positive contribution to the wellbeing of our community.'
That could broadly be the same for any sports club on Pitchero but it's important to state it in your own way and keep that at the heart of what you do. It reflects that the rugby club is looking outwards and is more than just a place to play the game.
The Mission explains the action steps to implement their vision: 'A vibrant and ambitious club at the heart of our community which allows people to develop in a safe and positive environment through rugby, physical activity and social inclusion.'
Lastly, their values are enjoyment, respect, integrity, ambition and commitment. It's easy to see this as a corporate exercise but quantifying club values helps everyone with delivery.
We caught up with their Director of Rugby, Brian Bell, to learn more...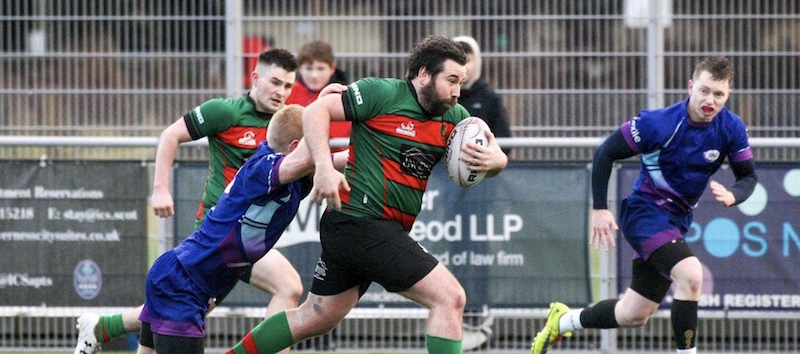 Why are your club vision, mission and values important to Highland Rugby Club?

'They bring all our members, young and old, together with a sense of purpose and direction both on and off the pitch and allow the wider community to see what Highland Rugby Club stands for. They are the reference point for everything we currently do and plan to do as a Club.'

How did you come up with them internally and how do you promote/reference them on your Pitchero website?

'We had an extensive consultation with club members to agree them, they are currently most prominently promoted within our Clubhouse and referenced within our latest Club Development Plan on the Pitchero website.'
In addition, a video explaining your ideas can be a powerful recruitment tool, as with the example of Killarney Rugby Club above.
Thinking about your club's values

So, what are your club's current values right now? Those clubs with an ongoing development plan may well have this ironed out already - but how often do you refer to them? Are they up-to-date? Have circumstances changed that warrant a re-think?

If your club has yet to put this in place, now's the time to consult, write and promote what your club stands for and how it plans to move forwards for years to come.

It's a consultative effort and shouldn't be left to one or two officials but involve your members, parents, coaches and committees, as Highland Rugby Club did.


Here's an excellent article on how to write your club values from Club Solutions Wales; a resource I recommend for inspiration.

As with Highland Rugby Club, your club mission is a description of your long-term ambitions that needs to be concise and easily understood. Pick words for your values that are a good fit for your club, circumstances and goals.
What about a club motto?
You might want to go a step further and have a club motto. It's a few words that drill down to what your club represents, sometimes incorporated in your club logo.

You'll see a lot of club mottos in Latin which often reflects hundreds of years of history and the use of that language when it was founded. The trouble is they need to be translated as next to no-one speaks Latin now!
Here's some top tips included in our article on 9 tips for designing a sports club logo.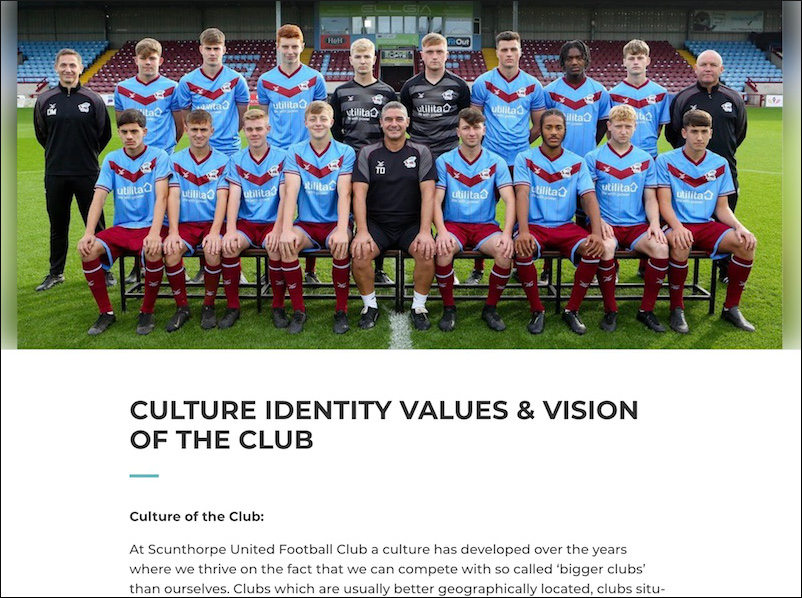 Create them for your Pitchero club website
Take this effort from Scunthorpe United FC Academy on Pitchero.
We refer to them as a custom section on your club website, easily created and divided into separate pages with a navigation item, if needs be.
How and where to promote your club values?
The short answer is everywhere because it's at the heart of who you are as a sports club. You should link to it, make references on email and on social media.
Is it worth a blog post to connect your club values to recent achievements and plans for the forthcoming year?
Thanks for reading and enjoy explaining your club's future in this way.
Book a demo with a Pitchero expert
If your club is interested in joining Pitchero, book a demo to have all your questions answered.
There are also case studies with clubs across sports who discuss how they use Pitchero and get the most from it.