If you'd like a shortlist of the top rugby apps available then you've come to the right place. We like to drop in reviews from time to time here on the Pitchero blog.
It's been a tough year for rugby clubs and fans but there will always be rugby to look forward to.
Enjoy this is a curated list covering games, scores and live rugby matches. We're talking union, not league, for the purposes of this review - but some of these apps cover both.


Ultimate Rugby (Android or iOS)
Ultimate Rugby ticks a number of boxes for the rugby fan. It's got comprehensive coverage of all Tier One matches worldwide.
That's a huge amount of professional rugby union from both Northern and Southern hemispheres: The 6 Nations, Rugby Championship, Heineken Cup, Gallagher Premiership and Guinness Pro14 for starters.
Ultimate Rugby is free for live scores and team lineups but paid subscriptions are available for in-game data and commentary of major tournaments.
To round off one of rugby's dedicated news apps, you can enjoy breaking news, ticket availability and stadium maps in the pre-match Centre.
There's also notifications on squad announcements, kick-off times and match results.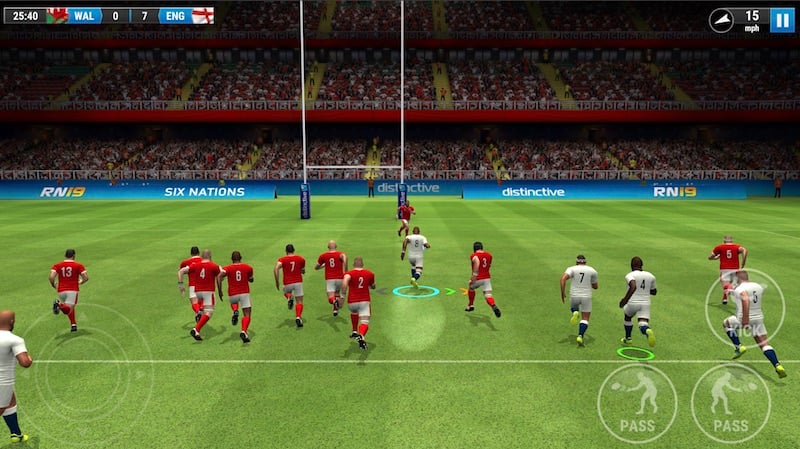 Rugby Nations 19 (Android or iOS)
Rugby Nations 19 allows players to tackle, scrum and drop kick their way to success with this realistic and hugely popular rugby sim.
You can mould a team, work your way up the leagues and get rewards including stronger, faster squad members.
All Star Game Mode allows players to go to town with the customisation of player kits, team lineup and stadium upgrades.
There's a World Cup mode so you can play as your favourite national side and this has to be one of the best rugby apps available, given the level of detail and how immersive it is.
Make split-second decisions on when to kick for touch or slam an up-and-under into the heavens.
With Rugby Nations 19, kicking for goal is a flick towards the posts with the angle and speed all part of the gameplay, together with calculating wind speed.

If your interest is domestic or European club rugby then the BT Sport app has you covered.
Live matches from the Gallagher Premiership, Heineken Champions Cup and European Challenge Cup are all available.
A BT Sport subscription and BT ID are required to watch live action but that gives you live rugby streaming of BT Sport 1, BT Sport 2, BT Sport 3, ESPN on BT Sport and BoxNation, in HD.
Video clips, interviews and a chance to catch up with on-demand programmes all make this a feature-packed rugby app.
Apart from rugby, there's BT Sport's coverage across other sports such as UEFA Champions League football, boxing, WWE and MotoGP.
The BBC Sport app allows rugby enthusiasts to catch up on rugby news, scores, live sport and highlights.
Users can set up notifications for matches or top stories and select a particular sport to see articles, live scores and fixtures, tables and video clips.
The BBC has been a long-time broadcaster of the Six Nations with the 2021 tournament beginning in February.
Its extensive rugby coverage includes the international and domestic club rugby scene with additional podcasts and audio interviews.

Rugby union commentaries are available to listen to for the Premiership, Pro14 league, European Champions Cup and European Challenge Cup.

Watch all the Sky Sports channels in the app as the global broadcaster brings rugby union to you on the move.
All sports apps from broadcasters are only as good as the matches they have the rights to and the jewel in Sky's rugby crown is unquestionably their exclusive coverage of the 2021 British and Irish Lions tour to South Africa.
App users can toggle notifications on or off for breaking news, alerts of major Sky Sports TV events and select certain sports to follow.
The 'My Sky Sports' feature lets rugby fans select international or Gallagher Premiership teams they want to follow as well as stars & experts (better for football and cricket).
You will need to either create a Sky account or login as an existing subscriber to use all of the Sky Sports app features.
While Sky's focus is definitely on Premier League football, there is plenty of rugby news, videos, fixtures and results, tables plus what games are showing in the next few days on Sky.
Their highlights clips and documentaries are well worth a look, allied with Will Greenwood's rugby podcast.







Rugby Dood (Android)
Rugby Dood is a credible rugby coaching app that has 10,000+ downloads in the Google Play store.
It acts as a clipboard or playbook to move and position players then add text and elements to explain tactics and strategy.
Once you've finished unlocking the opposition's blitz defence, you can share the image or animation with other rugby union coaches, players and teams. The graphics are basic but they do the job perfectly well of visible prompts.
With the rugby apps available dominated by watching live rugby or following rugby news, this is a nod to planning moves and masterminding tries.
Try our Pitchero apps...



Pitchero Club (Android or iOS)
Players, parents and supporters of your rugby club can read the latest club news, fixtures and league tables or scroll through match reports, photos and video highlights.
Members and supporters can now easily purchase any products from their club shop directly through the Club App.
Players are easily able to set their availability for training or a match and message each other and their coaches.



Pitchero Manager (Android or iOS)

Managers and coaches can post scores pitch-side with the Club website and Club app being updated automatically.
Tackle admin on the move as you can prompt player availability, pick your starting team and notify individuals or the whole group.