As part of our interviews with sports clubs, we chatted to Oxford Hockey Club about how they use Pitchero.

They switched their hockey club website in the summer of 2022 and we caught up with Webmaster Nick Malden about the move and plans for the future.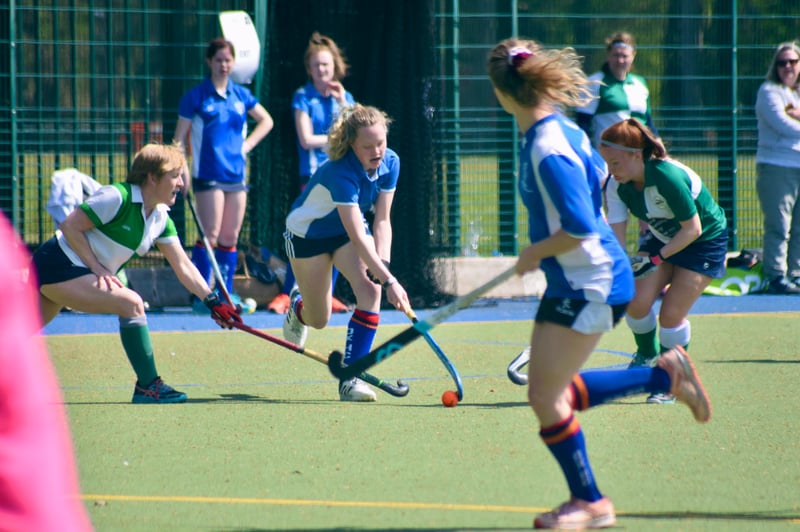 Could you give readers a snapshot of the opportunities and activities at Oxford Hockey Club?

Oxford Hockey Club have 8 men's and 8 women's teams across the club, with the 1st XIs in both sections playing in South Central Premier 1. Both 1st XIs are pushing for promotion to National League, finishing 3rd and 4th respectively last season.

All teams benefit from regular coaching and training, with pitches and our clubhouse being based in central Oxford at Oxford Brookes University Headington campus. The club has a strong partnership with the University. The club is proud to have a diverse playing base, formed of adult and junior players and University students.

The club also benefits from a large junior section with a developmental policy so that all playing standards can be supported. Older children are encouraged to play at the highest level possible, with a dedicated academy to support those of county standard and above.

The club offers a fun and friendly atmosphere, high-quality training and good facilities, with regular team and club social events as well as mixed hockey and summer league.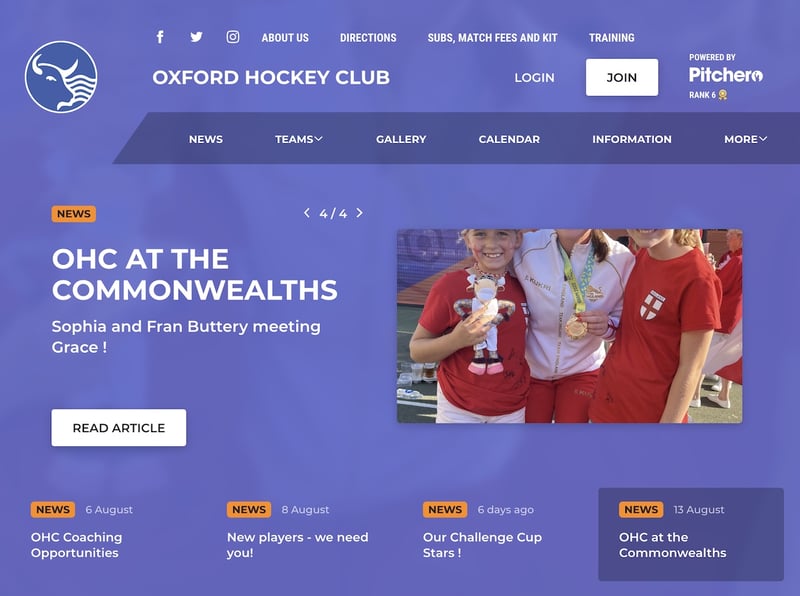 Why did Oxford Hockey Club move its website to Pitchero?

Oxford Hockey Club had two WordPress and ClubBuzz sites for Seniors and Juniors. The information was sometimes difficult to find and the subscriptions and match fees were not as easy or transparent as we wanted.
Pitchero allowed us to combine both sections of the club providing a single portal for all members and visitors. It also provides for an accountable way of collecting subs and match fees, which along with the automated links to league tables and results made it a no-brainer.

How are you going to use Pitchero for your hockey club?
Is it online payments/membership fees, availability/selection, membership registration, team management?

Oxford HC intends to make full use of the system although in our first season, we will discover what works best. Good to have all of the above though!

You have dozens of teams, how do you think the website/apps help manage all those players?

I think it's early days, but having a single database will particularly help with juniors playing in senior teams, as well as players moving between teams.
The filtering on the membership database will help the administrators to focus on the people that want to contact is really good. What's your favourite feature on Pitchero and why?

Difficult to pick out just one! Personally, I really like the automated links to the GMS for fixtures, results and league tables.
This was such a time-consuming task beforehand.
I also like the apps – for example, getting results of teams I'm interested in pushed to my mobile. It's also good to get a weekly summary of what's been going on – news and results.

What are your goals/plans at Oxford Hockey Club for this 2022/23 season?

We have an exciting year ahead for the club. Our 1st XIs, Women's and Men's, will be pushing for promotion to the National League supported by strong sections. We will be encouraging people to participate in hockey building on the recent Commonwealth Games success of England Hockey.
We're an inclusive club and welcome players, both experienced and novice, to come and join us.
Also, we will be focused on further enhancing our successful junior hockey programme. We have a thriving junior section with a large membership focused on fun and player development. We will again be delivering England Hockey's Hockey Heroes programme as a way into hockey for younger players.
Finally, we are delighted to have been awarded funding from the British Asian Sports Trust to grow our schools outreach programme, providing hockey experiences in state schools across Oxfordshire, so this will be a key focus for the club.


Thanks to Nick for his thoughts and we're really pleased to have Oxford Hockey Club on Pitchero. Looking forward to seeing how the website develops in future.


Watch our video above if your hockey club is thinking about a website upgrade over the next year!
Want to see what your hockey club could do with a Pitchero website?
Here are all of the features that hockey clubs can take advantage of - including importing all the England Hockey fixtures from our comprehensive database.
We are proud to be an England Hockey-approved club and league website provider; a sign of trust from the governing body with 40% of hockey clubs in the UK using Pitchero.
If you want to arrange a demo with other members of your hockey club committee (including evenings), we can do that too.
Lastly, if you're weighing up technology and functionality, we've put together this free website guide for hockey clubs that should give you all of the information you need.