Pitchero are helping thousands of clubs to grow their membership and revenue every single day.
Here's just 4 of the many ways your Account Manager can help your achieve your club goals. Book a call today and get the most out of your Pitchero Club website.
1. Get the most out of our Packages
Pitchero's Packages bring a suite of new features to your Club Website. Give us a little bit of background, and we'll find the right package to suit the needs of your club.
Make your website unique
Upgrade to our Elite or Ultimate Package and you make your Club Website truly yours. First, we'll give you a domain name so your website has it's very own home.
Plus, you can work with our in-house design team to create a website design that's truly unique.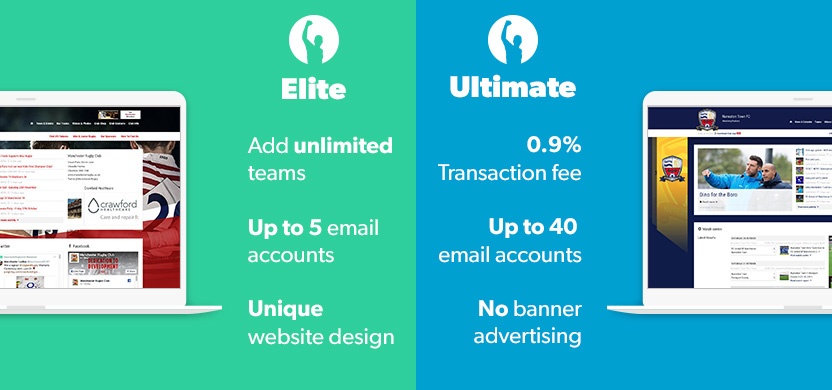 Boost your revenue with lower transaction fees
Clubs using the Shop and Payments feature to collect club fees can lower the transaction fee from 1.9% to 0.9% by moving to our Ultimate Package.
For Harvesters FC, a club that have collected £200,000 with Pitchero Shop and Payments, that brings an extra £2,000 of revenue into the club.
Bring your whole club on board
With the Elite and Ultimate Packages, you add unlimited teams to bring all your youth, senior and womens teams on board.
Plus, we'll set you up with a number of email addresses linked to your club domain. Get started with up to 5 email accounts on the Elite Package, or up to 40 on the Ultimate Package.
2. Grow your revenue
As a local grassroots club, raising club revenue can be one of your most difficult tasks.
Thankfully, everything you need to start boosting club revenue is right at your fingertips with a Pitchero Club Website.
Get you started with Shop and Payments
We'll take a look into your club's use of Shop and Payments, offering advice on boosting revenue or helping you setup your first product.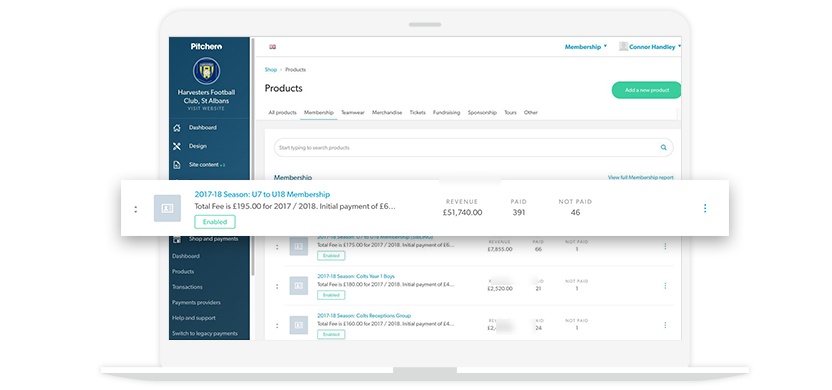 Attract new members to your club
Members are your club's most significant source of revenue. We'll give you some handy tips to using your Club Website as a recruitment tool for signing up new members.
Help build website traffic
Traffic is vital to your club revenue for one reason - sponsors. We can give you some pointers to creating great content that drives traffic to your site and keeps your website sponsors happy.
3. Bring all your members online
With so many members from different teams, the logistics of keeping all their details in one place and communicating with each one can be a nightmare.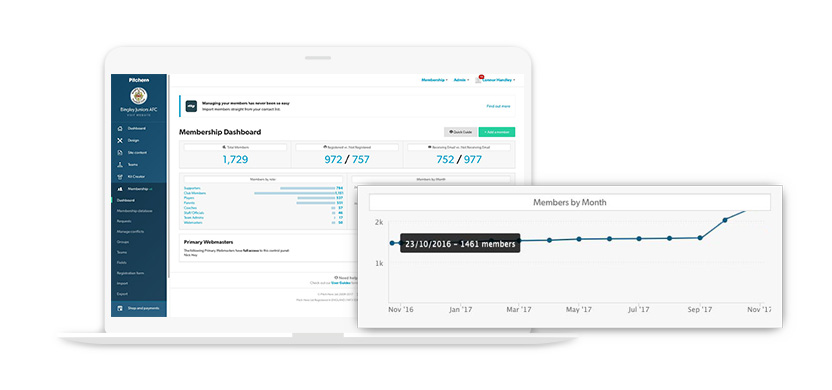 But not with Pitchero. Our Account Managers can help fine tune your Club Website to ensure all your members are held in one centralised location online.

Get the best out of your Membership database
We'll help you add every club member to your online Membership database. No more complicated spreadsheets, just one location with everyone's contact details.
4. We'll show you how easy it is to run your club with Pitchero
Our Account Managers know everything there is to know about using Pitchero to grow your club.
Give them a call and we'll talk you through every aspect of your Club Website, giving you the best tips and advice on everything from Membership, Design and Payments.